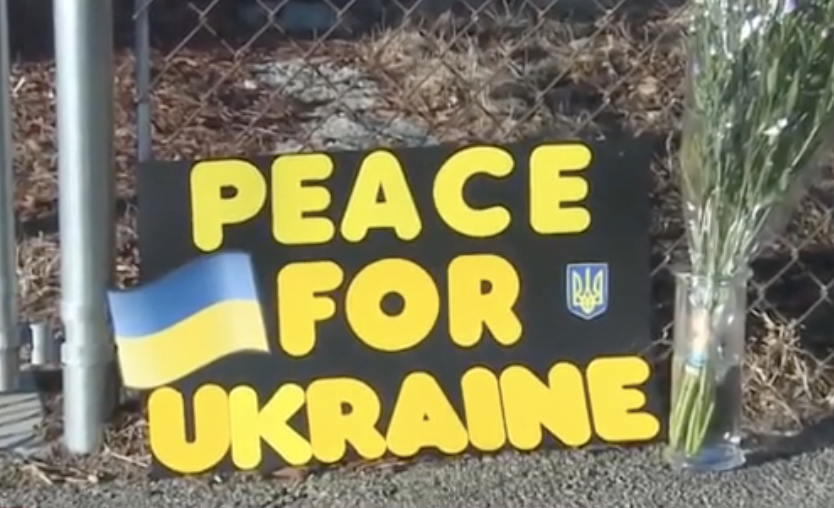 Ukrainian Americans in the Granite State are hopeful that their home country will stand strong against Russian aggression.
"They are fighting for their lives, and they are fighting for the rest of the world," said Christina Pasicznyk Vogel of the Protection of the Blessed Virgin Mary Ukrainian Catholic Church in Manchester.
Russian President Vladimir Putin ordered the invasion of neighboring Ukraine this week after years of aggression. Vogel said Ukraine has been the victim of Russian antagonism since 2014, when the Ukrainians overthrew the Russian-backed government. 
"I'm saddened but not surprised," she said.
Vogel is part of the New Hampshire Ukrainian community, watching in horror as their home country is under siege by Russian military forces. 
Jonathan Messer, who is studying to be a deacon in the Ukrainian Catholic Church, said Putin's incursion into Ukraine could be the start of a third world war. It is reminiscent of Adolf Hitler's invasion of Poland in 1939.
"It is horrific and unprovoked. I think Putin is being a madman," he said. 
On Monday, Putin delivered what historians and political scientists described as a "bizarre" speech laying out his justifications for taking military action against Ukraine. He described Ukraine as "historically Russian land" that was stolen from the Russian empire and has since fallen into the hands of neo-Nazis and corrupt "puppets" controlled by the West. He also described the country as an invention of the U.S.
Ukrainian member of parliament Natalya Pipa, an outspoken Putin opponent who deals with education policy in the government, gave Putin's history lesson a failing grade during an interview on the NHJournal podcast Thursday.
"Ukraine has been a country for ten centuries. Our church is from the year 1019 A.D. It's older than Moscow," Pipa said. "It could be funny if it would be not so sad."
Vogel said there are things the West, and the United States in particular, can do to counter Putin, 
"Sanctions are a start," she said.
President Joe Biden announced new sanctions on Russia on Thursday, though he has to impose sanctions on Putin himself and specifically excluded Russia's energy sector. It could take weeks or months to know if the sanctions work. In the meanwhile, Ukraine is on its own to defend itself.
Russian tanks were reportedly within 20 miles of the capital, Kyiv, on Thursday night.
"Putin is a war criminal," Vogel said. 'He is engaging in crimes against the international community and crimes against humanity."
Messer said the western nations need to do more. Ukraine needs military assistance, and the Ukrainian people need humanitarian assistance.
"The western powers aren't doing enough," Messer said. "Boots on the ground is what is needed, and unfortunately it would lead to World War III," he said.
Vogel said the Russian people do not want war, and she hopes Russian soldiers will turn away from the violent invasion.
Messer has been trying to get aid to a Ukrainian orphanage, but the last few weeks of tension with Russian have made the effort difficult. The package of medicine and clothing has been shipped to the 30 to 40 orphans, but not yet delivered, he said. It may never get to the children now with the invasion underway.
Biden has pledged that no U.S. soldiers would be deployed to Ukraine, but the U.S. would lend military assistance to NATO allies.
Ukraine has been targeted by Russia and other countries for centuries, Vogel said. She thinks the only reason for the continued existence of Ukraine is the faith of the Ukrainian people.
'It's a miracle they still exist," she said. "The reason there is still a Ukraine is they have not forgotten God."