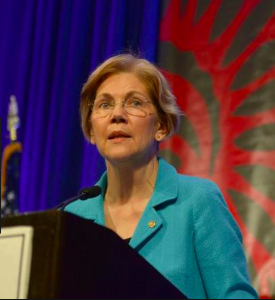 Sen. Elizabeth Warren's struggles to overcome the impact of her unproven—and likely incorrect—claims of Native American ancestry are well known. This week the New York Times reported that Warren and her close aides are finally realizing what many political observers have long known, that her strategy to use a DNA test to resolve the controversy was a fiasco.
But Warren's been working on another effort to burnish her Native American bona fides that could be just as problematic: H­­elping the Massachusetts-based Mashpee Wampanoag tribe secure a $1 billion casino project in southeastern Massachusetts. As a result, Warren is making a strange bedfellow of a scandal-plagued, billion-dollar multi-national corporation–exactly the sort of company she has railed against at an outspoken economic populist.
THE MASHPEE CASINO MESS
When the Pilgrims first landed, it was on Wampanoag land.  The tribe counts Crispus Attucks among their members —the first person killed in the Boston Massacre and, therefore, America's struggle for independence.  The Mashpee Wampanoags have a long history in the story of America's founding.
What they don't have, alas, is a long history as a federally-recognized tribe.  They didn't get that designation until 2007, and only after paying tens of thousands of dollars to corrupt DC lobbyist "Casino Jack" Abramoff, who would eventually go to prison over conspiracy and fraud charges related to his work with various Indian tribes.
Soon after, the Chairman of the Mashpee Wampanoag Tribe who worked with Abramoff, Glenn Marshall, was sentenced to 41 months in prison for crimes he committed "in connection with efforts to secure federal recognition for the Tribe," according to the FBI.
And this is the tribe that Liz Warren is working so hard to help get into the casino business. She's pushing legislation to override a federal court ruling and Department of Interior finding that, under federal law, the federal government doesn't have the power to set aside land for them as "sovereign territory"—which is what they need for prime casino territory.
Their problem is that under the Indian Reorganization Act of 1934, the tribe needed federal recognition when the law was passed to be eligible–a requirement upheld by the US Supreme Court as recently as 2009. The Mashpee Wampanoags were 73 years too late.
But that didn't stop the Obama administration from taking 321 acres in Mashpee and Taunton, MA into trust in 2015 and declaring it a sovereign reservation.  And with that designation, the Mashpee Wampanoags entered an agreement to build and operate a $1 billion casino complex with the multi-billion-dollar international gaming firm Genting Malaysia Berhad.
How did the Obama administration get around the law? That's precisely the question residents of Taunton, MA—who weren't too keen on a casino coming to their small community—started asking. They sued in federal district court, which led to the rulings blocking the Mashpee project.
Enter Elizabeth Warren, who, as recently as 2014, opposed casino gambling entirely. "People need jobs, but gambling can also be a real problem economically for a lot of people," Warren said. But now she's stepped up as a champion for the tribe and its casino. And, unavoidably, the scandal-plagued company behind it.
Sen. Warren claims the Mashpee's cause is a fight for social justice:
"The decision by the Trump Administration to move forward with denying the Mashpee Wampanoag a right to their ancestral homeland and to keep their reservation is an injustice," Warren said in a statement released to InsideSources. "The Trump Administration's action is yet another instance of the federal government reneging on a deal with Native Americans, and it underscores why Congress must pass our legislation: so that the Mashpee Wampanoag do not lose their home at the hands of the federal government."
In fact, the people most desperate to see Warren's legislation passed are the stockholders of Genting Malaysia Berhad.
"Liz Warren, Champion of Scandal-Plagued Billion-Dollar Corporations!"
Genting has a troubled background, to say the least.  It's currently at the center of an investigation into a massive kickback scheme that helped bring down the previous Malaysian government. They're also involved in a billion-dollar lawsuit against Disney and Fox Entertainment over another failed casino project.
Since entering their agreement with the Mashpee Wampanoags, Genting has poured around $440 million in the tribe's coffers on the promise of a 49.4 percent ownership stake in that Taunton casino.  And now, it appears, the Malaysian company is ready to write the investment off and walk away.
In a financial report issued last week, Genting announced a third-quarter loss, which they said was "related mainly to the impairment loss of RM1,834.3 million [$438 million USD] on… promissory notes issued by the Mashpee Wampanoag Tribe."
"However, Genting Malaysia Berhad Group continues to work closely with the Tribe on options which include legislation being introduced in the US Congress which, if passed, will entail the US Federal Government to reaffirm the land in trust for the benefit of the Tribe." [emphasis added]
"This impairment loss can be reversed when the Notes are assessed to be recoverable," the report says.
And "reversing that impairment loss" is where Elizabeth Warren comes in. Her "Mashpee Wampanoag Tribe Reservation Reaffirmation Act" would overturn court rulings and allow the federal government to create a new reservation.  If the effort succeeds, the Mashpee Wampanoags will be happy. But Genting Malaysia—on the hook for nearly half a billion dollars—will be ecstatic.
Sen. Warren isn't alone in this fight, of course. Her fellow Massachusetts Democrats, Sen. Ed Markey and Rep. Bill Keating are on board as well, and there is some bipartisan support in Congress.
But "Liz Warren, Champion of Scandal-Plagued Billion-Dollar Corporations!" isn't exactly the image she has cultivated in American politics. In fact, it stands in stark contrast to her rhetoric of economic populism.  Why would Warren be willing to fight so hard to rescue half a billion dollars of Genting Malaysia's money?
Warren declined repeated requests from InsideSources for comment, but the thinking is that it's part of her broader, ongoing efforts to repair the damage done by her mishandling of the Native American issue. CNN reports that Warren "has quietly waged a months-long, behind-the-scenes effort to put 'Pocahontas' in the past."
In March she gave a speech to the National Congress of American Indians defending her claims to Native American ancestry and declaring herself an ally. "For far too long, your story has been pushed aside, to be trotted out only in cartoons and commercials," Warren said. "Every time someone brings up my family's story, I'm going to use it to lift up the story of your families and your communities," she told the group.
Warren insists she's always been a champion of Native American issues, telling the Boston Globe: "I work on these issues," said Warren. "I meet with tribal leaders. I attend events. I speak. I've appreciated the opportunity to speak out. And I've tried to be helpful."Now that the DNA test stunt has blown up in her face, can Warren afford to step away from a Native American cause, even if the result is a $440 million boon to a troubled multinational corporation?
Perhaps a bigger question is whether the Mashpee Wampanoags still want her?  Warren's standing as a potential 2020 candidate has steadily fallen in recent weeks, and she hasn't had a positive news cycle in a long while.
An industry source who is following the issue tells InsideSources: "The tribe and the bill's supporters have apparently realized she has become a liability to their effort.  The strategy may be to have Warren drop off the existing legislation, or not sign on as a co-sponsor, when it's reintroduced in the next Congress "
Even the liberal Boston Globe, long an ally that has worked hard to spin the "Pocahontas" story in Warren's favor, editorialized this week that she should drop out of the 2020 presidential race altogether.
"Warren missed her moment in 2016, and there's reason to be skeptical of her prospective candidacy in 2020," the Globe editorialized. "While Warren is an effective and impactful senator with an important voice nationally, she has become a divisive figure."
What Liz Warren needs to divide are her efforts for the Mashpee Wampanoag tribe from the international gaming conglomerate that stands to gain so much if she succeeds.