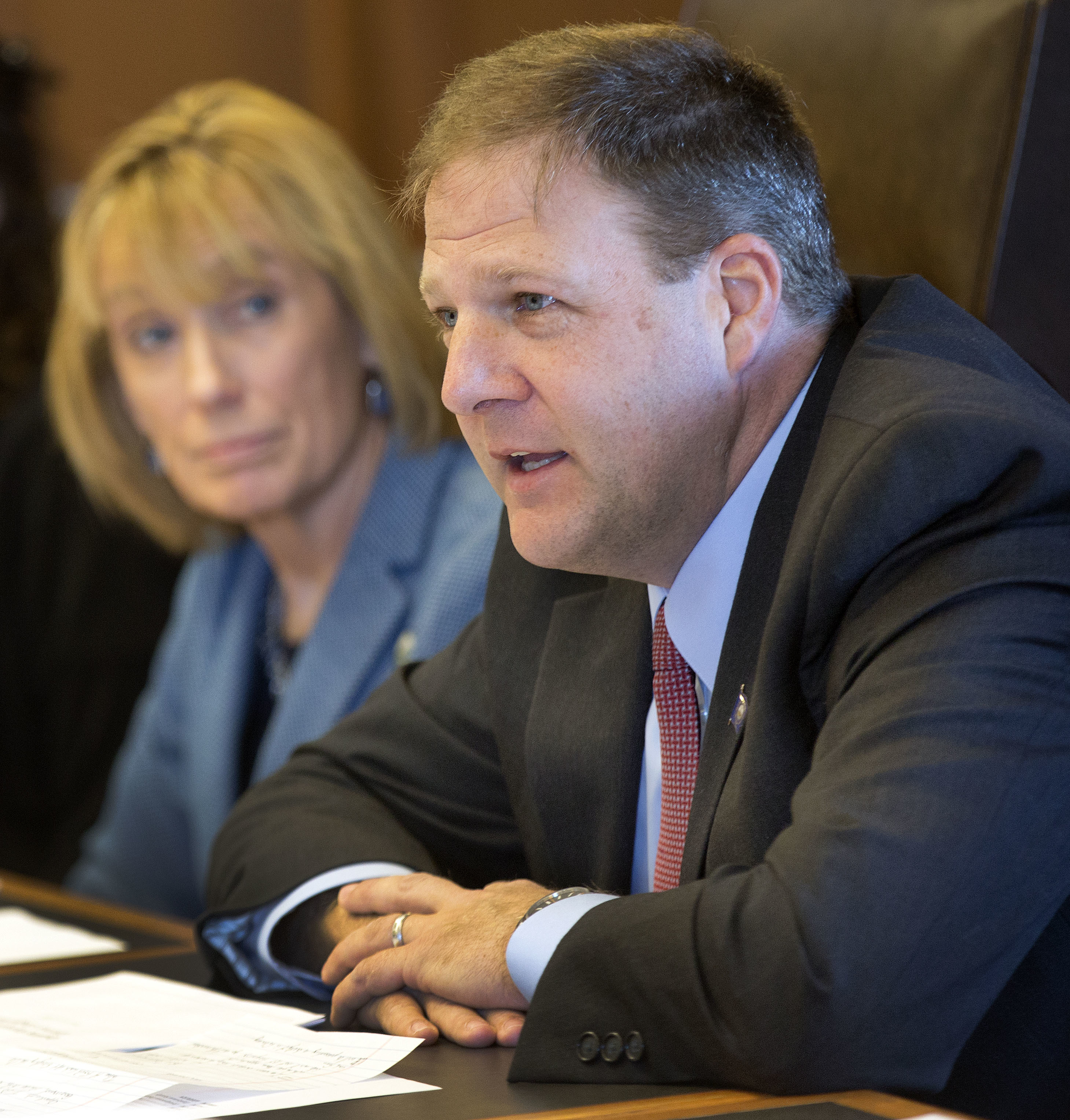 The rankings for the most popular governors are out and the top 10 are all Republicans. New Hampshire's own Gov. Chris Sununu isn't far behind the pack, though, coming in at 16th, highlighting a decent start to the Republican's first term in the corner office.
Sununu has a 55 percent approval rating, with 22 percent disapproving of the first Republican governor in 12 years, according to a Morning Consult poll released Tuesday.
The New Hampshire online survey was taken between January and March with 644 voters and has a margin of error of 4 percent.
That time period is important because it's essentially the first three months of Sununu's term. Politically, a lot has happened during that time and the results could depend on when people were surveyed. For example, Sununu made right-to-work legislation a priority, even mentioning its importance in his inaugural address. Yet, the measure failed in House, where moderate Republicans and representatives with union ties sided with Democrats to kill the bill.
There have been bright spots for the governor too, and these could have led to his positive approval rating. He picked Gordon MacDonald to replace Joseph Foster as attorney general, and MacDonald was widely seen as a great pick across party lines. He was confirmed unanimously by the Executive Council last week, with three Republicans and two Democrats voting for him.
The recent budget battle also probably did not factor into the results either. For the first time in recent memory, the House failed to pass a budget. Conservatives banded together to defeat the House Republican leadership's budget plan, forcing them to recess before the House could pass a budget. Democrats are trying to paint Sununu as the loser of this budget battle since he couldn't get his own party, which has a 53-member majority in the House, to pass his, or some version of his, budget.
However, Sununu also stands the most to gain from the House's failure. The Senate Finance Committee will now begin its part of the budget process and instead of using the House version (since there is none), they're using Sununu's original budget proposal as a starting point. The House previously took out his funding for full-day kindergarten, removed increased monies for the Alcohol Fund, and even cut his scholarship program for high school students to further their education. The Senate has been more open to Sununu's priorities, already passing several bills that honored the governor's budget wishes.
It remains to be seen what the Senate ultimately does with Sununu's budget, but if his campaign promises remain in the final version, his approval numbers could increase.
Despite his positive approval rating, Sununu still has a high percentage of voters who don't know about him. He actually ranked 3rd of all the governors in the country for "most unknown," coming in at 23 percent. The most unknown governor was Republican Gov. Eric Holcomb of Indiana at 27 percent. That's expected though for many freshman governors, as voters learn more about them throughout their terms.
Nationally though, Morning Consult's poll found that more voters are happier with their new Republican governors than with their former Democratic ones.
Sununu, who replaced Democratic Gov. Maggie Hassan, is 3 points more popular than she was before she headed to Washington to serve in the U.S. Senate. Her approval rating was at 52 percent in the fall.
It also appears that Hassan is struggling with her approval numbers. Morning Consult also looked at the most popular senators in the country and Hassan was ranked in the middle of the pack. Her approval rating is 5 points lower than former Republican Sen. Kelly Ayotte, who Hassan replaced in the 2016 election.
According to the poll, Hassan has a 53 percent approval rating among Granite Staters, while Ayotte's approval was at 58 percent in September. Their disapproval ratings are similar with Hassan at 31 percent compared to Ayotte's 32 percent before the election. Yet, despite her four years as governor, 16 percent of voters don't know who she is or have no opinion of her, while only 10 percent said the same of Ayotte in the fall.
New Hampshire Republicans have been trying to call Hassan a rubber stamp of the Democratic Party. They have also called the freshman senator an "intern" of her New Hampshire colleague U.S. Sen. Jeanne Shaheen, since they have similar voting records.
Shaheen is more popular than Hassan, according to the poll. Shaheen's approval rating is at 57 percent, with 30 percent disapproval, and 13 percent not knowing anything about her or having no opinion.
Hassan and Shaheen aren't up for reelection in 2018, but Sununu is already expected to face some challengers if he seeks a second term. Democrat Steve Marchard already jumped into the 2018 gubernatorial race, making his candidacy official last week. Libertarian candidate Jilletta Jarvis also threw her name into the fray in March.
In the Morning Consult survey, Republican Massachusetts Gov. Charlie Baker topped the list as the most popular governor with a 75 percent approval rating. The least popular governor was New Jersey Republican Gov. Chris Christie who had a stunning 25 percent approval rating with 71 percent disapproval.
While more Republican governors maintained positive ratings, according to the poll, it's important to note that Republicans control 33 governorships compared to the Democrats' 16 governors.
Sign up for NH Journal's must-read morning political newsletter.