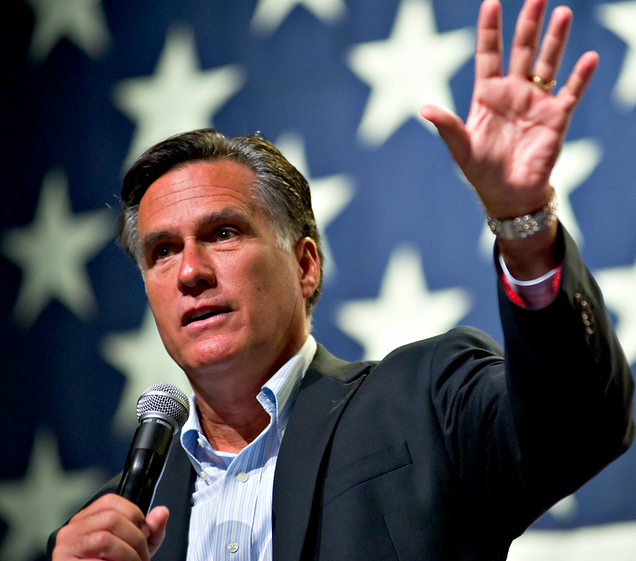 Soon-to-be Utah Senator Mitt Romney's op-ed attack on President Donald Trump got a lot of attention, but it didn't answer the key question: What does Mitt want?
"He doesn't 'want' anything," longtime Romney ally and advisor Jim Merrill told InsideSources on Wednesday. "He's just doing what he thinks is right."
Romney's opinion piece in Wednesday's Washington Post decried President Trump's character ("presidential leadership in qualities of character is indispensable. And it is in this province where the incumbent's shortfall has been most glaring") and Mitt pledged to "speak out against significant statements or actions that are divisive, racist, sexist, anti-immigrant, dishonest or destructive to democratic institutions."  Tough talk–but what does it mean?
According to Romney, what it doesn't mean a primary challenge. "No," he told CNN's Jake Tapper who asked him about a 2020 POTUS run. "You may have heard I ran before. I've had that experience."
So why release the op-ed?  It's certainly not a message GOP voters–who still overwhelmingly support President Trump–want to hear. On talk radio Wednesday, callers from across the nation and from his former home state of Massachusetts expressed their anger with the 2012 GOP POTUS nominee. "He should be loyal to Trump–period!" one caller told national talk host Hugh Hewitt Wednesday morning. "Every Republican needs to support President Trump."
On Boston's WRKO, which serves vote-rich southern New Hampshire, a Republican called Romney a "two-faced, back-stabbing snake."
Stephen Stepanek, the likely incoming NHGOP chairman, isn't much kinder. "Trump is out fighting for Americans and Republicans like Mitt Romney aren't standing with him like they should. When it gets nasty and the Democrats start attacking, they aren't there in the trenches," Stepanek told NHJournal.
"When the going gets tough, Mitt gets going," Stepanek says.
Mitt has even annoyed some family members, with his niece (and GOP Chairwoman) Ronna Romney McDaniel tweeting: "For an incoming Republican freshman senator to attack @realdonaldtrump as their first act feeds into what the Democrats and media want and is disappointing and unproductive."
Not that Romney's prospects in a primary against Trump were strong before the Wednesday papers hit. In a Suffolk poll of New Hampshire voters released last May, Trump was handily beating Romney 63-28 percent, similar to his 66-23 percent margin over outgoing Ohio Gov. John Kasich, though better than the projected 72-15 percent beatdown he'd give former AZ Sen. Jeff Flake.
One theory is that Romney wants to establish himself as the leader–not just a member–of the loyal GOP opposition to Trumpism. One longtime GOP activist, however, told InsideSources that Romney wrote on the eve of his entrance in the US Senate in order to "get him in the conversation about 2020. He's clearly got it on his mind."
But as Merrill, a key GOP player in New Hampshire politics and longtime Romney ally, pointed out, Romney was already there.
"He doesn't need to interject himself into the conversation, he's already in that conversation.  Mitt Romney is a leader in the party and he's going to be a leader in the Senate," Merrill said. "When people start thinking about alternatives to President Trump, his name is always going to come up.
"Which is why calling Mitt a 'freshman senator' was so unnecessary. Nobody looks at Mitt Romney that way," Merrill said.
For his part, President Trump doesn't appear to be worried, quipping that "If he fought [President Obama in 2016] the way he fights me, I'm telling you, he would have won the election." Trump pointed out that he endorsed Romney "and he thanked me profusely." If there's a potential political foe keeping Donald Trump awake at night, it's not Mitt Romney.
So the question remains: What was the purpose for releasing the op-ed?  According to Ryan Williams of FP1 Strategies (and a former Romney spokesperson), it's all about timing.
"Romney has said all these things about [Trump] before. The reason for writing this now is because December was a bad month for Donald Trump. Romney's been looking for a big moment to speak out. This is the moment," Williams said.
Both Williams and Merrill are actively involved in GOP politics and both reject the premise that the op-ed is related to a POTUS bid.  Instead, they told InsideSources they believe Romney's primary motivation is to lay the groundwork for how he plans to work with the president in the future.
"Read that paragraph about how he would work with Trump like he would with any president, it's all there," Williams said. He also believes Romney's op-ed avoided personal attacks on the president. "He wasn't gratuitously attacking President Trump, he was pointing out how character effects our relationships with our allies, how willing people are to work with you on policy."
The bottom line, according to Jim Merrill:  "Mitt Romney didn't need a political motivation to write this. He was doing what he thought is the right thing."