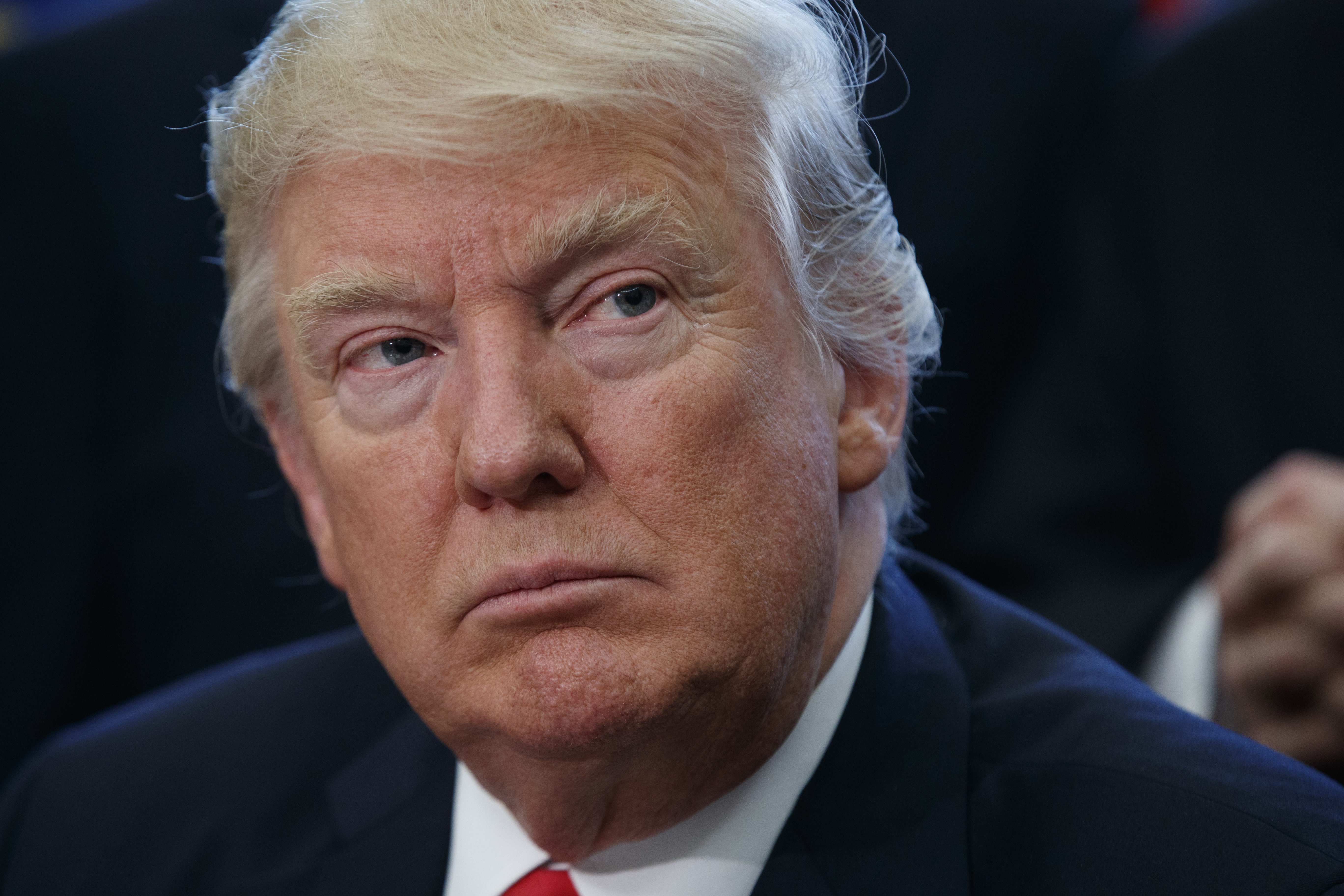 Although it's just a budget blueprint, President Donald Trump's proposal that was released Thursday has already made waves in New Hampshire. It's hardly a done deal, though, and the president's budget is usually just a suggestion or a statement of policy they want to see done. Now, the House of Representatives, the body who has the real power of the purse, will draft its plan and the budget process kicks off from there.
Overall, Trump wants to increase defense spending, and in order to offset that bump in funding, he is proposing $54 billion in cuts to other domestic programs. Those cuts are already being criticized in the Granite State because several of the programs he wants to slash would impact the people who rely on or utilize those funds from the federal government.
Here's what Trump's budget proposal means for the programs and people in New Hampshire:
MEALS ON WHEELS
The senior nutrition program has become the poster child for the impact of Trump's budget proposal. Even U.S. Rep. Carol Shea-Porter, D-N.H., was in the state on Monday visiting the Strafford Nutrition Program (SNP) in Somersworth criticizing the president for wanting to slash funding for Meals on Wheels.
"This is not, and should never be, politicized," she said at a roundtable event. "These programs are for everybody, men and women who have worked and have found themselves either disabled or old or poor or all of the above, who need nourishment, and we have to be there for them."
Jaime Chagnon, the director of SNP, said she would have to cut 2,500 meals from her program if they lost their federal funding. About 80 percent of their revenue comes from state contracts, which are in large part funded by federal grants, she said.
Yet, Trump's budget doesn't specifically call for the elimination of the Meals on Wheels program. It cuts Community Development Block Grants, which fund about 3 percent of the national Meals on Wheels program. The national program relies heavily on donations. At the local level, though, Chagnon said the percentage is likely much higher.
However, Trump's budget — known as a "skinny budget" — is a first outline, and it's largely silent on the senior nutrition program. Expect Meals on Wheels to be in the spotlight as more specifics and later versions of the budget come out.
COMMUNITY DEVELOPMENT BLOCK GRANTS (CDBG)
As mentioned, Trump's proposal calls for the elimination of these grants, which provide communities with grants for economic development and housing projects.
The Granite State received $8.7 million in CDBG for a number of programs ranging from Meals on Wheels to upgrading sidewalks.
Manchester Mayor Ted Gatsas said last month in his proposed budget for the Queen City that if CDBG were to continue, they would support programs such as the Boys & Girls Club, City Year, and the Queen City Bike Collective.
Those grants have also been used extensively in the North Country. For example, Berlin used a $500,000 CBDG to assist Capone Iron North Wood to begin operations in the city. The city also received three grants for a total of $1.35 million for its Neighborhood Reinvestment Program, which assisted more than 90 homes, including for the elderly, disabled, and low-income, to improve or upgrade their properties.
LOW-INCOME HOME ENERGY ASSISTANCE PROGRAM (LIHEAP)
LIHEAP is one of the more far reaching programs in the state that would feel the effects of a Trump budget. The program helps heat the homes of thousands of low-income Granite Staters, nearly 28,000 actually, and received more than $25 million in federal funds for the current fiscal year, according to the New Hampshire Union Leader.
Trump's budget blueprint called LIHEAP "a lower-impact program and is unable to demonstrate strong performance outcomes."
The funding is through the U.S. Department of Health and Human Services, which is expected to see a 16.2 percent cut in funds, or $12.6 billion less than last fiscal year. The state Office of Energy and Planning administers LIHEAP and contracts with Community Action Agencies for on-the-ground work.
In the North Country, over 6,000 households in Coos County and northern Grafton and Carroll Counties, received assistance through the program from the Tri-County Community Action Program, according to the Berlin Daily Sun.
NORTHERN BORDER REGIONAL COMMISSION (NBRC)
The elimination of this program probably received the most criticism from New Hampshire's Democratic congressional delegation.
Trump's budget cuts this commission, which was set up to invest in the economy and infrastructure in the North Country, but also in Maine, Vermont, and New York. From 2010 to 2015, the commission invested $3.3 million in New Hampshire projects.
"The Commission has also provided important funding for treatment and recovery services in the region as we work to combat the heroin, fentanyl, and opioid crisis," said U.S. Sen. Maggie Hassan in a statement. "Eliminating the Northern Border Regional Commission would be harmful to the infrastructure needs and economic development efforts in the region, and I will fight strongly to ensure that these cuts never happen."
U.S. Rep. Annie Kuster echoed similar sentiments. Even N.H. Senate Democratic Leader Jeff Woodburn from the North Country weighed in on the budget and the elimination of the NBRC.
"We need to make smart investments in order to expand opportunity for all, support businesses throughout our state, and lay the foundation for a new generation of economic growth," he said in a statement. "I'm very disappointed with the amount of harm that President Trump's budget proposal will cause to NH's North Country and urge our Congressional delegation and Governor [Chris] Sununu to oppose the elimination of this vital Commission in the Trump budget."
NOAA FUNDING
Several environmental officials were concerned that Trump's budget cuts would end several of their programs that they say are crucial to coastal industries and research.
Programs including the Great Bay National Estuarine Research Reserve and New Hampshire Sea Grant are at risk of being defunded due to Trump's proposed 17 percent budget cut to the National Oceanic and Atmospheric Administration (NOAA). Conservation and coastal research officials say they are concerned the National Estuary Program, New Hampshire Coastal Program and Piscataqua Region Estuaries Partnership are also poised to lose funding, according to The Portsmouth Herald.
DEFENSE, VETERANS AFFAIRS
So who is poised to actually benefit from Trump's proposed budget? Well, if you work in the defense industry or veteran's affairs, then those areas would see an increase in funds.
Specifically, the U.S. Department of Veterans Affairs would see a 6 percent bump, or $4.4 billion, and Department of Defense would receive a 10 percent increase, or more than $52 billion.
In New Hampshire, that means defense contractors, like BAE Systems in Nashua or Manchester, and gun manufacturers, such as Sig Sauer, could see more work in the future. Sig Sauer recently won a $580 million, 10-year contract with the U.S. Army to manufacture pistols.
The question remains, though, if these industries see more money, how much of an impact would that have on the state's economy?
Also, many policy experts say Trump's budget outline is shifting a lot of funding obligations to the state. If the state doesn't have the means, they could put that on the cities and towns, with many rural communities, who heavily voted for Trump in November, footing the bill.
"President Trump campaigned on the promise that he would look out for those in rural, economically-disadvantaged areas like the North Country, but instead, his budget proposal stabs them in the back," Woodburn said. "Instead of supporting efforts to bring new jobs to the North Country, his budget puts corporate special interests ahead of the hard-working people of New Hampshire."
Everyone will be waiting to see what of Trump's blueprint ends up in the House's version of the budget and how Trump supporters react to the potential shift in cost to the communities.
Sign up for NH Journal's must-read morning political newsletter.