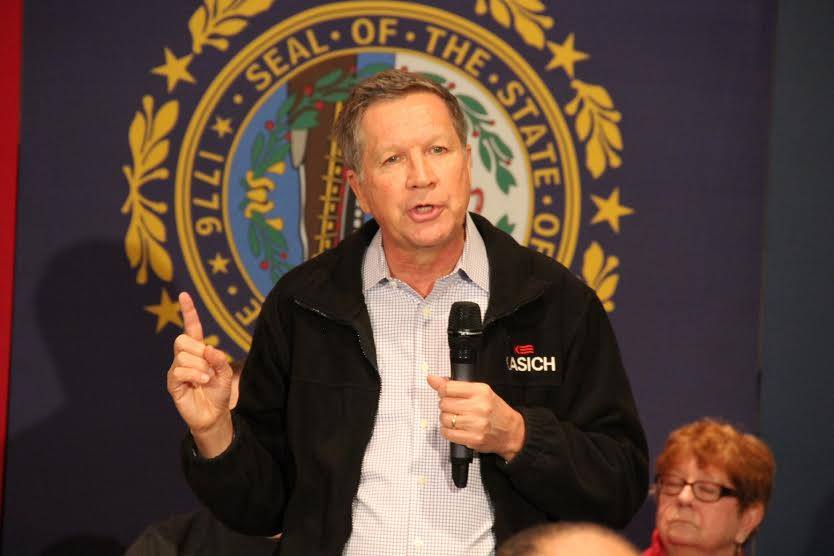 The flurry of activity in the Granite State this week has some calling it the start of the 2020 New Hampshire primary. Former Democratic presidential candidate Martin O'Malley held some meet-and-greets and a town hall meeting on Sunday, and former Vice President Joe Biden is headlining the state Democratic Party's fundraising dinner on April 30. Smack dab in the middle of the two Democrats is Republican Gov. John Kasich, who visited the state on Thursday to promote his new book.
It felt like a reunion of sorts for Kasich, his team, and over 200 supporters who came to hear him speak at the New Hampshire Institute of Politics at Saint Anselm College. In a small gathering before his speech, he thanked key allies for their help during the 2016 Republican presidential primary. Even though Kasich was in the state in August to campaign for Gov. Chris Sununu in his gubernatorial bid, it's his first foray back to New Hampshire since Trump won the White House.
Of course, there was an elephant in the room (and not just because the room was chock full of Republicans): is Kasich going to run for president again in 2020? Those waiting with bated breath will have to wait a bit longer.
"People ask why I am back," Kasich said. "I am back to sell books."
His new book, "Two Paths: America Divided or United," came out on Tuesday and one of his first stops in his book tour was New Hampshire, so it's easy to see where the 2020 speculation comes from.
He mostly talked about his 2016 campaign and national politics, with some advice to his followers who are unhappy with President Donald Trump.
"In course of running for president, something happened to me that never happened before," he said. "I was, like, so boring, you know, and boring didn't cut it."
Kasich finished second in last year's first-in-the-nation presidential primary, far behind Trump (35 percent to 16 percent). Yet, Kasich spent more time in the state than any other candidate, holding more than 100 town halls during the primary.
He took note of Trump not following through on some of his campaign promises, like ripping up the Iran nuclear deal and deporting "13 million Muslims out of the country."
"You notice all that promise? It's all been taken back," he said.
He also encouraged unity, bemoaning the wide political divide in the United States.
"We all ought to spend about 10 minutes a day reading something we don't agree with. All of us are absorbing only that that we agree with and getting rid of those things that we don't agree with," Kasich said. "Over time, I think things are going to settle down and people are going to realize that the difficulties that we face cannot be solved without unity. Difficulties cannot be solved unless we have deliberate and steady solutions to the problem."
Out of the three "potential candidates" visiting New Hampshire this week, Kasich is probably getting asked the most if he is going to run again in 2020.
"He hasn't been president for 100 days, yet," Kasich told reporters. "I mean, everybody needs to take a deep breath. We'll see how it runs out. He's the president. Give him a chance. We'll see how it goes."
Why is he getting the question more? Well, it's good political theatre. If there's still #NeverTrump sentiment in a few years, Kasich is a good person they can rally behind, since he's one of the few 2016 Republican presidential candidates who did not endorse Trump after he secured the party's nomination.
That's not to say O'Malley and Biden aren't getting asked (both of whom have also skirted the question). The 2020 Democratic primary should be an exciting one, with 20 or so candidates expected to enter the race, but political pundits and the media love the idea of an incumbent president getting a primary challenger.
Challenges to White House incumbents aren't as rare as people think. Five of the six presidents who served between 1968 and 1992 faced insurrections. When they do — like Ronald Reagan's challenge of Gerald Ford in 1976, Ted Kennedy's race against Jimmy Carter in 1980, and Pat Buchanan's bid to unseat George H.W. Bush in 1992 — it's usually because they were viewed as unsuccessful or unpopular, especially within their party's base.
It's very possible that Trump's base could leave him in the next three years, but after his first 100 days in office, it appears they are still with him.
A University of Virginia Center for Politics poll of Trump voters released Thursday shows his approval rating at 93 percent with his base.
The most recent poll in New Hampshire shows that a majority of Republicans approve of the president, although not as high as the national average. About 80 percent of New Hampshire Republicans approve of the job Trump is doing as president, according to a University of New Hampshire Survey Center poll from February.
Those percentages would need to decrease for anyone to seriously consider mounting a GOP primary challenge. What does this mean for Kasich? It looks like he's playing the "sitting-and-waiting game." If the opportunity presents itself, don't be surprised to see him be one of the first Republicans to declare their candidacy. For now, he told NH1 News that he will "see how things develop in the future."
Kasich is still popular in the Granite State, and he said he had a feeling he would return often because he has many friends here, so he could become a regular face in these parts over the next three years.
Sign up for NH Journal's must-read morning political newsletter.