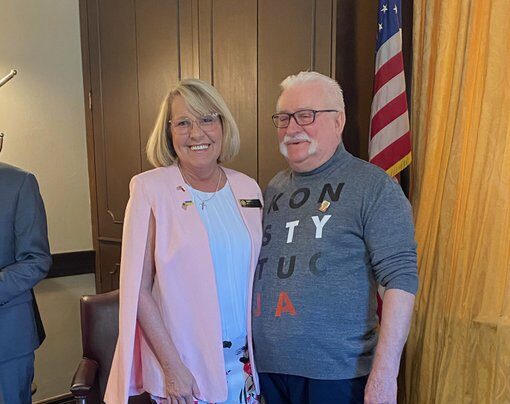 Nobel Prize winner and former president of Poland Lech Walesa said the United States can lead the world into a new era of peace and security. 
"Under American leadership, we can really improve this world," Walesa said through an interpreter.
Walesa spoke to New Hampshire leaders on Thursday during a joint House and Senate session, as part of his speaking tour across the northeast United States. Walesa said the world has unfinished business with Russia. Now is the time for the world to stop Russian President Vladimir Putin, whose rule is simply a continuation of the old Soviet Union, he said.
"Right now is that propitious moment to finish that task which I failed to accomplish," he said.
Walesa wanted to completely "disintegrate" the Soviet Union in the 1990s, but was stopped at the time by American politicians, he told the Granite State lawmakers. With Putin sending his army into Ukraine to commit atrocities, the world needs to fight back, he said.
There must be a strong leader on the world stage, Walesa insisted.
"There is one condition for it to be successful, the United States really has to (step into) the role of the leader in the world," he said. "This is the opportune moment for us to win the final victory."
Walesa noted he led the Solidarity movement in Poland that helped defeat the old Communist order in his country, setting off the chain of events that would see the Soviet Union collapsed, the Warsaw Pact dissolved, and Germany reunited. But the job wasn't complete and the world has authoritarian holdovers from the Cold War in Russia and China.
Putin must be defeated in Ukraine, and the United States must impose a better political order on Russia, he said. Otherwise, another Putin will emerge in the next five to 10 years.
Walesa's message included criticism of the current capitalist order in the West and a lack of guiding principles among people.
"Societies used to believe in a God and many societies have rejected God now," he said. "This is a world where everyone wants to drive, but there are no traffic regulations."
Walesa sees the future world as a democratic and globalist, with people moving beyond the need for barriers. It is a world with a free market that takes care of the poor and dispossessed. But to get there, the world needs the United States to lead people to freedom.
"Providence has given you such strong potential. If unwilling, share your potential with Poland and we will try to put it to good use," he said.
Poland has long been caught between world powers seeking to dominate it.
"We're between Germany and Russia, who enjoy military socializing if you may remember. They would visit and revisit one another," he said.
Walesa reminded lawmakers that Poland tried to warn the world about Adolf Hitler before World II and about Josef Stalin at the start of the Cold War, only to be ignored. Now, Poland is leading by helping Ukraine and taking in more than 3 million Ukrainian refugees.
Walesa got standing ovations at the start and end of his speech. But some of his criticisms of capitalism were met with silence, as was his call to confront Russia in a final battle. It didn't stop Granite State politicians from getting their photos taken with the Cold War icon or tweeting about his speech.
State Rep. Laura Telerski (D-Nashua) called his speech inspiring.
"I heard Lech Walesa speak in Gaston Hall before he served as president of Poland. Today he addresses the @NHHouseofReps and Senate in joint convention. He still inspires," she tweeted.
"Truly an honor to meet former president of Poland Lech Walesa," state Rep. Kimberly Rice (R-Hudson) tweeted.