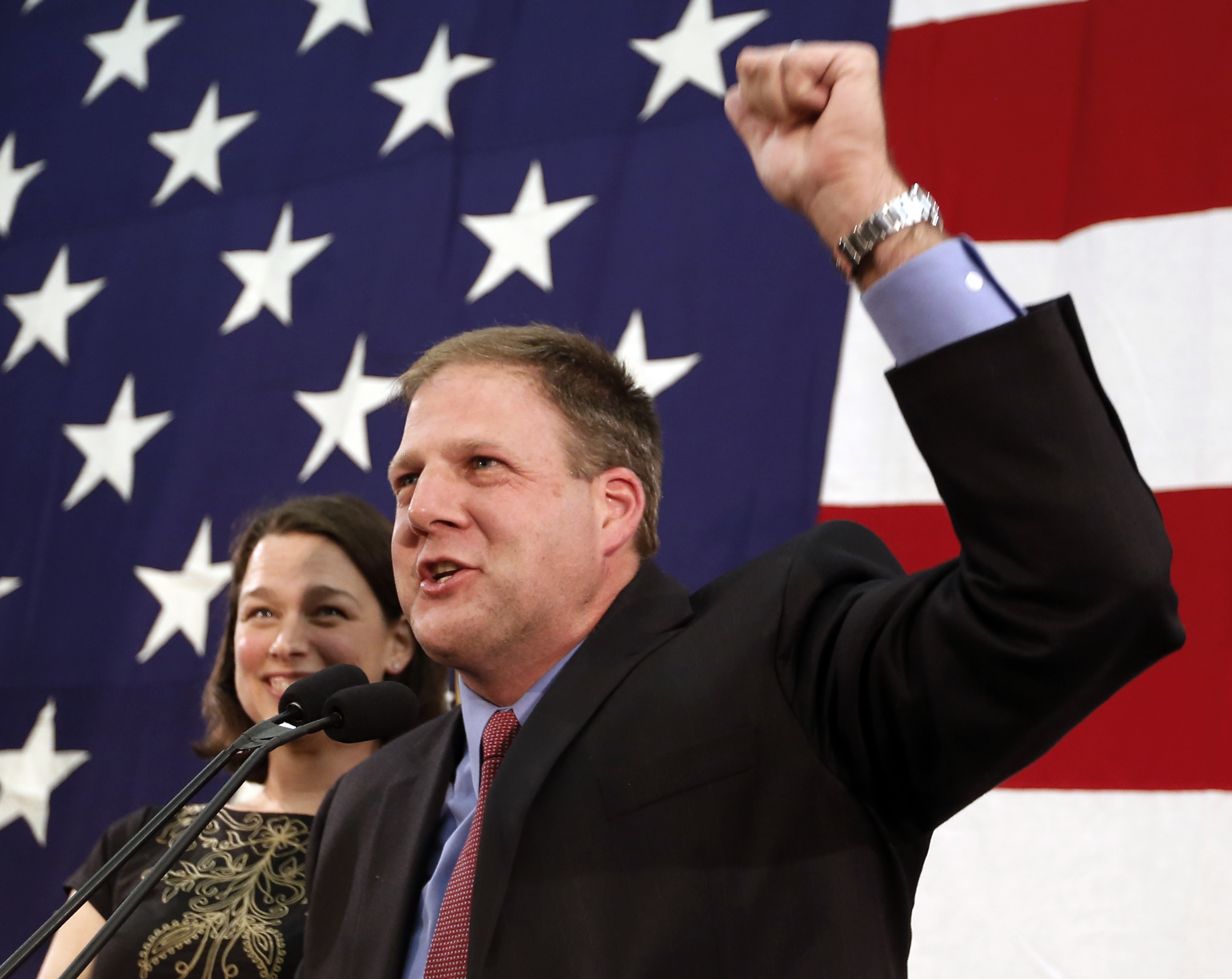 It's not often where there is a war of words between a governor and a mayor of neighboring state. Yet, that's what happened last week between New Hampshire Gov. Chris Sununu and Mayor Daniel Rivera of Lawrence, Mass., when discussing who's to blame for the Northeast's growing opioid crisis.
"It's coming from Lawrence," Sununu said Wednesday at the Greater Manchester Chamber of Commerce breakfast. "Eighty-five percent of the fentanyl in this state is coming straight out of Lawrence, Massachusetts."
He also pointed to Lawrence again in an interview later that day with Boston Herald Radio, saying the city's status as a "sanctuary city" is causing problems for New Hampshire.
Sununu said he had a meeting with other New England governors when they met in Washington D.C. for the National Governors Association annual winter meetings.
"I sat down with [Massachusetts Gov.] Charlie Baker and all the governors from the New England regions and said we're going to cross borders, you better get ready," Sununu said. "I'm working with the DEA [Drug Enforcement Administration] in Bedford, working with the DEA in Boston, our state police, their state police."
Sununu then vowed that "we're going in."
"We're going to get tough on these guys, and I want to scare every dealer that wants to come across that border," he said. "We're not giving dealers nine months on parole and probation anymore. We're putting them away for the five, 10 and 15 years that they deserve."
Sununu's "tough on drugs" rhetoric makes sense — albeit an interesting political move to pick a battle with a town in another state. He's the first Republican governor in 12 years and the opioid crisis is still rampant in New Hampshire. He campaigned on the epidemic being the number one priority the state faces and depending on what he does to curb the crisis in his two-year term, could be a factor in his 2018 reelection campaign.
Despite several media reports about the subsequent back-and-forth between Sununu and Rivera, there is some legitimacy in Sununu's claim about Lawrence being a hot bed of activity for heroin and fentanyl.
Most of the heroin coming to New England originates in Colombia and travels through Mexico, according to a 2013 report from The New York Times. Despite an increase in the number of seizures along the southern U.S. border, enough is still getting through to major distribution centers, including Philadelphia and New York, which then makes its way into northern New England, "often through Lowell, Lawerence, and Holyoke, Mass."
According to the U.S. Drug Enforcement Administration's 2014 National Drug Threat Assessment Summary, most heroin supplies in the New England region are brought in from New York along the vast interstate highway system, naming I-95 and I-93 as the major routes for New Hampshire's heroin trafficking routes. The report also named Lawrence as a main distribution center for northern New England states.
"Massachusetts also serves as a staging area or interim transportation point for heroin being transported north," the report states. "Lawrence and Lowell, north of Boston, are distribution centers for northern New England and Canada. Maine, New Hampshire, and Vermont are supplied with heroin chiefly by drug groups in northeastern Massachusetts, particularly in Lawrence and Lowell."
Western Massachusetts is one of the staging areas for distribution in Vermont, Maine, and New Hampshire because drug dealers from those states who want the product have to drive to Massachusetts to get it because drug penalties in Vermont, Maine, and New Hampshire are stricter in the three northern New England states.
Because Lawrence sits on the I-93 highway, police have said many drug deals occur at fast-food restaurants off the highway exits.
It is so widely known that Lawrence is a main distributor for the opioid crisis, that even Massachusetts Attorney General Maura Healey said it to the Times in 2016.
"Massachusetts is the epicenter for the heroin/fentanyl trade," she said. "From Lawrence, it's being trafficked and sold all over the New England states."
For example, undercover detectives followed a car on a heroin buying mission from Manchester to Lawrence and back on Sept. 15, 2015, which resulted in one arrest.
Still, despite these reports and former statements that show Lawrence is a main distributor of heroin and fentanyl for New England, Rivera took offense that Sununu called out his city.
"Just like the President is finding out that health care is complicated, I think that the governor is going to find out that this is a complicated issue," Rivera said in a hastily scheduled press conference on Thursday. "I'm not sure that he meant to threaten the sovereignty of the Commonwealth of Massachusetts, but he did."
One of the major problems Rivera had was with Sununu's claim that 85 percent of the fentanyl entering New Hampshire came from Lawrence.
"I would ask you guys to ask him where he got that number from," he charged reporters. "I don't know if it's a true number. I think the problem is if you think like 'oh you snuff out what's happening in Lawrence, it will all go away.' I know he's only been on the job 60 days, but the reality is it's like water, it will find another place to go."
Rivera and Sununu eventually spoke on Thursday afternoon, and Sununu released a statement after the call.
"The Mayor and his local law enforcement personnel have been doing a good job on this issue, but we must recognize this is a cross-border problem that requires cross-border solutions," Sununu said. "It has no geographic boundaries and it remains incumbent upon all of us to come together and work collaboratively across our borders along with federal, state and local law enforcement."
Sununu's office has not offered any evidence of his "85-percent" claim, but regardless, Lawrence's role in the opioid crisis cannot be disputed.
Baker, the Massachusetts governor, weighed in on the controversy, and said, "I do view this as a problem that affects us all and I think singling out a single community or a single state is not accurate."
New Hampshire Senate Democratic Leader Jeff Woodburn offered his two cents.
"Instead of antagonizing key regional partners in our collective fight to combat the devastating effects of the opioid crisis, Governor Sununu should be fighting for our state's successful Medicaid expansion program which has helped over 100,000 Granite Staters gain access to mental health and substance abuse treatment," he said in a statement. "New Hampshire needs steady and serious leadership from the Governor's office that focuses on a holistic approach to solving this public health crisis, not reckless, cavalier comments."