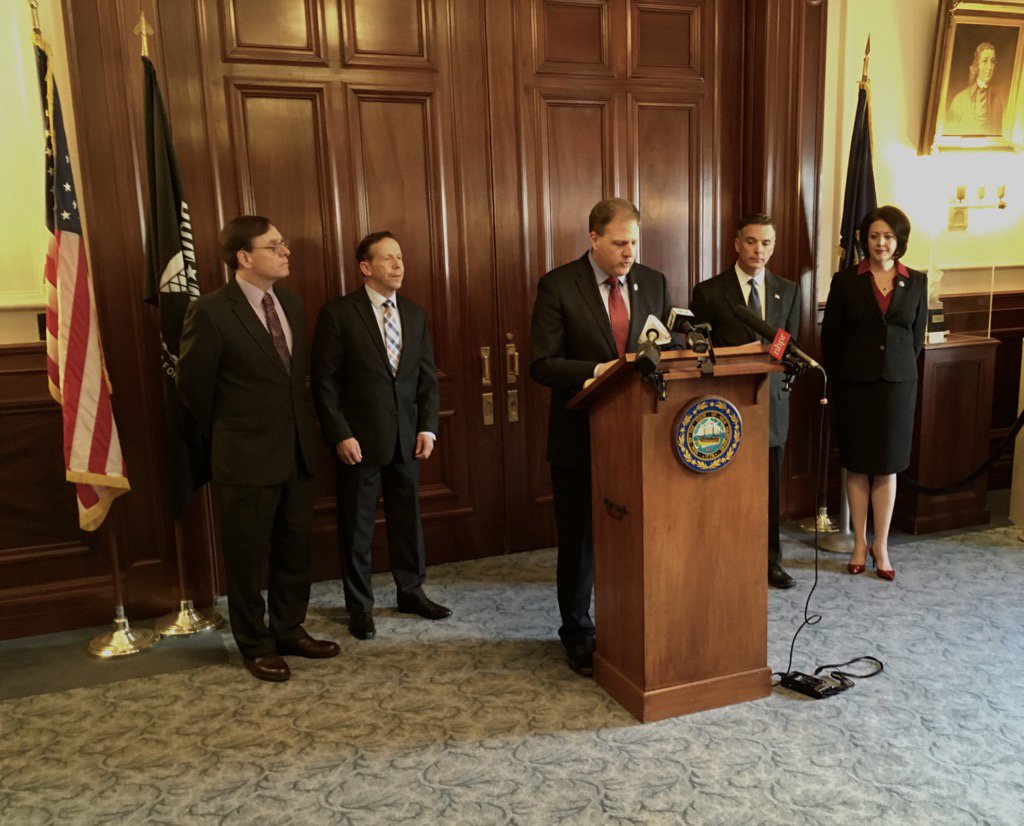 If Gov. Chris Sununu can cross anything off from his campaign promises list, he can at least say that he spoke to 100 businesses in his first 100 days in office. What comes next? Well, it's still too early to know how many of those businesses will actually relocate to New Hampshire.
The first-term Republican's "100 Businesses in 100 Days Initiative" was a pledge he made to supporters during his 2016 gubernatorial bid to meet with at least 100 businesses in his first few months in office as a way to boost New Hampshire's economy and recruit new companies and workers to set up shop in the state.
"I think it would be very premature to say how many are actually going to move here," Sununu told reporters Thursday at the State House. "I have no doubt some of them will. I have no doubt that we made some clear successes and inroads that otherwise would not if we didn't make this charge, make this effort."
He said he met with 127 businesses from 23 states and seven countries. A majority came from the northeast United States and Canada. The top five states and provinces where the governor focused his outreach are Quebec, Massachusetts, California, Vermont, and Texas.
The bulk of the companies represented employee-based businesses whose costs are driven mostly by payroll and customers, including law firms, call centers, retail stores, and financial services firms.
The aerospace, high-tech, and manufacturing sectors were also a significant number of the businesses Sununu had spoken to in person or via phone.
Companies related to real estate, environment, development, energy, telecom, infrastructure, healthcare, education, and social services were also in the mix, ranging in size from five to more than 1,000 employees, according to the business report released from Sununu's office.
The names of those companies aren't being released yet due to confidentiality agreements he made with the companies.
"We promised these companies we wouldn't do it. It's what they asked us to do. They asked us not to release their names," Sununu said. "This a request of those businesses. This isn't our stipulation. This is a request of businesses that we keep things confidential until such time they are ready to talk and promote it. If you're a manufacturer in Pennsylvania or wherever, and you're looking to pick up and move 100 employees, that is not something that you necessarily want to publicize."
Democrats criticized the governor for not being more transparent with his business meetings and what companies he was meeting with.
Sununu's unwillingness to name any businesses begs question as to whether he met w/ as many as he says #nhpolitics

— NH Democratic Party (@NHDems) April 20, 2017
"Like President Trump, Governor Sununu believes that you don't need any actual details or evidence to back up your claims," said Zandra Rice Hawkins, executive director of Granite State Progress. "Governor Sununu wants people to take him at his word without offering any evidence or credible sources to verify his big claims. Sununu's press conference should be called out for what it is, a dog and pony show with no real legs to stand on."
His office said he has some "extremely firm commitments," although no specific timetable on when companies would start moving into the state.
Jeff Rose, the commissioner of the Department of Resources and Economic Development, said the process of moving a company takes time.
"The acceleration of the process has been tangible and I think the results will be validated," said Jeff Rose, commissioner of the Department of Resources and Economic Development.
Besides the politics of the report, it did reveal what issues businesses are prioritizing if they move to New Hampshire. It also shows little departure from campaign talking points Sununu made last year.
The report discusses how New Hampshire businesses are overburdened with regulations, something Sununu promised to look at when he was on the stump. After his inauguration, Sununu called a 90-day moratorium on new rules and regulations from state agencies to cut back on unnecessary burdens. He said most agencies have turned in reports detailing existing regulations and his office will review them in the coming weeks.
Education was another policy issues that came up in discussions with businesses.
"We heard from businesses who stressed how important issues like full-day kindergarten and school choice are to the parents that they employ," the report states.
Even though it failed during the legislative session, Sununu remains committed to making New Hampshire a right-to-work state .
"Many large employers refuse to even consider moving to a non-right-to-work state like New Hampshire," the report states. "These are companies with hundreds and thousands of employees that could single-handedly turn around a town's economic situation. They recognize many of the benefits that New Hampshire would provide, but they simply will not move until the state opens up freedom for workers."
The report also looks at how the opioid crisis is still the state's top priority, business taxes could be cut further, infrastructure needs improvements, young people need to be encouraged to stay in the state, and energy rates should be lowered.
Does this all sound familiar? These are all issues Sununu has spoken about before, and the report reads like his economic proposal from his campaign (but seriously, they're very similar).
These are the same ideas Sununu pushed on the trail, in his inauguration speech, and in his budget proposal. He could essentially repackage the report and present it as his economic plan for his 2018 re-election campaign.
Democrats want names of companies planning on moving to the state, but Sununu did fulfill his campaign promise of meeting (or talking) with more than 100 businesses in 100 days. That could be enough to keep his supporters happy when it comes time to vote next year.
With two-year terms, it can be hard for governors to see immediate success with their policy proposals. As soon as they're elected, it's time to start fundraising again. There was a fundraiser in Sununu's honor when he was in Washington D.C. in February.
Democrats will make it a big campaign point if Sununu failed to bring any new businesses into the state, but it does take a while for new businesses to fully set up shop in a new place.
For example, General Electric is still in the process of moving its headquarters from Connecticut to Boston (a move that New Hampshire wanted in on, but failed to make a compelling case). They announced the move in January 2016. By August 2016, they set up a temporary location in Boston for more than 100 employees with construction on their new headquarters expected to begin in 2017. GE would officially move in to their new space in 2018-2019.
Even though his first 100 days are over, Sununu said he's not stopping his efforts to recruit new businesses to New Hampshire.
"We still have a backlog (of companies to visit) that we have to get to frankly," he said. "This is the beginning of an on-going effort."
Sign up for NH Journal's must-read morning political newsletter.