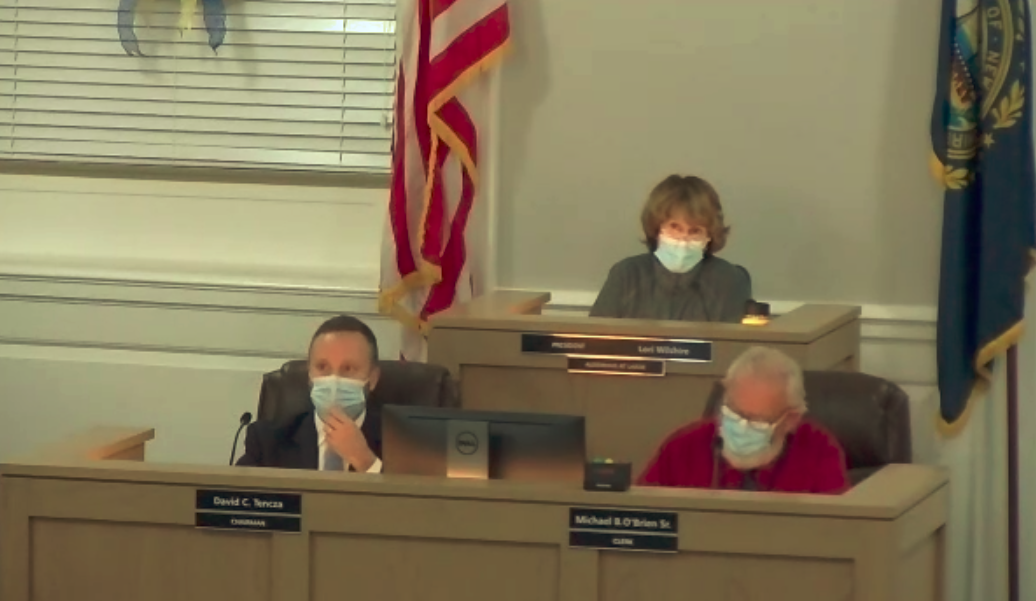 Just hours after President Joe Biden held a press conference defending his federal COVID-19 mandates, Nashua's Board of Aldermen passed one of their own.  The city's residents are being told to put their face masks back on as the board overwhelmingly voted in favor of a temporary mask mandate. 
The ordinance, approved with 12 votes Tuesday night, will require the wearing of face masks at indoor public spaces through the end of January. The ordinance carries a maximum $1,000 fine, though there is no enforcement mechanism for the measure. 
It is not clear who will end up making sure people will wear masks, as Aldermen said police are already stretched thin.
Nashua's Director of Public Health Bobbie Bagley said the mandate is needed as COVID-19 cases surge around the holidays. Nashua hospitals are already overwhelmed with COVID-19 patients and there are no ICU beds available in the city.
"Our goal is really to have an impact on the next four weeks to really keep these cases down," Bagley said.
COVID has swamped the state as cold weather moved in. Bagley said the post-Thanksgiving surge that has inundated hospitals is starting to recede, right in time for the Christmas gatherings which will bring more anticipated spread. The hope is that the temporary masking order will reduce the spread over the next few weeks, until cases start going down again.
Alderman Ben Clemons was the lone holdout against the measure. He said people can choose to wear a mask, just as they can choose to get vaccinated.
"To me, it is a matter of principle. I don't believe in mandates. I will never vote for mandates," Clemons said.
Clemons said the vaccines have been available for people for more than a year, and those vaccines are largely effective against serious illness and death. It's a choice to get vaccinated, and a choice to wear a mask, he said.
"The majority of folks who end up on ventilators are unvaccinated. I find that is their problem," Clemons said.
A University of New Hampshire Survey Center poll released Monday found 81 percent of Granite State adults have been fully or partially vaccinated, while just 18 percent say they are refusing the vaccine.
Alderman Dave Tencza once sided with those who see mandates as a personal liberty issue, but said his thinking on mask mandates has changed as the pandemic has continued and the science shows how individual decisions impact communities. 
"I used to think wearing a mask was more of a personal liberty issue, like wearing a seatbelt. Now, I really think it's comparable to drunk driving. No one has the right to drive under the influence of alcohol," he said.
Nashua joins a small group of municipalities that have brought back the mask mandates enacted in the first year of the pandemic. Last week, Keene's city council restarted its mask mandate, as did the town of Exeter.
Andrew Sylvia with Manchester InkLink reported Tuesday night that Manchester's Board of Alderman split on a mask mandate, ending with a six-to-six tie. Mayor Joyce Craig broke the tie, bringing the mask mandate back to Manchester.