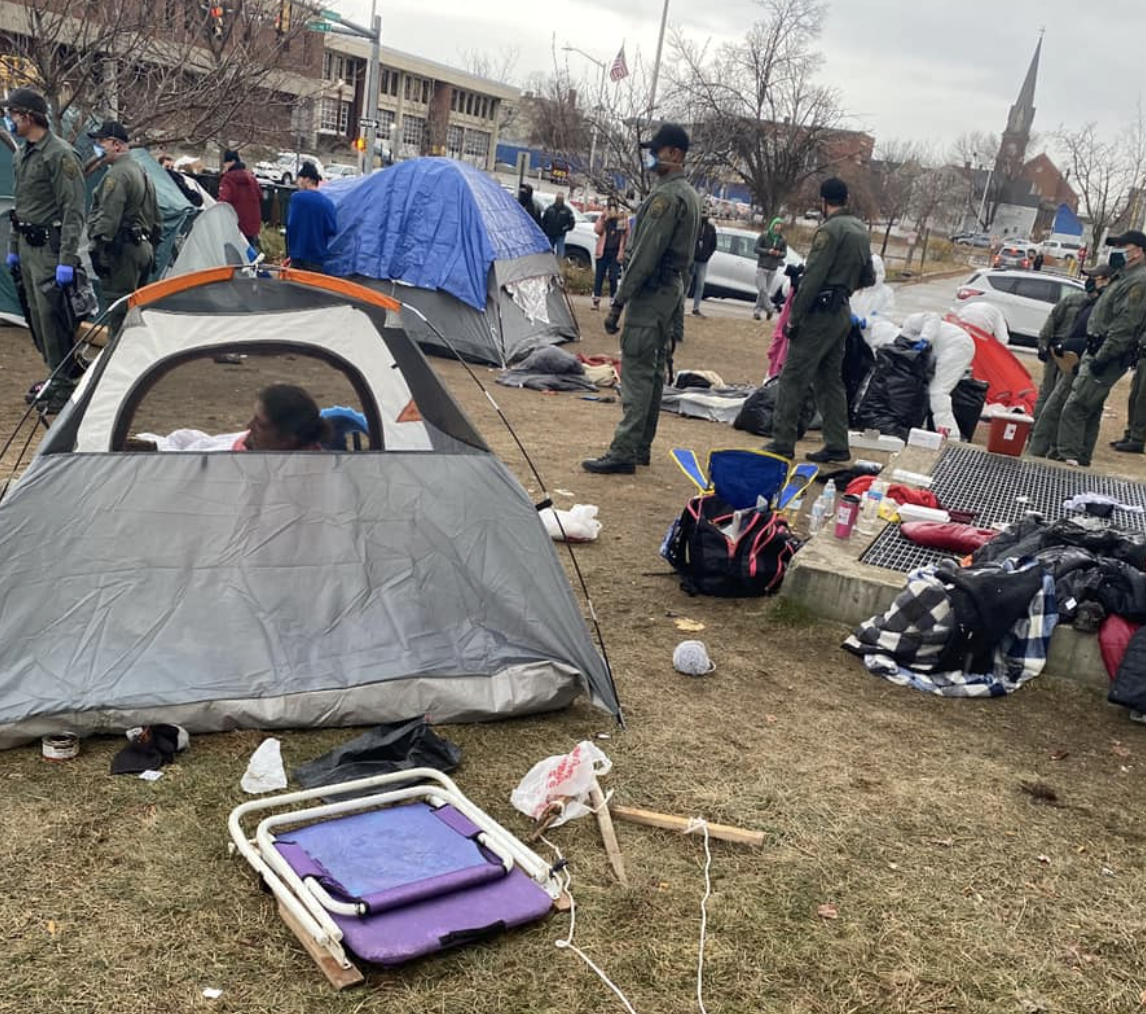 Manchester's police are hamstrung when dealing with the twin crises of homelessness and addiction, thanks in part to a city ordinance that allows homeless people to camp on public property, according to mayoral candidate Jay Ruais.
The lone Republican in the race to replace Democrat Joyce Craig, Ruais is backing an effort to change the city ordinance prohibiting camping on public property. Under ordinance 130.13, police cannot currently stop someone from setting up a tent on city property. That needs to change, Ruais said.
"We have a significant homelessness crisis in our city, and it is impacting the community at large. In order to make sure our businesses are thriving, and the quality of life for residents and visitors to Manchester is not threatened, we must give our police and first responders the proper tools to address this issue," Ruais said.
Alderman At Large Joseph Kelly Levasseur is pushing a change to the ordinance to make it easier for police to keep people from sleeping on the streets. The ordinance currently prohibits the camps, but with a loophole: It allows homeless people to stay on the street if no shelter space is available.
Levasseur wants the Board of Aldermen to remove that exception, allowing police to enforce the camping prohibition. Camping on public property without a permit carries a possible $250 fine. Ruais said enforcing ordinances against camping is an important step toward addressing the city's homeless problem.
"We must deal with this issue in a comprehensive way, one that includes enforcement of our ordinances, addressing the underlying causes of this crisis like addiction and mental health while increasing the availability of affordable housing. What we cannot do is govern in fear of lawsuits, and I support this proposed ordinance change," Ruais said.
None of the Democrats running for mayor — Ward 1 Alderman Kevin Cavanaugh, Ward 2 Alderman Will Stewart, or Alderman At Large June Trisciani — responded to questions from NHJournal about whether they support closing the street camping loophole. 
Manchester has struggled for years with its homeless crisis. In 2021, the city had about 360 unsheltered people, according to the NH Coalition to End Homelessness annual report. According to city officials, that number has jumped to about 540 people this year.
Much of the homeless population lives in tents and shelters scattered throughout the city, leaving many residents feeling unsafe in their neighborhoods. Craig, who is seeking the Democratic nomination for governor, acknowledged this year that half of the city's opioid overdose cases happen in homeless camps.
Last year, homeless man Richard Moore, 40, was arrested for fatally stabbing 75-year-old Daniel Whitmore, who was walking near his home, according to police reports. Whitmore lived close to a public rail trial where he reportedly enjoyed walking and which was close to another homeless camp.
After two people died in homeless camps last winter, and a woman was arrested for giving birth in a camp, Craig demanded the state step in to provide National Guard support to deal with the crisis, among other measures. The homeless mother charged with endangering her baby is Alexandra Eckersley, 27, daughter of Hall of Fame pitcher Dennis Eckersley.
Craig ordered some of the camps cleared this year in reaction to those events, moving about 40 people off the streets. Craig has been pushing a $1.4 million homeless center that will include 40 beds. 
The issue is expected to be front and center in the governor's race next year if Craig defeats Executive Councilor Warmington for the Democratic nomination.
Asked recently about Craig's candidacy, Gov. Chris Sununu replied, "Seriously, does anyone want the state of New Hampshire run like Manchester?"
Craig has attempted to blame Sununu and the state government for Manchester's homeless problem.
"Manchester and communities across the state have been working to address the growing homelessness crisis for years, and mayors have repeatedly asked for the state to collaborate with us to find solutions," Craig said in a May 2023 statement. "Our communities need a partner in Concord who understands that we can only solve this homelessness crisis if we all work together."