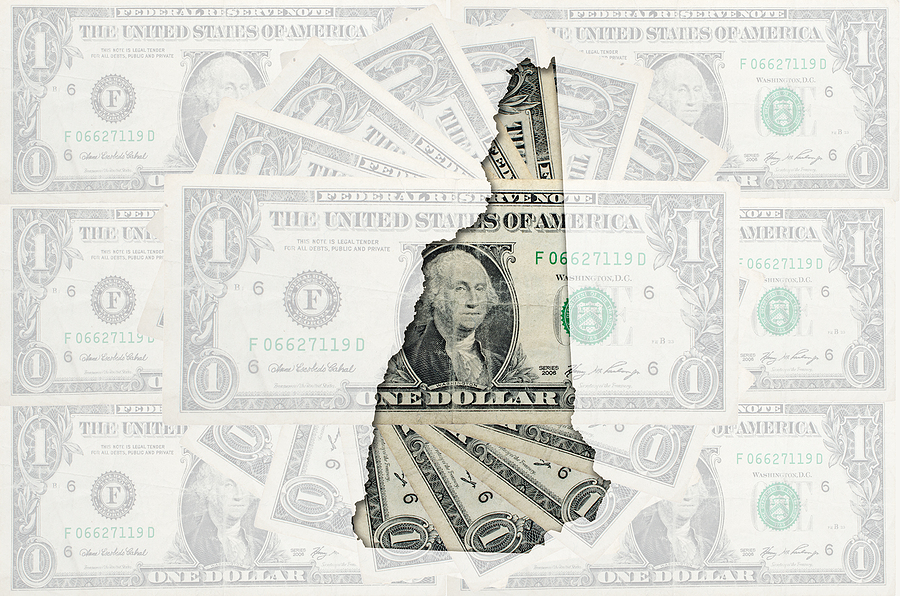 New Hampshire has one of the strongest state economies in the country, with high rates of high-tech jobs, low unemployment, and a GDP growth rate that outperforms California, according to a new data analysis from WalletHub. 
The report, which looked at how each state's economy has fared since the end of the COVID-19 pandemic recession, ranks the Granite State as the fifth-best economy in America, behind Washington state, Utah, California, and Massachusetts.
New Hampshire easily outperforms the remaining New England states, with Connecticut coming in at 25, Rhode Island at 36, Vermont at 41, and Maine trailing at number 44.
However, according to experts, New Hampshire could be headed toward a recession as runaway inflation continues to drive up the price of energy, housing, and other needs.
New Hampshire comes in second, behind Tennessee and ahead of California, when it comes to positive change in gross domestic product or GDP. It is tied for first with Utah, Nebraska, Kansas, and Minnesota for the lowest unemployment rate. It is fifth when it comes to having the highest number of immigrants with advanced educations, and is fourth in the percentage of high-tech jobs.
Gov. Chris Sununu said the overall picture is good, but warned there are negative forces outside New Hampshire's control that could be a problem.
"We've taken steps over these last few years to ensure that New Hampshire's economy remains strong," Sununu said. "But given Washington's inaction in combating inflation and out-of-control spending, an economic downturn is on the horizon, and we are doing everything we can at the state level to minimize the impact on our citizens." 
One expert interviewed by WalletHub, Robert Wyllie, Assistant Professor of Political Science ad Director of Political Economy Program at Ashland University in Ohio, said the country as a whole should be concerned about a potential recession and inflation getting worse. He said we could see a return to the 1970s.
"High inflation, fueled in part by high energy prices, combined with slow growth points has drawn many comparisons to the 1970s," Wyllie said.
A recent University of New Hampshire Carsey School of Public Policy report warned of a stagnating economy. New Hampshire's economy needs state and federal leaders to address roadblocks that come up as the world economy tries to move past COVID.
"As the state, nation, and world hopefully emerge from the COVID-19 pandemic and the economic carnage it created, New Hampshire is, to some extent, subject to economic forces beyond its control," the report states.
The state's many long-term challenges include the housing shortage, the shrinking labor force, the need for childcare, and infrastructure investments.
"New Hampshire has many economic advantages that position it well as it seeks to address the challenges of wage stagnation, childcare shortages, educational inequity, an aging workforce, housing affordability, struggling families, and C- infrastructure," the UNH report states. "It has a strong and diverse economic base from which to grow, and its workforce is well-educated. With foresight and will, New Hampshire can chart a course to a productive, prosperous economy that addresses these challenges and enhances the well-being of all who live here."
However, New Hampshire has also repeatedly been ranked near the top of the "Freedom Index" by multiple sources, due to its low tax and low regulation environment. And that could be both a reason its economy is overperforming today and has a brighter future tomorrow.
In the Wallethub report, Vincent Gloss, assistant professor of economics at George Mason University argued that "economic freedom (i.e. lower regulation, lower taxes and lower spending, safer property rights) does not only minimize downturns associated with exogenous shocks such as a pandemic, but it also accelerates recovery. Governments should look at policies that allow firms and families more flexibility in their decisions and that means stepping back."