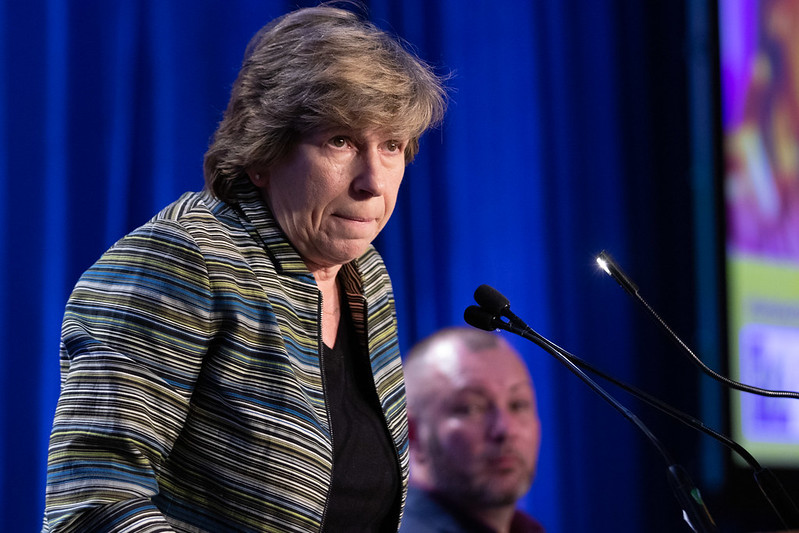 A New Hampshire's teachers' union is going to court to stop the state's popular Education Freedom Account (EFA) program that some families use to escape failing public schools. The move comes as data show traditional public school enrollment falling while the number of students choosing charter schools and other alternatives is rising.
The American Federation of Teachers (AFT) announced Thursday it filed a lawsuit against Education Commissioner Frank Edelblut in the Merrimack Superior Court in Concord challenging New Hampshire's EFA program. The complaint argues the program violates the New Hampshire Constitution and state law by using state lottery dollars and money from the Education Trust Fund to fund the EFAs.
"The state specifically earmarked this money for public education. Instead, the state is stealing from public school students in plain sight to pay for its private voucher program," said Deb Howes, president of the AFT-NH, who brought the suit "as a citizen taxpayer," according to an AFT press release.
Families earning less than 300 percent of the federal poverty level can use the EFA program to take their share of state per pupil funding – about $5,000 a year — and use it for alternatives to public school, like private school, homeschooling or tutoring. The public school they leave behind keeps its portion of local per-pupil funding, which can range from $10,000 to $20,000 or more.
EFA expenses must be approved by the Children's Scholarship Fund (CSF), a private scholarship organization that oversees the program. In September CSF reported that families of more than 3,000 New Hampshire children completed EFA applications, up from more than 2,000 children who used EFAs in 2021-22.
"It underscores a growing demand from Granite State parents for educational alternatives," CSF reports.
The national AFT's controversial union president Randi Weingarten weighed in Thursday on behalf of the lawsuit. "New Hampshire can't fund its voucher program by illegally putting its hand in the taxpayer cookie jar that's intended for public school students," Weingarten said. "It's as simple as this: No matter what program the state wants to fund, it has to do it legally."
The complaint is based on the premise that EFAs are illegal because the state constitution says "all moneys received from a state-run lottery [shall] be appropriated and used exclusively for the school districts of the state… and shall not be transferred or diverted to any other purpose."
But supporters respond that EFA spending has been authorized by the legislature and that revenue from sources other than the lottery go to funding k-12 education. Since money is fungible, there's plenty of revenue to pay for the EFA program without using lottery dollars.
"This lawsuit appears to be without merit," said  Jason Bedrick, Research Fellow at the Center for Education Policy at the Heritage Foundation. "The Education Trust Fund has long been used for purposes beyond school districts, such as to place students with special needs in private schools. The state's constitutional duty to cherish the interest of education is best fulfilled when all children have access to a wide variety of learning environments. Education Freedom Accounts further that interest."
Howes claims the EFA program is denying public schools millions in money from the Education Trust Fund.
"Public school students are losing out on millions of dollars that are needed to fix leaky old buildings, purchase and maintain modern computer equipment, buy books and materials published at least in the last decade to support student learning, and provide more social and emotional assistance and other needs that will help students excel," Howes said.
Representatives for New Hampshire's Department of Education declined to speak about the lawsuit and instead issued a brief statement.
"The New Hampshire Department of Education is aware of the complaint filed today by Deborah Howes at Merrimack County Superior Court. At this time, the department is not commenting on the pending litigation," a DOE representative said on behalf of the department.
Kate Baker Demers, the executive director for the Children's Scholarship Fund NH, which administers the EFA program for the state, said the program gives parents the freedom to make their own educational choices, and is totally in line with the state constitution.
"Empowering parents to make educational decisions for their children does not violate any state law or our New Hampshire constitution," Baker Demers said.
And, supporters note, parents are free to use the funding to transfer their child to a different public school as well.
"This is a desperate attempt by the union to block families from being able to access a wide variety of education options," said Bedrick. "Thousands of New Hampshire families are using Education Freedom Accounts to give their children the education that best meets their individual needs. It's sad to see the union putting their politics ahead of kids' learning needs."