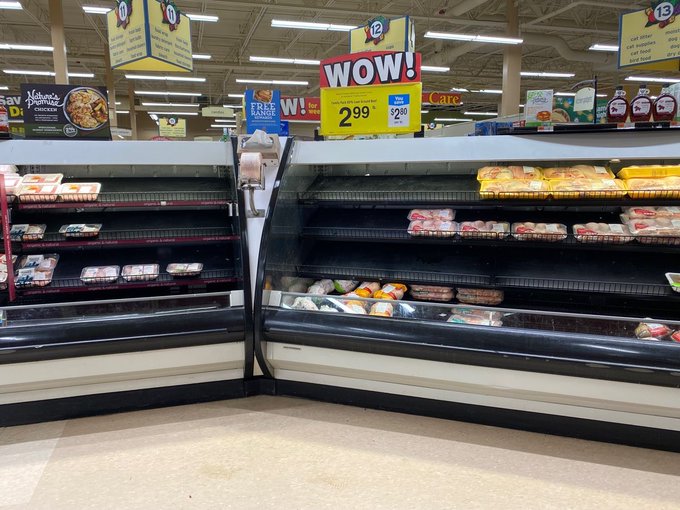 On Tuesday, the U.S. Labor Department announced the inflation rate hit 7 percent, the fastest pace of price hikes on Americans since 1982. But some shoppers are asking: What difference does it make when prices rise if there's nothing in the stores to buy?
In New Hampshire and across the nation, shoppers are finding grocery store shelves that, while they aren't empty, they are far from fully stocked. The hashtag #BareShelvesBiden has begun to take off.
Grocery store supplies are dwindling across the country as grocery store supply chains fall victim to the Omicron surge, and recent bad weather is leaving the Northeast hardest hit.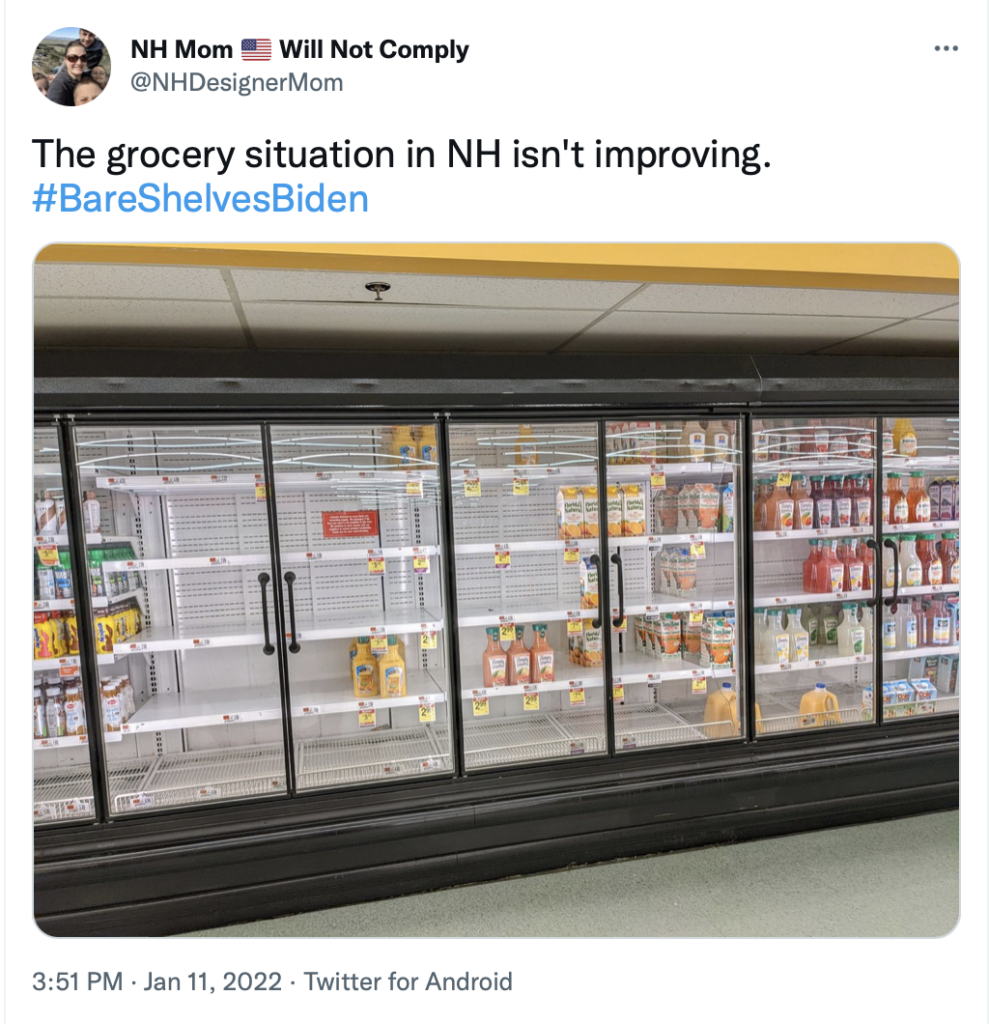 It's not all bad news, according to Bruce Bergeron, chairman of the New Hampshire Grocers Association's board of directors. He said the supply issues are going to hit large chains hardest in New Hampshire, as those stores rely on frequent shipments, while smaller stores are so far still able to get stock. 
"It's a matter of scale. The smaller stores are not selling in large quantities and don't have the same pressures," he said.
Supply chains are suffering from a variety of problems, from lack of staffing to weather delays. Add in the latest round of COVID-19 illness and many shoppers are finding bare shelves and fewer choices.
"We're really seeing the perfect storm," Phil Lempert, editor of the website SupermarketGuru.com, recently told NPR.
According to Lempert, the Northeast is facing some of the worst shortages now, due in part to recent winter storms that snarled transportation routes. 
Albertsons CEO Vivek Sankaran told investors in a recent call he had anticipated supply chain issues from earlier in the pandemic would have eased by now. That expectation has been upended by the Omicron variant surge.
"We were expecting supply issues to get more resolved as we got into this period right now. Omicron has put a bit of a dent on that. There are more supply challenges and we would expect more challenges over the next four or six weeks," Sankaran said.
Albertsons has nearly 3,000 grocery stores nationally, and the chain is not alone. Discount grocery chain Aldi, which has 2,000 stores, recently posted an apology to shoppers because supply chain problems have left it without many advertised items.
"We are experiencing shipping delays and are working around the clock to fix it. We know it is frustrating and we are sorry for any and all inconveniences," the store stated in the apology.
The Aldi chain is relatively new to New Hampshire, with about a dozen stores opened in the Granite State in the past few years. 
Bergeron said the biggest concern for New Hampshire grocers and shoppers right now isn't what's in stock, but how to pay for it with the increasingly rising inflation.
"Inflation is real and it affects people's pocketbooks. And it's present in everything grocery stores sell," he said. 
Skyrocketing inflation means the cost of necessary goods like food and fuel continues to rise, eating away at the recent wage increases many workers have seen. Bergeron said Granite Staters are going to likely deal with inflation for a long time to come.
"There's no escaping that," he said.
Bergeron noted signs of the current inflationary crunch were present for years. Home prices and wages have been climbing in New Hampshire since before the pandemic, he said, forcing up the price of everything else. 
"In my business, we started seeing this five years ago. I knew it would result in some inflation at the retail level," he said.
As inflation started shooting up in the fall, President Joe Biden's Federal Trade Commission responded by opening investigations into grocery store chains and suppliers, like Keene's C&S Wholesale Grocery. C&S is the largest supplier for grocery stores nationwide. Company representative Lauren La Bruno did not respond to a request for comment.
The FTC issued orders in late November to Walmart, Amazon.com, Kroger, C&S, Associated Wholesale Grocers, McLane Co., Procter & Gamble, Tyson Foods, and Kraft Heinz Co. demanding they provide data showing how their individual supply chains have been managed since the start of the pandemic.
Most economists dismiss that effort as political theater.
"Beef, pork, and poultry all have their own supply and demand market fundamentals," explained Meat Institute President and CEO Julie Potts. She said the real engine of higher meat prices is "rising input costs, rising fuel costs, supply chain difficulties and labor shortages that impact the price of meat on the retail shelf."
Russ Atherton, owner of The Local Butcher, a meat processing business in Barnstead, N.H., agrees.
"Regionally, we're coming off a year when feed prices were through the roof and the feed supply was really short," he told NHJournal. "Fuel and grain costs are way up, too. A ton of fertilizer two years ago was $280. Now they're forecasting the price at $1,300 this spring.
"When the input prices are going up across the board, you can't say [meat producers] are just ripping people off," Atherton said.