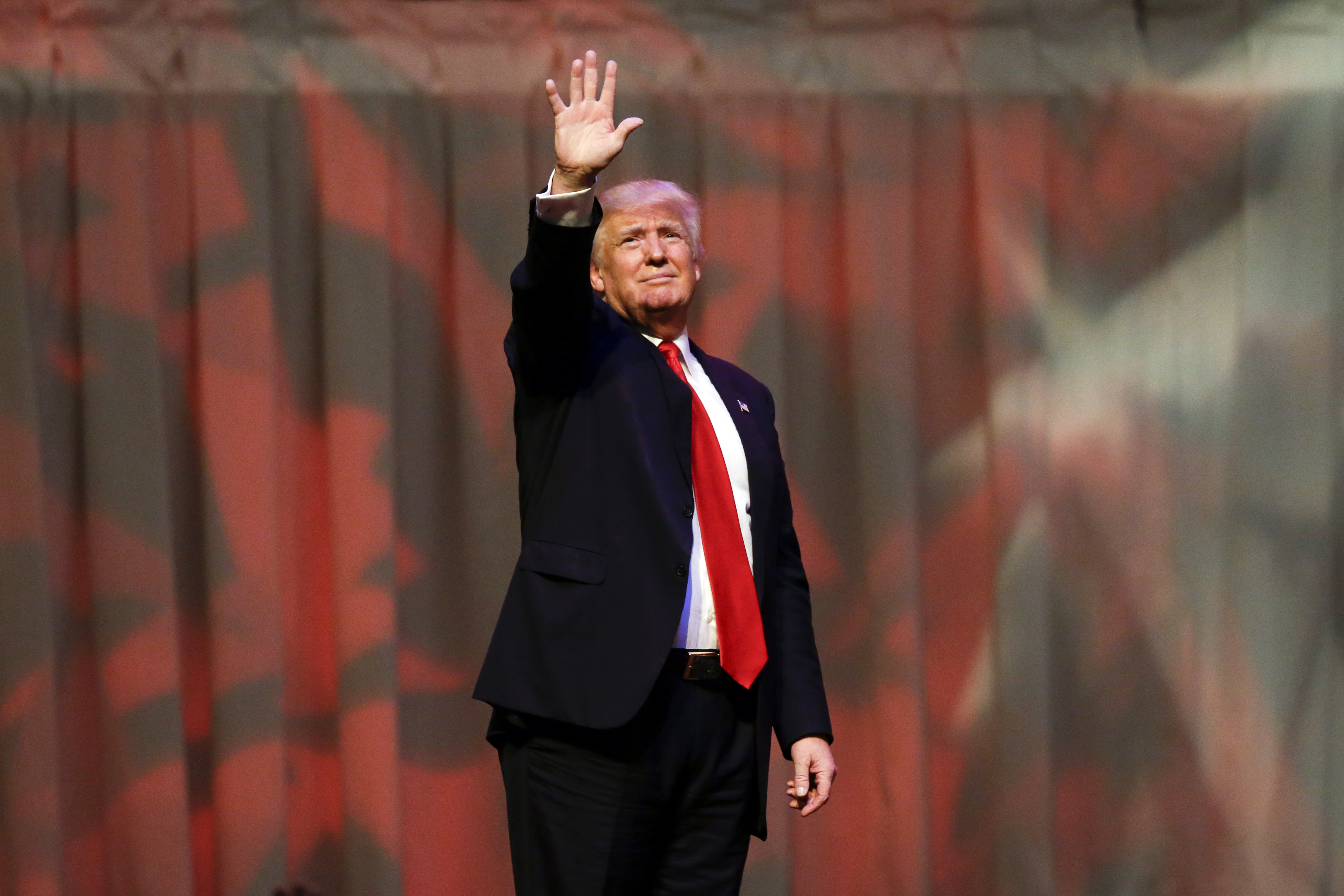 Two appointees to President Donald Trump's administration, who are also New Hampshire residents, were in the spotlight this past week, being criticized for their lack of experience to hold the positions.
For one of the appointees, controversial Twitter posts resulted in his dismissal from the federal government.
Greentech Media first reported on Friday that Trump appointed a massage therapist from New Hampshire with no apparent relevant experience to work at the Department of Energy (DOE). However, after a series of anti-Muslim social media posts on his Twitter account were revealed, the department "parted company with the employee Friday."
Sid Bowdidge received a nameplate and worked in the director's office of the DOE's Office of Technology Transitions (OTT), but it was not clear exactly when he started or what his job would be. OTT specializes in guiding research developed at the national labs into the private sector, where apparently Bowdidge did not have any experience.
A former special adviser to OTT, Teryn Norris told Greentech Media about the tension felt by some still working for the agency.
"What's in question here is not just the integrity of federal institutions and respect for professional civil servants, but basic stewardship of taxpayer-funded programs," Norris said. "It's one thing to recruit former campaign staff into roles focused on scheduling and communications. It's quite another to install a campaign staffer with zero relevant expertise into an oversight or coordination function for a multimillion-dollar office dealing with the commercialization of advanced technologies. Given Secretary Perry's stated commitment to supporting energy technology commercialization, I imagine he will want well-qualified professionals to manage offices like the Office of Technology Transitions."
Bowdidge previously volunteered for the Trump campaign and was quoted in an NBC News report for attending a debate watch party in Trump's New Hampshire campaign office where he was described as a "massage therapist from Bedford."
DOE employees became upset by Bowdidge's posts on his Twitter account, which was reportedly made private sometime on Friday. He accused former President Barack Obama of having terrorist "relatives" and posted anti-Muslim views, Greentech Media reported.
In a tweet on Dec. 6, 2015, he wrote that "Obama won't use the term radical Islam because they're his relatives!!!!" A day later, he replied to a CNN tweet that included a picture of the suspected San Bernardino shooters, writing, "Scum sucking maggots of the world. Exterminate them all."
A week later, Bowdidge replied to a person he was having a dispute with that he "wouldn't say that if it was your wife, sister or family member that was murdered by some Muslim piece of shit."
DOE officials confirmed that he is no longer with the agency.
"Normally, we do not comment on personnel matters," said Bob Hause, a DOE spokesman. "In this case, we can confirm that Sid Bowdidge is no longer employed at the Department of Energy."
POLITICO also reported on the controversy surrounding Bowdidge and that some DOE staffers said they were concerned about his social media posts.
"Every time there's a new political that comes in, we're all 'Who is this guy? What's his background?'" a career staffer told POLITICO. "This person's in charge of, theoretically, overseeing the policy around commercializing billions of dollars of federal research. This guy seems like he's pretty far out and we just don't know. It looks like sort of a ridiculous appointment."
Former Energy Secretary Ernest Moniz launched OTT in 2015 to help address the disconnect and bureaucratic hurdles the office had in getting its research from its national labs into the public marketplace.
Bowdidge is not the only one of Trump's appointees to be called out for controversial social media accounts. Several Trump appointees in the Education Department have reportedly shared their "unfiltered views" about women, African Americans, and transgender people, among others.
Just last week, Trump adviser Roger Stone was suspended from Twitter for calling a woman a "stupid, stupid b*tch" and saying CNN commentator Anna Navarro is "fat, stupid and f*cking Al Cardenas."
The other one of Trump's appointees from New Hampshire was criticized last week for his young age in working for the federal government.
The investigative journalism site ProPublica reported on Wednesday that of the approximately 400 individuals whom Trump appointed to the executive branch that don't need Senate confirmation, several include "obscure campaign staffers, contributors to Breitbart and others who have embraced conspiracy theories." ProPublica also says several of the appointees include Washington insiders who could technically be considered a part of the "swamp" that Trump pledged to drain.
Part of the investigative journalism site's records dump included information about Danny Tiso, who is listed as a special assistant to the secretary of the Labor Department.
His LinkedIn page, reportedly, identified him graduating from high school in 2015, although the page no longer lists that. His account lists that he worked for the Trump campaign in New Hampshire as an event coordinator. His most recent position lists him as an assistant site lead for the Presidential Inaugural Committee.
Slate, an online liberal publication, was quick to jump on the the fact that Tiso could have just graduated high school and did some digging to prove that fact.
They found a 2014 internship announcement suggesting he would not have been a senior until the 2015-2016 academic year. He could have graduated early though, since a February 2016 Nashua Telegraph article identifies him as a former high school student. He also, reportedly, made the 6th grade school honor roll.
New Hampshire liberal blogger Dean Barker tweeted about the ProPublica article and pointed to an article in Amherst Today that talked about a Trump rally held before the first-in-the-nation primary from a student's perspective. It was reported that Tiso, who was an alum of Souhegan High School, asked some of his fellow students to leave the rally.
"While Trump told the crowd he loved his protestors, the protestors would beg to differ. Rachael Facey, Seth Facey, Isabel Cullen, and Hannah Rowe, all current Souhegan students, attended the rally for informational purposes, yet were asked to leave by former Souhegan student and Trump campaign worker Danny Tiso," the article stated.
Alex Tucci, who was a field representative for former Republican Rep. Frank Guinta during his 2016 campaign, tweeted back at Barker asking him why he was age discriminating Tiso.
.@deanbarker why are you discriminating against someone based on their age? Sad!

— Alex Tucci (@TucciNH) March 8, 2017
Although Barker never said Tiso was unqualified for his position within the Trump administration, he alluded that maybe he should have a college degree.
@TucciNH You are very defensive about a charge I didn't make. Why is that? Does he have a position that typically requires a college degree?

— Dean Barker (@deanbarker) March 8, 2017
Shaun Doherty, a former state representative, also came to Tiso's defense saying "college is overrated, expensive" and has become a part of "SJW [Social Justice Warrior] nonsense."
@deanbarker @TucciNH Doubt it requires anything and I really don't care. Most successful people I know don't have college degrees

— Shaun Doherty (@SDohertyNH) March 8, 2017
In a statement to NH Journal, Doherty said Tiso was "one of the most effective Trump staffers in New Hampshire."
"It's great to have a local person working in a federal department with the new administration in Washington," he said. "Danny is smart beyond his years, and has always conducted himself in a professional manner. We have many elected officials in our legislature who are around Danny's age, In fact, I was elected to the state legislature at the same age he currently is. It's always nice to have diversity of age and background in our government. I'm glad to see Danny has earned this opportunity to help make America great again."
Sign up for NH Journal's must-read morning political newsletter.