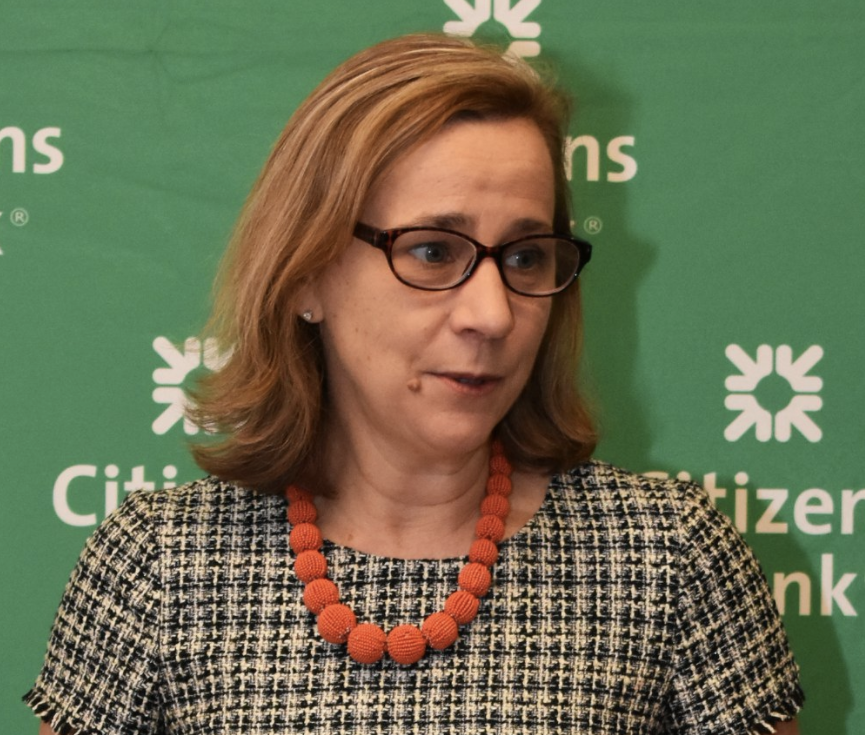 When Manchester Mayor Joyce Craig announced her plans to run for governor Monday morning, she already had the backing of some of the biggest names in the Democratic establishment. In addition to forming an exploratory committee for a 2024 race, Craig also released a "who's who" list of party insiders and activists to head her committee, including:
Former four-term moderate Gov. John Lynch, 2018 gubernatorial nominee and former state Sen. Molly Kelly, current state Sens. Lou D'Allesandro and Kevin Cavanaugh (the latter a candidate to replace Craig as mayor), and former state party chair Kathy Sullivan.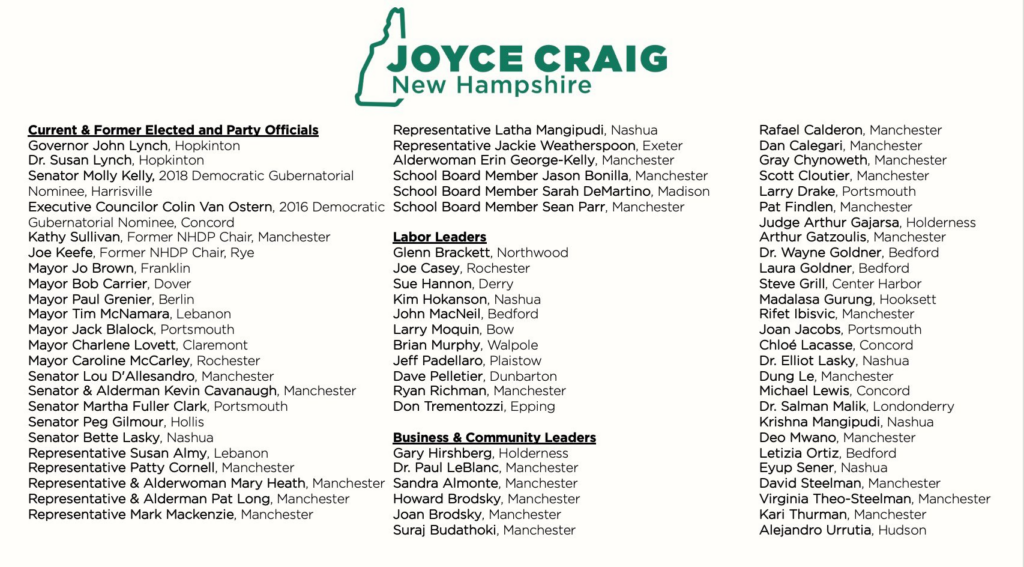 That was enough political firepower to drive the Democrats' 2022 candidate, former state Sen. Tom Sherman, out of the race.
But Executive Councilor Cinde Warmington tells NHJournal she's not going anywhere.
"It's very early. We are more than 18 months away from the election," Warmington said in a statement.
Warmington, the lone Democrat on the Executive Council, is no stranger to being outnumbered. It's well known that she is interested in running for governor. Will she get in the race?
"Right now, I'm focused on getting things done for the people of New Hampshire. There will be plenty of time for politics later," she added.
Sources tell NHJournal that party insiders, including U.S. Sen. Maggie Hassan, have been working for weeks to clear the field for the Manchester mayor. And, in an unusual case of politics making strange bedfellows, Republicans are cheering the effort on.
Granite State Republicans believe Craig's three terms as mayor of Manchester, with a steady stream of headlines about violent crime and out-of-control homelessness, would hurt the entire Democratic ticket with Craig at the top. GOP officials wasted no time getting their message out.
"Granite Staters have seen what Joyce Craig has done in Manchester and will not let 'Craig's Chaos' spread to the rest of New Hampshire," GOP state party chair Chris Ager said in a statement. "Craig has unequivocally failed Manchester during her time as mayor, and it is laughable that she wants to bring her disastrous policies to the corner office."
Craig's plan to run for governor was the worst-kept secret in New Hampshire politics. In her WMUR interview released early Monday morning, she took a swipe at incumbent Gov. Chris Sununu, who has yet to definitely declare whether he will seek another term.
"A consistent theme that I'm hearing throughout these conversations is that there's a lack of support from the state level, and I know that we can do better," Craig told WMUR's Adam Sexton. "So, I'm really looking forward to getting out across the state and having conversations with residents and families about what matters most to them."
The New Hampshire Democratic Party has had great success either avoiding primaries entirely or rallying around mainstream candidates and marginalizing their progressive opponents, as it did with former Portsmouth Mayor Steve Marchand in 2018 and former Executive Councilor Andru Volinsky in 2020 — both defeated by more moderate candidates who then went on to lose to Sununu in the general.
Could they do the same with Craig — whose list of 73 supporters across all 10 counties includes former Republican state Rep. Charlene Lovett — and keep a more progressive Democrat from mounting a strong campaign?
Sherman, who lost badly to Sununu even as Democrat Joe Biden carried the state by eight percent, certainly got the point.
"It's a lot of time, and I feel strongly it's time for me to take a break. The great news is we have such a strong group of people coming up the ranks to fill that need," Sherman said in a video statement.
Sherman's surrender was applauded on Twitter by New Hampshire Democratic Party Chair Raymond Buckley.
"As I said on election night, you should be proud of your campaign for governor – you beat Sununu in every debate!" Buckley tweeted.
Sherman's debate victories aside, Sununu won the race with 57 percent of the vote to Sherman's 41 percent.
UNH Political Science Professor Dante Scala said while Craig has a fundraising and organizational advantage, it is unlikely the New Hampshire Democratic Party will be able to keep other candidates from entering the race. The prospect of Sununu's departure would be too much of a lure.
"The more talk that Sununu will not run again, the more likely it is that other Democrats will take a close look at a race for an open seat," Scala said.
Assuming Sununu doesn't seek a record fifth term as governor, his fellow Republicans, former U.S. Sen. Kelly Ayotte, state Education Commissioner Frank Edelblut, and former state Senate President Chuck Morse are all widely believed to be seriously considering entering the race.
Meanwhile, Granite State Republicans are gearing up for a Craig candidacy.
"I've already got my bumper sticker ready," said GOP strategist Pat Griffin. "'Joyce Craig for Governor: She'll do to New Hampshire What She Did to Manchester.'"