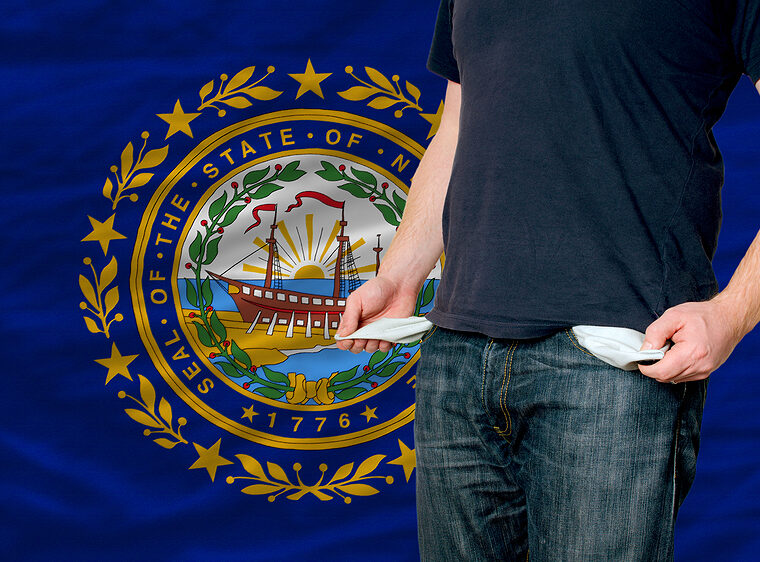 It may be the holiday season, but New Hampshire households aren't singing "Hallelujah" over the state of the economy under President Joe Biden.
Thanks to rising prices, high interest rates, and gasoline hovering above three bucks a gallon, Granite Staters say their household budgets are hurting. In the new BIA Report on Consumer Confidence, conducted by the University of New Hampshire Survey Center, 46 percent said their household family condition was worse off than a year ago, while just 15 percent said it was better off.
That 46 percent number is nearly twice as high as March 2021, just after Biden took office (24 percent). UNH polling director Dr. Andrew Smith said inflation is the culprit.
"Inflation just permeates across the entire economy, and it hits lower-income people hardest," Smith said.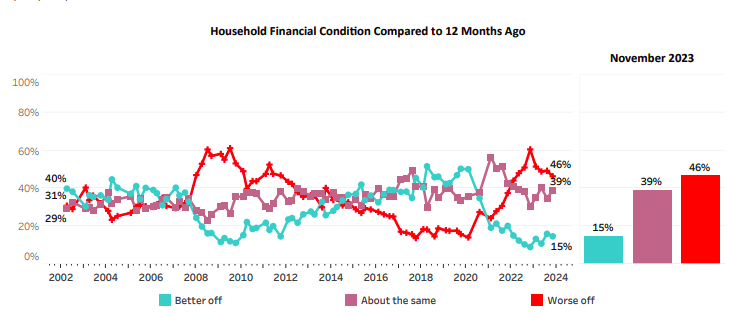 According to the survey, 55 percent of Granite Staters with an annual household income below $75,000 said they were worse off than they were a year ago, as compared to 37 percent of those earning $150,000 or more.
"And more than two-thirds (69 percent) of those with a household income below $75,000 say they struggled a lot in the past twelve months to afford basic necessities like food, clothing, and electricity," according to the UNH survey.
That starkly contrasts the "Bidenomics" message from the White House and from Democrats who gathered for the state party's Eleanor Roosevelt fundraising dinner Friday night.
"President Joe Biden has an incredible track record of success," said U.S. House Minority Leader Rep. Hakeem Jeffries (D-N.Y.). "Under President Joe Biden, wages are up, inflation is coming down, and more than 14 million private-sector jobs have been created."
In August, Rep. Annie Kuster cheered how "congressional Democrats and President Biden took action to lower costs, strengthen the workforce, and get our economy back on track."
According to the survey, that is not the view of most Granite State residents, and Gov. Chris Sununu said he wasn't surprised by the numbers.
"The national inflation crisis is real and has hit everyone hard. Whether it's buying a car or home or just managing credit card debt, people across this country are suffering because of bad policies driven by the Biden administration. Elections can have terrible consequences, and families across the country are now feeling the financial pain," Sununu said.
"Luckily, in New Hampshire, we offset the challenges of inflation by not adding additional unnecessary tax burdens to our citizens. That approach is exactly why New Hampshire continues to lead the country through such tough economic times."
Even as New Hampshire's economy grows, the record high housing costs are a major contributor to the financial squeeze felt by all, said Michael Skelton, President and CEO of the BIA.
"New Hampshire's strong economy continues to provide great opportunities for workers," Skelton said. "But the scarcity of housing continues to keep rent and home ownership difficult for many, especially those with moderate to low incomes. The high cost of housing also makes it more difficult to pay energy costs in New Hampshire, which are among the nation's highest. These remain top issues for our elected leaders to tackle to expand prosperity."
Democrats argue that, with inflation closer to 4 percent than the 9 percent it hit last year, the problem has been solved. Smith said that misses a key part of the story.
"Prices aren't declining; they just aren't going up as fast as they were before," he said.
Increasing interest rates to slow inflation made matters arguably worse. High interest acts as a ratchet on the economy, Smith explained. High rates mean people are spending more to borrow for cars homes, and even pay off credit card balances. Those added interest payments mean people have less to spend on basics.
Smith said that high interest rates, unaffordable homes, and expansive gasoline are all reminiscent of the economic malaise of the 1970s.
"That wasn't a pleasant time."
Republicans running in the First in the Nation presidential primary say they are hearing these concerns from Granite State voters firsthand. They argue the solution starts with a change at the top.
"In January, Granite Staters have the chance to reverse Bidenomics and elect Nikki Haley to be our nominee. She'll unleash American energy and create an economic revival across the nation," said Haley spokesman Ken Farnaso. "She'll lower costs, cut taxes, and put more money into our wallets. With Nikki on the ticket, America is one step closer to making Joe Biden a one-term president."
DeSantis spokeswoman Lindsey Curnette says DeSantis is focused on lowering energy costs which will have a major impact on inflation.
"Ron DeSantis has a detailed plan to restore American energy dominance. He will crush Bidenomics and support working Granite Staters by unleashing oil and gas exploration and development, pipelines, and infrastructure on day one."