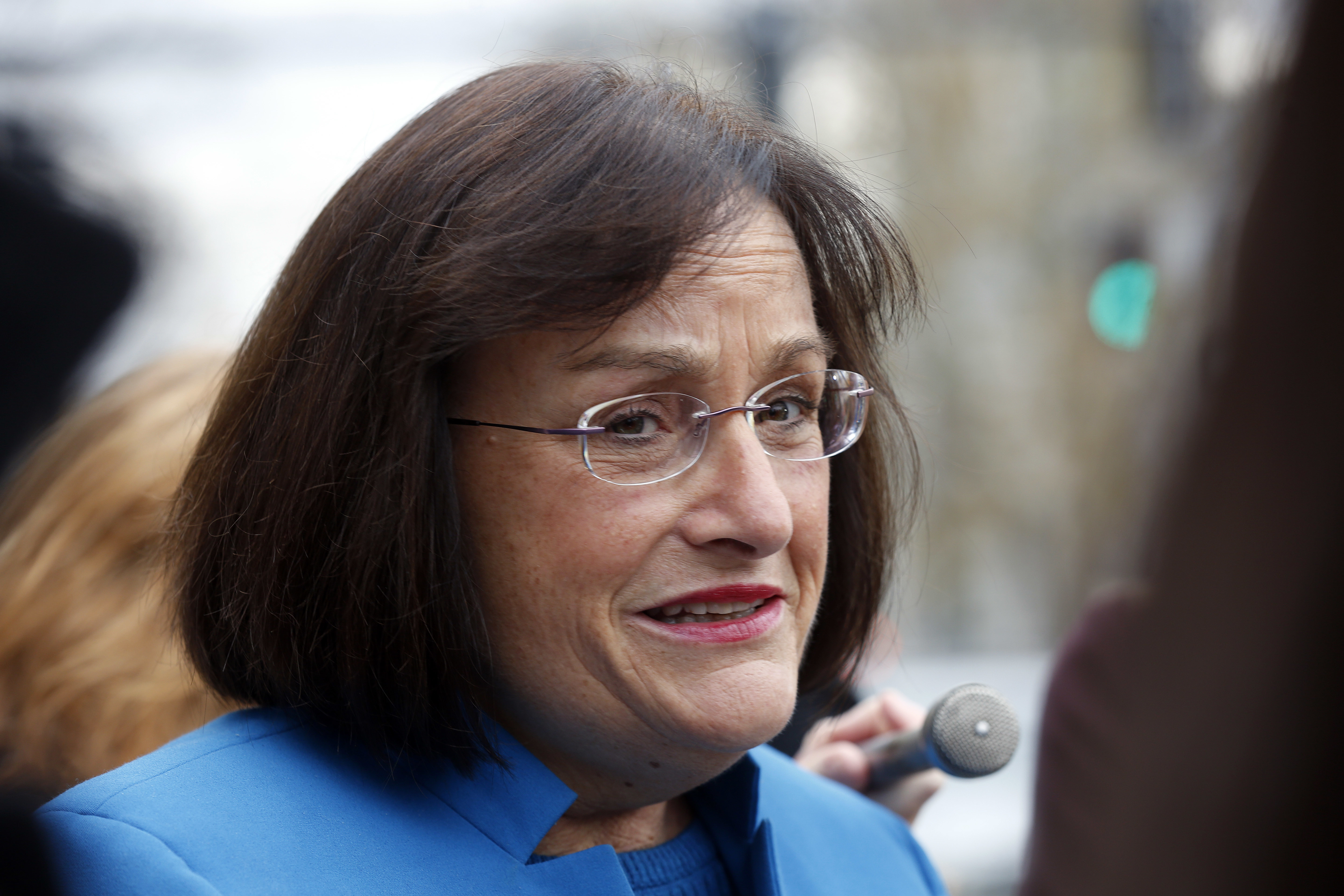 The Democratic Congressional Campaign Committee is sending mixed signals about U.S. Rep. Annie Kuster. They must believe the Democratic representative from New Hampshire's 2nd Congressional District can hold on to her seat next year because they named her chair of the Frontline Program, which provides congressional candidates with extra fundraising and campaign infrastructure support. However, they also listed her as one of the 19 initial candidates for the program.
DCCC Chairman Ben Ray Luján announced the 19 members for the 2017-2018 Frontline Program on Monday. The roster is about half of freshman members. Eight of the candidates won in districts that President Donald Trump carried in November, and all of them, except for one, are listed on the National Republican Congressional Committee initial targets list.
Seven of the members on this year's list were also on the DCCC's initial 2016 Frontline list, but they have a good track record, because out of the 12 Frontline members on the 2016 list, only one candidate lost and that was Nebraska Rep. Brad Ashford.
"Each of these Democrats knows how to win tough races — proven by their success in a difficult national environment in 2016," Luján said in a statement.
The DCCC announced in February that Kuster would chair the vulnerable incumbents program, which is her first time at the helm. This is Kuster's third term in Congress, and she's been elected in the more Democratic-leaning district of New Hampshire, which includes cities like Nashua and Concord. The DCCC should be confident she can deliver a fourth term. Inside Elections by Roll Call is ranking the 2nd Congressional District as a "currently safe Democrat."
Despite being chair of the Frontline Program, she is also one of the vulnerable incumbents that is expected to receive DCCC assistance in the 2018 midterm elections. Of course, the list can change over time and she could be removed if it looks like she doesn't have a serious Republican challenger.
Yet, previous chairs of the program were not also on the list of vulnerable incumbents. For example, for the 2015-2016 Frontline Program, Michigan Rep. Dan Kildee was chair, but he was not a candidate on the list. In the 2013-2014 program, Minnesota Rep. Tim Walz was chair, but not considered a vulnerable candidate for that election cycle. He was a previous member of the program for the 2011-2012 program under the leadership of Florida Rep. Debbie Wasserman Schultz, who was also not listed as a vulnerable incumbent when she chaired it.
It could make sense for a previously vulnerable incumbent to chair the program since they could bring the knowledge and experience the knowledge and experience with them to share with other representatives across the country, but it is still an interesting choice to have Kuster chair the Frontline Program, while also listing her as a vulnerable incumbent.
"The Frontline Program will help these members again build strong campaigns, maximize resources and take advantage of the energy from the grassroots, so that they can continue to fight on behalf of the hardworking people in their districts," Luján added.
Kuster enters the 2018 midterms with a decent amount in the bank, approximately $1 million, actually. The median amount of cash on hand that lawmakers who won their races in 2016 have is about $367,000, or about $361,000 for House candidates, putting Kuster well above the average.
However, Kuster spent nearly $2.2 million against Republican challenger Jim Lawrence. He spent less than $100,000, yet, Kuster only defeated Lawrence by 5 percent, 50-45 percent, respectively, with Libertarian John Babiarz receiving 5 percent. Perhaps, that close winning percentage in a relatively safe Democratic district is why she is listed in the incumbent protection program.
Democrats need to gain 24 seats to take control of the House, which is expected to be a difficult task for Democrats in 2018. Even though it's a midterm election and the incumbent party of the White House tends to lose seats, midterms also don't favor Democrats when voter turnout is less favorable for them, making protecting their incumbents a high priority.
However, Democrats are also on the offensive in 2018, hoping to capitalize on any anti-Trump voters. In their target list, they narrowed in on 59 GOP-held seats, focusing on districts that Hillary Clinton carried or that were narrowly won by Trump. Twenty-three Republican lawmakers come from Clinton districts, which is almost the number of seats Democrats need to win in order to get a House majority.
In turn, the National Republican Congressional Committee identified 36 Democratic incumbents, including Kuster, for the midterms, with approximately one-third of their targets coming from districts Trump won. Yet, several of those members were not identified on the initial Frontline roster. The NRCC has also named 10 members to its incumbent protection program, who mostly come from districts Clinton won.
U.S. Rep. Carol Shea-Porter is also a candidate for the DCCC's Frontline Program, which is expected for anyone running in New Hampshire's 1st Congressional District. The NRCC also listed Shea-Porter as one of its incumbents on its target list for 2018. Inside Elections ranks it as one of five "purely toss-up" seats for 2018. Shea-Porter defeated former Republican Rep. Frank Guinta, but it's been a back-and-forth contest between the two candidates for the last six years.
Shea-Porter enters the 2018 midterms with less of an advantage than Kuster — money-wise at least. She only has approximately $3,800 in the bank after a tight race between Guinta and Independent candidate Shawn O'Connor. Out of the 435 representatives in the House, Shea-Porter has the fifth lowest cash on hand total.
Even though the election is more than a year away, the political attacks are already happening.
"It's a no-brainer to choose Annie Kuster as the leader of the DCCC's Frontline Program since she can draw on her own embarrassing political blunders as examples of what not to do," said NRCC spokesman Chris Pack in a statement to NH Journal. "Rest assured, the NRCC is aggressively working to recruit viable candidates in both Granite State congressional seats to hold Annie Kuster and Carol Shea-Porter accountable for their blind hyper-partnership."
The NRCC points to 2013 when Kuster was late paying for her property taxes. It came up during her 2014 reelection campaign against Republican Marilinda Garcia as an example of one of her "embarrassing political blunders" during her term, and when it appeared that she couldn't answer a question about the Benghazi attacks or know that the Libyan-city was in the Middle East.
The DCCC did not respond to a request for comment from NH Journal on NRCC's statement. Kuster's office also did not respond to a request for comment.
The NRCC is hoping to recruit strong candidates for New Hampshire's Congressional districts, with the hopes that it will knock Kuster and Shea-Porter out of their seats.
Earlier this week, the NRCC blasted Shea-Porter for sending a press release condemning the the GOP's replacement for Obamacare quickly after it was released to the public.
"That means Carol started immediately complaining instead of fully digesting the bill, sleeping on it, getting input from her constituents, speaking to advocacy groups, health care experts, etc," Pack wrote in a NRCC blog post. "But this should come as no surprise since Carol has always put knee-jerk partisan politics ahead of actual legislating. Maybe that's why Granite State voters have repeatedly shown buyer's remorse by booting her out of office on multiple occasions."
When asked for a comment about the NRCC's statements, Shea-Porter's office referred to the same press release she sent out when the GOP's plan was released.
"House Republicans should be ashamed of their new bill to repeal the Affordable Care Act, which would hurt New Hampshire workers and families by ending Medicaid expansion, driving up premiums, leaving fewer people with coverage than before the law passed, and setting us back in the fight against the heroin, fentanyl, and opioid epidemic," she said in her statement.
Although no candidates have officially declared their intent to run against Kuster or Shea-Porter, there are several Republicans who have indicated they are interested in potentially challenging them for their seat.