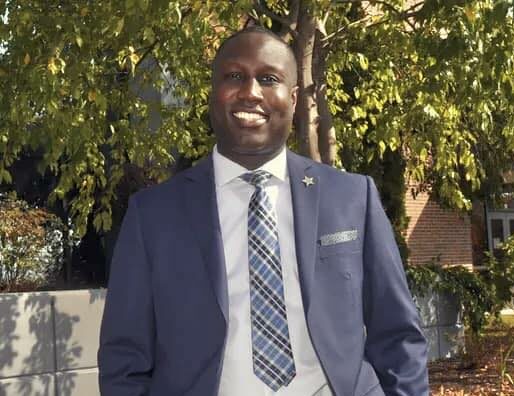 Strafford County Sheriff Mark Brave is under criminal investigation by the New Hampshire Attorney General's Public Integrity Unit for allegedly misusing public money for trips to Florida with a woman who is not his wife.
The source of that information? Sheriff Brave himself.
Brave, the state's first elected African American sheriff, took the questionable step of announcing the investigation to Foster's Daily Democrat reporter Karen Dandurant.
"They are raising all these allegations and rumors, trying to discredit me," Brave told the reporter. "This is a political attack by people who are supposed to be in my corner."
The Attorney General's Office did not comment on the investigation. According to a copy of a letter Senior Assistant Attorney General Dan Jimenez sent to Brave, the sheriff is being investigated for theft, falsification in official matters, and abuse of office. Jimenez's letter did not provide details about the allegations.
Brave has been at the center of scandal for more than a year as questions have swirled around the $100,000 contract his department received from Frisbie Hospital, where his wife Jamie was the chief nursing officer. The hospital recently terminated the contract early after questions were raised about how Brave secured that revenue.
Hospital representative, Ellen Miller, said the contact getting cancelled had nothing to do with any investigation.
"The contract between Frisbie Memorial Hospital and the Sheriff's Department states that it can be terminated at any time, and Frisbie Memorial Hospital exercised that right simply because our security department is fully staffed, so we no longer need the services of the Sheriff's Department," Miller said.
Jamie Brave served as chief nursing officer until her arrest in December for drunk driving. Sheriff Brave was in the car at the time of his wife's arrest and was reportedly too intoxicated to drive as well.
A whistleblower told NHJournal that Jamie Brave made the introductions for her husband with key hospital staff leading up to him first getting the contract.
Now the spotlight is on back Mark Brave again.
He told Dandurant the investigation centers on trips he took to Florida with a female employee using county money. He said investigators are implying that he is having an affair with the employee. After raising the issue, he denied the affair and denied misspending public money. His office budget includes $18,000 for travel expenses, he said.
"I misspent nothing. We send deputies out all the time to visit other departments to gain fresh ideas. … That is what this was," Brave told Dandurant.
Brave also denied using public money to pay for the employee's housing.
According to Dandurant's article, County Commissioners Deanna Rollo and Bob Watson, both Democrats, and County Attorney Tom Velardi urged Brave to take a leave of absence after learning of the investigation. Democrat George Maglaras, the county commission's chair, was not at that meeting and is considered a witness to at least one issue.
Commissioners also tried to have Brave put on the state's Exculpatory Evidence schedule, or Laurie List, for police officers with known credibility problems, Brave told Dandurant. He said the commissioners voted after it hired an outside firm to investigate Brave.
"The commissioners had no right to launch this investigation against me," Brave told Dandurant. "They are like sharks circling the water now, looking for anything they can bring up. I am fighting this, and I will continue to do so. It is a blatant attack on my name and what I have done here."
Jiminez's letter instructs Brave to essentially place himself on the Laurie List.
"I am also providing you with this notice so that you may notify the appropriate prosecuting agencies covering your jurisdiction with Brady v. Maryland … and State v. Laurie …" Jimenez wrote.