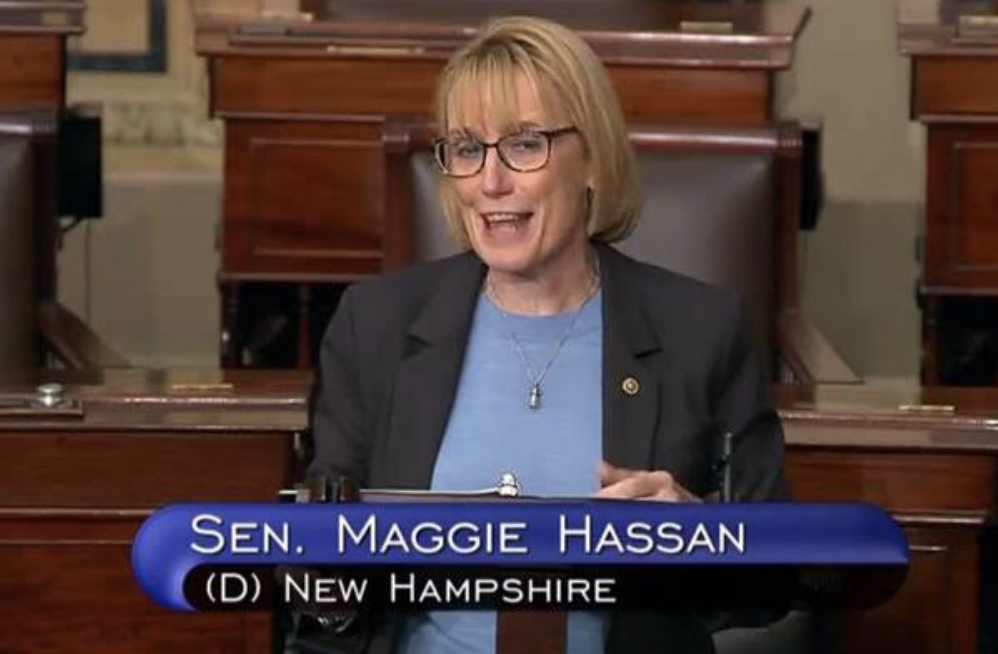 Sen. Maggie Hassan has reversed her position on the legislative filibuster, joining progressives like Sens. Bernie Sanders and Elizabeth Warren in abandoning a Senate rule she adamantly defended as recently as 2017. In 2020, Hassan joined Democrats in invoking the filibuster rule to block GOP legislation more than 300 times.
Now she says it's a "threat to our democracy."
Hassan announced her new position from the floor of the U.S. Senate Thursday night, dismissing the 104-year-old Senate procedure an "arcane" rule "being used as an excuse not to act."
"This cannot stand," Hassan said. "We must change the rules, to allow a simple majority of this body, as our Founders intended, to pass laws that will protect the right to vote and protect American democracy."
In a dark and ominous speech, Hassan laid out a conspiracy-fueled vision of American democracy on the verge of collapse.
"If the partisans who are attacking our democracy have their way, our Tuesday Election Day in early November will be different," Hassan warned. "We'll wake up, cast our vote, drop our kids at school, go to work. We'll tune back in at the end of the day to see the election results – only to learn that the vote tally is being ignored, that our votes don't matter much. We'll learn that our legislatures are going to throw out the results and pick their own winner.
"We'll see an election day that is a charade – just like in countries where democracy doesn't exist."
In fact, last year's election set a record for the highest voter turnout in 120 years, Two years earlier, the 2018 midterms had the highest turnout since 1914.
Hassan's announcement appears to be part of what Capitol Hill reporters are calling a Democratic "pivot" away from the failing Build Back Better bill — which has been tabled until at least March 2022 — and to backing one of the voting law proposals progressives have been pushing for months. Hassan didn't mention which voting plan she wants to pass once the filibuster rule is removed, but congressional Democratic leaders are talking about the "Right to Vote Act," a more modest version of the H.R. 1 "For the People Act."
Under the Right to Vote Act, states like New Hampshire would no longer be able to decide how to conduct their elections. Instead, the federal government would mandate early voting and no-excuse absentee ballots, and it would impose federal rules on voter ID requirements that would override state laws. The bill would also spend millions of public dollars funding political campaigns.
"Because that effort here in Congress is being blocked by a minority which is abusing its power, I believe the time has come to change the Senate rules to allow a straight up or down majority vote on this fundamental issue of democracy," Hassan said Thursday.
Hassan's comment about "a minority which is abusing its power" is apparently a reference to the 50 GOP U.S. Senators using the 60-vote threshold under the filibuster rule to keep legislation from moving forward. And yet, as a member of the Democratic minority from 2017-2019, Hassan frequently joined in filibusters to block Republican legislation.
As Marc Theissen at The Washington Post reported:
"Democrats used the filibuster to block funding for construction of Trump's border wall in 2019… They used it in September and October [2020] to stop Republicans from passing further coronavirus relief before the November election. They used it to halt Sen. Tim Scott's (R-S.C.) police reform legislation so Republicans could not claim credit for forging a bipartisan response to the concerns of racial justice protesters. They used it to block legislation to force 'sanctuary cities' to cooperate with federal officials, and to stop a prohibition on taxpayer funding of abortion, bans on abortions once the unborn child is capable of feeling pain, and protections for the lives of babies born alive after botched abortions."
All told, Hassan and her fellow Democrats used the filibuster 320 times in 2020 alone.
As recently as 2017, Hassan was so committed to protecting the filibuster that she joined Sen. Jeanne Shaheen and 28 other Democrats who signed a bipartisan letter telling then-Majority Leader Mitch McConnell that preserving the rule was vital to protecting the Senate's ability to do its job.
Hassan's embrace of the radical rule change is out of step with months of messaging that she's a "bipartisan" moderate. It's also out of step with New Hampshire voters, according to a poll taken earlier this year.
In a March 2021 Granite State Panel conducted by the UNH Survey Center, just 30 percent of respondents said they support eliminating the filibuster. Among New Hampshire independents, that number is just 17 percent. (Another 15 percent of all voters say they'd support changing the rule to a "talking filibuster.")
New Hampshire Republicans see it as a sign of desperation. "Apparently she believes she has a base problem," tweeted GOP strategist Mike Biundo.
NHGOP Executive Director Joe Sweeney tweeted "Maggie Hassan officially comes clean and wants 50 U.S. Senators and the Vice President to be able to take over all election laws and procedures in New Hampshire or across the country."
Hassan's poll numbers continue to sag. A new Trafalgar Group poll found Hassan with a modest 6-point lead over fringe GOP candidate retired Gen. Don Bolduc. And polls consistently show her approval rating in the low 40s at best.
Hassan's high-profile reversal may have also inspired the first shot fired in next year's Senate race. Londonderry Town Manager Kevin Smith, who is widely expected to announce his candidacy early next year, responded to Hassan's decision with a one-word tweet:
"No."