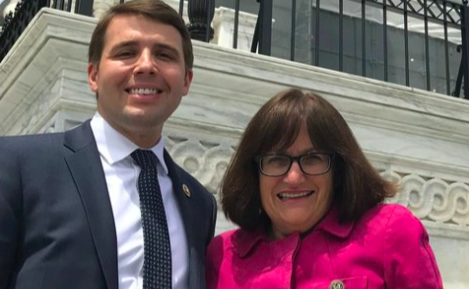 Granite State U.S. Reps. Annie Kuster and Chris Pappas have a reputation for being loyal Democratic Party soldiers. But on one of the hottest political issues of the moment — cash payouts to immigrant families separated at the border — they have both broken with President Joe Biden and progressives in their party.
At issue is the Biden Justice Department's current negotiations with the ACLU and other immigrant advocates over a proposal to pay perhaps as much as $450,000 in reparations to illegal immigrants who were separated from their children during the Trump administration.
First asked about the reports, Biden called them "garbage," adding "That's not gonna happen."
But just three days later, on November 6, Biden reversed his stance and claimed any such taxpayer-funded payments were a moral obligation. "If in fact, because of the outrageous behavior of the last administration, you coming across the border, whether it was legal or illegal, and you lost your child, you lost your child! … you deserve some kind of compensation no matter what the circumstance. What that will be, I have no idea," Biden said.
The Trump administration separated around 5,500 children from their families when they were caught illegally crossing the border. At the reported $450,000 per child, the settlement will be close to $2.5 billion.
It's a position embraced by pro-immigration advocates and social-justice organizations — but rejected by Kuster and Pappas.
"Absolutely not. I don't support any kind of settlement like that," Pappas told radio host Jack Heath on Wednesday.
Pappas is heading into an uphill reelection fight once the new map for the First Congressional District is complete in the spring. With a likely GOP advantage in a newly-drawn district, supporting payouts to undocumented migrants is politically problematic.
The next day, Kuster echoed Pappas' position on the same radio show.
"That's not happening. The president has said that's not happening," Kuster mistakenly told Heath.
With New Hampshire Republicans turning her district even more Democrat-leaning (no Republican has carried it since 2010), Kuster is believed to have a safe seat, despite her unimpressive polling. However, it's possible a national Republican wave election could break against Kuster, particularly with Biden polling in the 30s in swing states like New Hampshire.
A recent NBC News poll found Americans trust Republicans more on border security than Democrats by a 27-point margin, their largest advantage among 13 areas polled. In the most recent Washington Post/ABC News poll, Americans said they'd prefer to be represented by a Republican in Congress over a Democrat by a margin of 51 to 41 percent. That's the largest GOP advantage in the generic preference question in the history of the poll.
"If you're a Democrat and President Biden won your seat by 16 points, you're in a competitive race next year," House GOP Leader Kevin McCarthy (R-Calif.) recently declared. "You are no longer safe."
Kuster and Pappas aren't just abandoning the Biden administration's position, they are also moving to the right of immigrant activists and progressives with their position. 
Eva Castillo, director of the New Hampshire Alliance for Immigrants and Refugees, said the families are owed something for the resulting trauma.
"I think they should pay the families something," Castillo said. "It was a callous decision on the part of the government, the least we could do is pay them for their pain and suffering," she said.
The ACLU, which is suing the government over the separations, also agrees that families ought to be compensated.
"For the sake of these families, the Biden administration must repair the harms inflicted by family separation and ensure such an atrocity never happens again," Lee Gelernt, deputy director of the ACLU's Immigrants' Rights Project wrote.
While illegal border crossings have been trending downward since July, the number of migrants apprehended at the U.S. southern border in October is 128 percent higher than October 2020, when Trump was still president, according to data released this week by Customs and Border Protection (CBP). July saw more than 213,000 border crossings, a 20-year high.