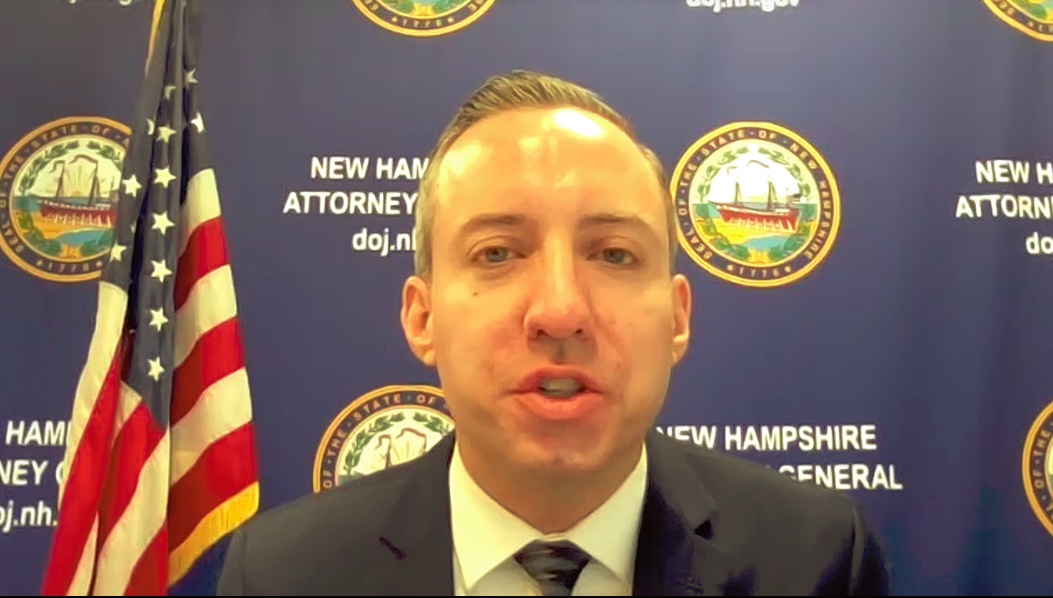 New Hampshire Attorney General John Formella is out to stop social media giant Meta, which he says built its empire by targeting children and hurting their mental health.
"We will not tolerate the pursuit of profit at the expense of the mental health and well-being of New Hampshire's kids and America's kids," Formella said.
Formella filed a lawsuit Tuesday in Merrimack Superior Court alleging Meta, the company behind Facebook and Instagram, has been hiding the fact its social media platforms cause mental health problems for teens and children.
"Meta knows the harm it's causing, and it's lulled parents into a false sense of security," Formella said.
The New Hampshire lawsuit is part of a larger battle against social media involving 41 other state attorneys general. A federal lawsuit filed in California has 34 state attorneys general accusing Meta of using its data to exploit children. New Hampshire is not part of the federal lawsuit; it is one of eight states filing lawsuits on their own.
Formella said New Hampshire's strong consumer protection and product liability laws give the state effort a good chance of succeeding against Meta. 
According to Formella, Meta has known for years that children and their developing minds are particularly vulnerable to manipulative design techniques that keep them mindlessly scrolling on social media. Instead of working to institute safeguards, Meta instead knowingly manipulates children to stay logged on for as long as possible so that the company can extract their data and profits by serving them endless advertisements. 
"Meta's design strategy exploits their vulnerabilities: from a dopamine-inducing personalization algorithm that gives kids the same feeling as gambling to consistent alerts that interfere with their schoolwork and sleep. Meta content capitalizes on children's fear of missing out and urges them to constantly engage with the platforms," Formnella said.
The result this social media saturation has on children is chilling and awful, according to the lawsuit. 
"In 2021, almost half (44.2 percent) of New Hampshire's high school students self-reported feeling persistently sad or hopeless––a 75 percent increase from 2011. Similarly, from 2011 to 2021, the percentage of New Hampshire high school students who reported seriously considering suicide increased by 72 percent–– from 14.3 percent to 24.7 percent. Alarmingly, the percentage of New Hampshire high school students who self-reported actually attempting suicide jumped from 6.1 percent to 9.8 percent––a 60 percent increase," the lawsuit states.
Formella said the company is lying about the safety of Facebook and Instagram, as well as its own safety measures. The company continues to push features that lure kids into endless scrolling. The result is anxiety, depression, and serious body image issues.
"Meta's decision to do so despite its knowledge of significant links between excessive use of social media and increased instances of serious health problems such as depression, anxiety, and insomnia is unacceptable and unlawful. Not unlike Big Tobacco a generation ago, Meta has chosen profits over public health, particularly the health of the youngest among us," Formella said.
Meta is even launching an ad campaign that targets children under age 13, the supposed limit for getting an account, he said.
"Meta does all of this to expand its user base and its profit," Formella said.
The company issued a statement Tuesday complaining Formella and the 41 other attorneys general could have simply asked for changes to the social media platforms rather than filing the lawsuits.
"We're disappointed that instead of working productively with companies across the industry to create clear, age-appropriate standards for the many apps teens use, the attorneys general have chosen this path," the statement read.
Formellas's lawsuit seeks an injunction to force Meta to make real changes to its systems, and it wants the company held liable for damages and breaking consumer protection laws. All of this could result in a large monetary judgment against the company, just in New Hampshire.