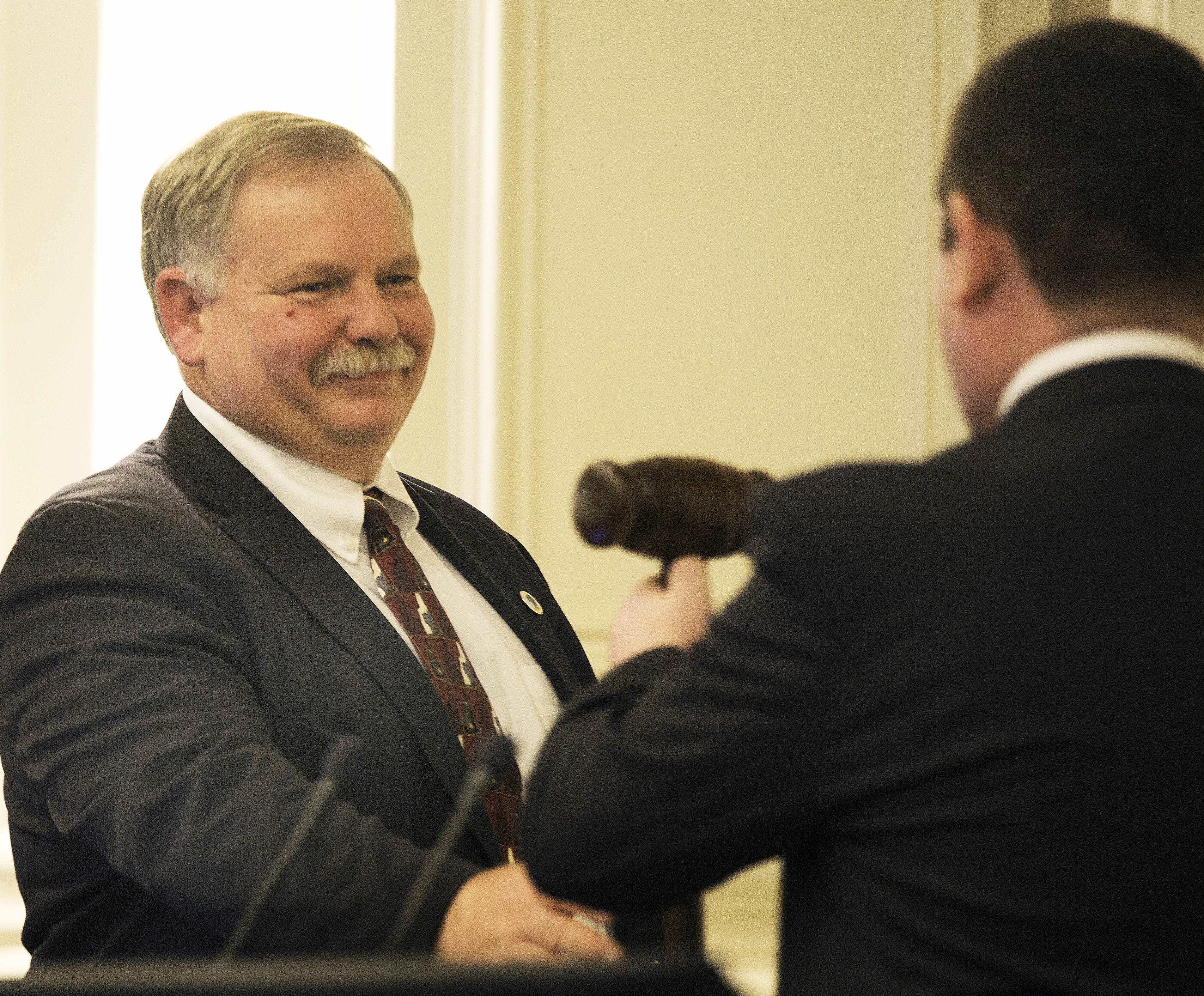 After four days of back-to-back negotiations between the New Hampshire House and Senate, lawmakers on the state budget conference committee finally decided Wednesday on an $11.7 billion two-year spending plan. Although its widely expected to pass the Senate, there is still a chance that it could fail in the volatile House.
"This is a budget the legislature and the people of New Hampshire can be proud of," said House Speaker Shawn Jasper after the committee approved the final version of the budget. "This budget provides resources to address the opioid crisis, mental illness, and domestic violence, includes several reforms to state government, and keeps spending in check. We've achieved a balance that ensures our citizens will have access to services they need while reducing the tax burden."
Whether it will garner enough Democratic or conservative votes remains to be seen. Democrats claim Republicans are not spending all of the revenue available to the state and criticize that a workforce training proposal, known as Granite Workforce, was cut from the budget. It would have provided training and wage subsidies for certain types of workers since the state is dealing with a worker shortage.
"Democrats have made it very clear: we will not support a budget that asks working people to dig further into their wallets while the elite get more handouts," said Senate Minority Leader Jeff Woodburn. "Unfortunately, our efforts to stand up for everyday people have been rejected at every turn. The reality is that this Trump-like, Republican budget agreement caves to the wealthy elite and ignores those who are most in need."
Also, Democrats still don't like that language was added to the budget that prohibits the state from giving money to health care facilities to provide abortions, which indicates that House Democrats are most likely not going to vote in favor of the budget in the full session next week.
State Reps. Al Baldasaro, R-Nashua, and Debra Altschiller, D-Stratham, brought up that issue on Twitter.
There, I fixed it:"Repubs would rather legislate NH women's reproductive systems than create a budget that serves the people" #nhpolitics

— Debra Altschiller (@DebrasATeam) June 14, 2017
Little has changed from the Senate version of the budget passed last month, with a few notable exceptions. The new budget includes an amendment mandating new work requirements for people enrolled in the state's expanded Medicaid program. Low-income adults would have to work, attend job training, or go to school for at least 20 hours per week to qualify for the New Hampshire Health Protection Program. If the federal government rejects the work requirement, as it did last year, expanded Medicaid would end by 2018.
Some advocacy groups, like New Futures — which focuses on mental health, substance abuse, and children issues — were critical that an amendment in the budget would allow the governor to divert money away from the state's Alcohol Fund, which is used for substance abuse treatment, prevention, and education programs. The governor would be allowed to reach into the fund to help pay for operations at the state's juvenile detention center in case of emergencies after approval from the fiscal committee.
"Weakening the addiction treatment system in the midst of New Hampshire's devastating opioid crisis will place the lives of people struggling with addiction at risk," said Linda Saunders Paquette, CEO and president of New Futures. "This irresponsible decision by the committee cannot be overstated, and will be felt for years to come, as our public health crisis will only intensify without long-term sustainable investments."
The budget includes cuts to the state's businesses profits tax and business enterprise tax, but lawmakers also eliminated the electricity consumption tax, which generates about $5.5 million for the state each year.
"This budget also eliminates the Electric Consumption Tax, helping our state move in the right direction to reduce the burdensome electric rates paid for by homeowners and businesses," said Senate Finance Chair Gary Daniels, R-Milford. "By making changes that will result in lower monthly bills, we put money back in our employer's pockets and create an improved, lower cost state to run a business."
With these tax cuts, House GOP leadership is hopeful that enough members of the conservative House Freedom Caucus join in supporting the budget. The caucus still has concerns that the state spending levels are too high, indicating that some of its members will probably vote against it.
@jdistaso @WMUR9 @DaveSolomon72 for those thinking $11.7B is a big budget number, try counting to 196 (votes) #nhpolitics https://t.co/mOycLchaiP

— NH Freedom Caucus (@NHFreedomCaucus) June 15, 2017
The House needs a majority to pass the budget and they need conservative support in order to do that. Jasper said he is optimistic the budget will get passed in the House next week. Behind the scenes, top GOP officials are starting to whip votes in order to make sure that it happens.
Sign up for NH Journal's must-read morning political newsletter.