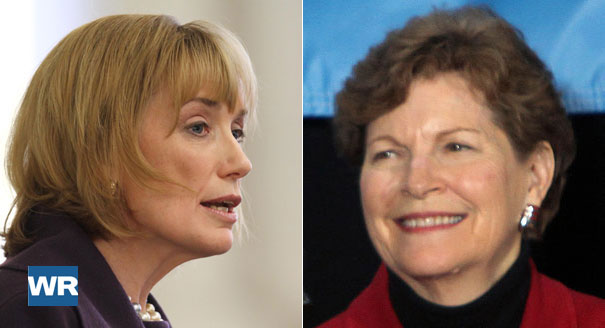 Some local headlines of the Betsy DeVos confirmation hearing showed Sen. Maggie Hassan making her mark early in her first term.
"Hassan emerges as fierce critic of Trump's Cabinet nominees," reads an article from the Associated Press. Hassan's questioning of President Donald Trump's nominee for secretary of education earned her 15 minutes in the national spotlight after she hammered DeVos on the Individuals with Disabilities Education Act and school vouchers.
But a look at Hassan's record shows she has taken advantage of school choice, despite questioning DeVos about it.
Hassan sits on the Senate Committee on Health, Education, Labor & Pensions (HELP) and voted against DeVos's nomination on Tuesday in a committee vote. The freshman senator, whose son has cerebral palsy, is an expert on public education for students with disabilities. Her son, Ben, went to public high school.
But DeVos has received a significant amount of criticism from Senate Democrats and the media due to her lack of experience in the public school system and for being in favor of school choice and school vouchers. The National Education Association (NEA) and the American Federation of Teachers (AFT) are also against her nomination.
However, six of the 10 Senate Democrats on the HELP committee attended private or parochial schools, or have children and grandchildren attending them, according to information obtained by The Daily Caller News Foundation Investigative Group.
Sens. Robert Casey Jr. of Pennsylvania, Sheldon Whitehouse of Rhode Island, and Michael Bennet of Colorado sit on the committee and have never attended public school, according to the investigation.
For Hassan, her husband Tom, served as the principal of the elite Phillips Exeter Academy, where their daughter, Margaret, attended, as well. Tom was censured last year for failing to disclose sexual misconduct charges against a faculty member.
Hassan received approximately $10,000 from the NEA during her Senate campaign and the union also spent $1.5 million against her opponent, incumbent Republican Sen. Kelly Ayotte. AFT also spent $4,400 against Ayotte.
"It's just bizarre to see people who have exercised those school options suggesting that it's somehow problematic or malicious to extend those options to all families," said Frederick Hess, executive editor of Education Next, to the Daily Caller.
Hassan's record on school choice is also revealing. While she was a supporter of public charter schools as governor, she did veto a bill that would enable small school districts to pay tuition, at public or private schools, for students of any grade level if it is not available within their resident district.
On a recent interview with NPR, Hassan reiterated her support for charter schools, but she took issue with DeVos position of a voucher system.
"I am a proud supporter of public charter schools here in New Hampshire, as well," she said. "But there is a real difference between public charter schools, which can be established working with local communities and educators to fill a particular need in the public school system and provide more alternatives and more choice for learning styles and families – than a voucher system, which diverts money from the public school system, generally and often doesn't cover the full cost of the private school that the student is attending."
During DeVos's confirmation hearing, Hassan also questioned her on her role in her family's foundation, the Edgar and Elsa Prince Foundation. While it's being debated if DeVos was accurate with statements during the hearing about having a role or not, she is also being charged that she and her family have donated extensively to groups which promote the idea that lesbian, gay, bisexual, and transgender (LGBT) students must undergo "conversion therapy."
The claim comes from Rep. Mark Pocan, D-Wis., who cites their large donations to the Focus on the Family group as evidence. Politifact found his claim to be "Mostly False" saying they found indications that the group supports conversion therapy, but there was no evidence that they believe that LGBT students must undergo it.
A recent report by The New York Times, highlights another side of DeVos not seen in public. She has supported her gay friends and advocated for LGBT rights as far back as the 1990s. This shows her coming out in support significantly earlier than a lot of Democrats who are questioning her on these beliefs.
"At that time, two colleagues recalled, she made accommodations for a transgender woman to use the women's restroom at a Michigan Republican Party call center," the article states. She also used her political connections to help persuade other Michigan Republicans to sign a brief urging the Supreme Court to legalize same-sex marriage in 2015, though she did not sign it herself."
"This aspect of Ms. DeVos's personal story is not only at odds with the public image of her and her family as prominent financiers of conservative causes, but it also stands out in a nascent administration with a number of members who have a history of opposing gay rights," the report continued.
Hassan has been a champion for LGBT rights in New Hampshire, dating back to her time in the state Legislature. In June 2016, she issued an executive order that banned discrimination in state government based on gender identity.  
However, her colleague, Sen. Jeanne Shaheen, hasn't always been supportive of LGBT rights. Shaheen has announced that she will vote "no" on DeVos's nomination.
As governor, Shaheen initially opposed same-sex marriage. After Vermont signed into law a "civil union" bill in 2000, Shaheen said she didn't support it.
"I believe that marital unions should exist between men and women," she said at the time.
However, she came out in favor of marriage for same-sex couples in 2009 and became a sponsor of the Respect for Marriage Act in the U.S. Senate. She also voted in favor of the repeal of the "Don't Ask, Don't Tell" policy in the military and supported government recognition of same-sex spouses of military members and other government personnel.
Although Hassan and Shaheen didn't mention DeVos's stance on LGBT student rights when they said they wouldn't vote in favor of her nomination, it is interesting to note the differences in time of support between them of LGBT causes.
Shaheen agrees with Hassan, saying that DeVos is "unqualified" to be the next secretary of education. The full Senate is expected to vote on DeVos's nomination on Thursday.