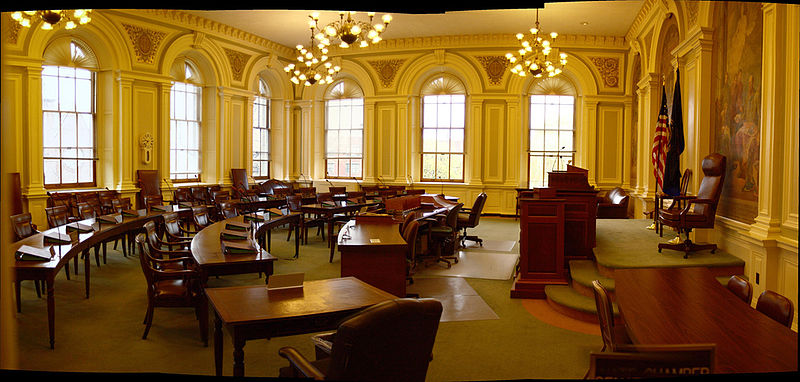 The Senate Finance Committee finished crafting its version of the state budget on Wednesday. It largely resembles what Gov. Chris Sununu proposed in February, except for new business tax cuts and a multimillion dollar investment in mental health services.
The committee voted 4-2 along party lines to approve a two-year, $11.8 billion state budget. Republicans believe the spending is conservative enough and tackles important issues facing the state, such as the mental health crisis. Democrats argue the budget doesn't focus enough on higher education, public health, and workforce training initiatives.
"It's a solid budget that provides what New Hampshire needs," said Senate President Chuck Morse. "We certainly have had lists of things that we couldn't fund, like increased funding for the university system, that we just can't get to in this budget if we're going to live within our means."
One of the biggest differences between Sununu's proposal and the Senate Finance Committee's spending plan is the cut in the state's business profits tax (BPT) and business enterprise tax (BET). Sununu's budget didn't include them.
Under the measure, the BPT would drop to 7.7 percent in 2019 and 7.5 in 2021. Meanwhile, the state's BET would fall to 0.6 percent in 2019 and 0.5 percent in 2021.
"The budget passed by the Senate Finance Committee does not increase or create any new taxes or fees and relies on realistic revenue projections," said Senate Finance Chair Gary Daniels. "The budget also addresses our state's top priorities including providing resources for those most in need. This budget also includes additional business tax cuts and increases small businesses' ability to make capital investments. This allows businesses in New Hampshire to create good paying jobs and grow their business, keeping our state competitive with other states in New England and nationally."
The two Democrats on the committee, Dan Feltes of Concord and Lou D'Allesandro of Manchester, voted against the budget, saying several necessary programs are underfunded.
"This budget fails to fully fund full-day kindergarten, fails to fully fund our efforts to combat the opioid epidemic, and fails to adequately meet the needs of those suffering from mental illness," D'Allesandro said. "Make no mistake, this is not the budget I wanted and I will continue to work to ensure that the critical needs of the people of New Hampshire are met."
The Senate Finance Committee's budget leaves out money for full-day kindergarten, which Sununu included in his proposal. Those funds, though, are part of a separate bill making its way through the Legislature.
The budget also calls for more than $17 million in spending to increase the number of mental health beds and expand mental health services. That measure was not in Sununu's budget, but he supports it. It also increases funding for additional social workers and supervisors in the Division for Children, Youth and Families (DCYF). The Alcohol Fund is seeing an allocation of 3.4 percent of revenues, which is up from 1.7 percent in the current budget.
"We addressed our state's most critical needs, including programs to benefit families with a disabled child and adding 60 new beds and community treatment options to relieve the growing mental health problem," Daniels said. "We also doubled the Governor's Commission on Alcohol and Substance Abuse Prevention, Treatment and Recovery to bring new resources into our communities combating the heroin crisis. We also made sweeping changes to the leadership at the Division of Children, Youth and Families and added more caseworkers to ensure our kids' best interests are being taken care of and they are protected abuse and neglect harm."
The Senate Finance Committee budget also approves the use of $2 million in unspent money from the 2017 Alcohol Fund for renovations and construction of a youth substance abuse treatment wing at the Sununu Youth Services Center in Manchester. An allocation of $250,000 per year for sexual and domestic violence prevention programs was also approved, along with $1 million in funding for 13 rape and domestic violence crisis centers operated by the N.H. Coalition Against Domestic and Sexual Violence.
Despite these additions, Feltes said the Senate GOP budget doesn't reflect the needs of Granite Staters.
"This budget fails to include job training programs that would boost our workforce and close our skills gap, breaks promises made to our retirees and increases health care costs for our seniors," he said. "It fails to live up to our obligations to Granite Staters living with disabilities by failing to fund our developmental disability waitlist and does not adequately deal with childhood mental health. And it fails to provide resources to reform DCYF and protect our most vulnerable children. Quite simply, this budget fails to adequately address the critical and time-sensitive challenges facing our state."
The budget go the Senate floor for a vote. Usually, after the full Senate approves of its budget, the Senate and House confer to iron out differences between the two budgets. However, the House was unable to pass a budget this year. After the Senate approves of the budget, it will ultimately need to be approved by the full House.
The real test of the budget will be in the lower chamber, after conservative members sided with Democrats to sink the House GOP leadership's plan last month. They cited an increase in spending and lack of tax cuts as reasons for opposing the budget. With BPT and BET tax cuts, it's possible they might support the Senate's plan, which included several provisions from the House budget.
If the state budget makes it through the House, it will head to the governor's desk for his signature. The whole process needs to be done by the end of the fiscal year on June 30.
Sign up for NH Journal's must-read morning political newsletter.