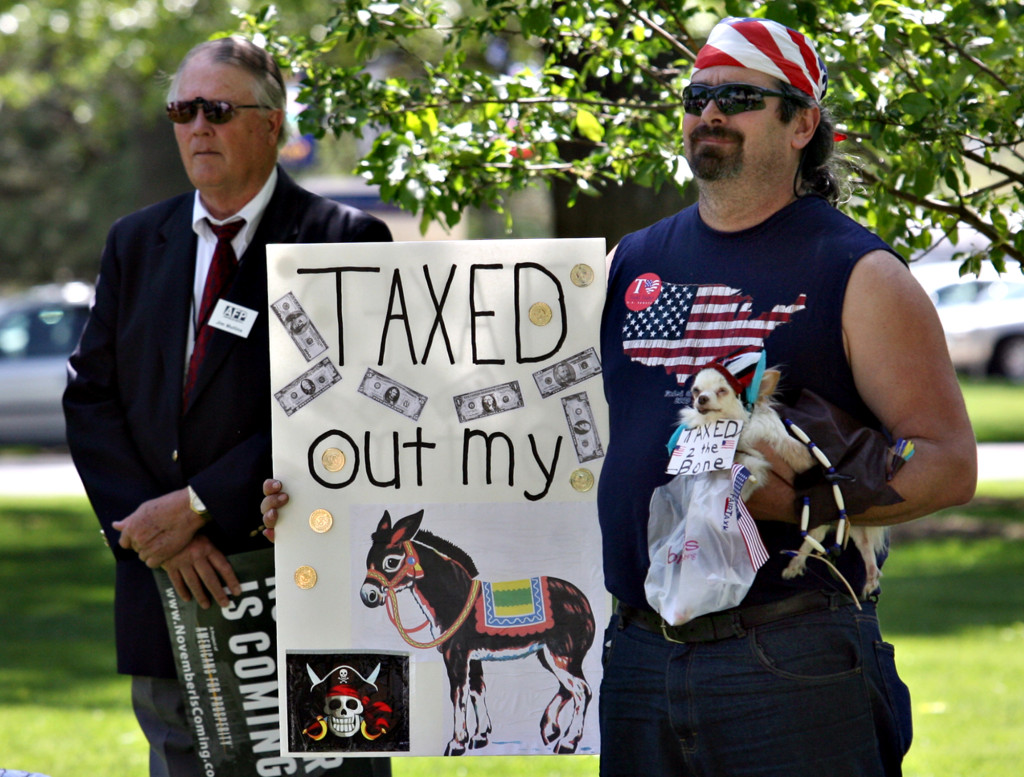 When neighboring "Taxachusetts" was considering a hike in its already high income tax in 2013, many people in the Granite State welcomed the proposal.
"Welcome to New Hampshire!," said Senate Majority Leader Jeb Bradley at the time. "We should be putting up billboards. We have long marketed New Hampshire's attractiveness as a place to do business for precisely this reason."
But recent research suggests that raising taxes and spending in one state can have substantial negative effects on people in neighboring states.
While border counties within a state that raises taxes are obviously affected by the change, about half the effect spills over to counties on the other side of the border, found Sam Peltzman, a researcher at the University of Chicago, in a study released last year.
Peltzman examined economies in neighboring states from 1975 to 2012. He measured employment levels, wages, and the number of businesses established after tax and spending policies were implemented. The results suggested that the economy of a border county shrank when its state's taxes and spending increased, and local economies on the other side of the border were also impacted.
"The results in this paper tend to add weight to the view that larger state and local government is purchased at the cost of a smaller private sector," Peltzman wrote in his study.
So why are two state's economies, like Massachusetts and New Hampshire, so intertwined? Well, for many people who live in border cities and towns in the Granite State — Nashua, Londonderry, and Salem, to name a few — they commute everyday to the Bay State for work.
When Massachusetts was considering a bump in the income tax, many residents who lived in or near Nashua said they would feel the effects of it when they took home a smaller paycheck. If they take home a smaller paycheck, they have less money to put back into the economies of the towns where they live.
Even New Hampshire businesses near the border can feel the impact of tax changes in the state south of the border.
Massachusetts changed its sales tax to include a "tech tax," a 6.25 percent sales tax on computer and software technology services, which went into effect in 2013. It was a short-lived tax, quickly being repealed by former Gov. Deval Patrick, but even New Hampshire businesses with a physical presence in Massachusetts that provided Bay State customers with services covered by the tax had to pay it. A "physical presence" could mean having one sales representative with a home office in Massachusetts, according to some interpretations of the law.
In 2014, the Bay State also made some changes to its corporate income tax that impacted some New Hampshire businesses. It applied to any service-based business that has Massachusetts customers, like law firms, medical providers, and consultants, or businesses that sell some intangible products used in Massachusetts like the licensing of software.
These companies now have to pay an 8 percent tax on the revenue derived from those Massachusetts clients. Before, a New Hampshire company's revenues collected from Massachusetts would be used to calculate the business profits tax (BPT) owed to New Hampshire. But now, businesses are double taxed. A company still must count all of its revenue for New Hampshire's BPT, but the revenue collected in Massachusetts needs to be counted and taxed by the Bay State.
It can be a complicated system and, sometimes, New Hampshire businesses don't even know when they would need to pay Massachusetts taxes. In turn, some companies think twice about doing business or hiring out of state for fear of having to pay more money to another government, which could affect their bottom line.
"State tax structures can create cross-border issues in a number of ways, including positive economic development in bordering communities that are able to draw businesses and individuals into the state as well negative impacts from tax policy decisions that create adverse tax climates causing individuals and businesses to leave the state for a preferential neighboring state," said Kathryn Michaelis, an attorney in the tax practice group at the Rath, Young and Pignatelli law firm in Concord.
It's not all doom and gloom for New Hampshire residents and businesses paying Massachusetts taxes. Many Massachusetts residents cross the border because New Hampshire has historically one of the lowest tax rates on cigarettes in the region, a lower gas tax, no tax on liquor sales, and no sales tax. This strategy allows the state to net revenue on the sales, despite the absence of a tax, which makes it appealing to other businesses and consumers, and pumps economic activity into the cities and towns on the border.
At one point, Massachusetts tried to capitalize on the cross-border purchases by challenging in court that they should collect taxes from a store that sells tires to Massachusetts residents in New Hampshire. A court disagreed.
But New Hampshire still struggles economically on several fronts, including high electricity costs, expensive property taxes, and a high cost of doing business in the state. Both Massachusetts and New Hampshire employees get paid more than average American workers, driving up employers' labor costs.
"While a favorable tax climate may draw in businesses to a bordering community, the state and local officials must always be careful to not offer tax incentives or subsidies or restructure the tax system in such a way that it creates too much of a cost burden on the locality or state in the long-run," Michaelis told NH Journal. "Each state and local jurisdiction needs to find balance in retaining and recruiting business while ensuring that its revenue remains steady to support government services."
New Hampshire worked hard in the 1980s and 1990s to have the "New Hampshire Advantage" where students would graduate school, go to college, and eventually return to raise families and work. People from Massachusetts, New York, and New Jersey moved to the state and businesses would have access to this cluster of highly educated and skilled workforce.
By the 2000s, positive net migration stopped, college graduates moved away, and New Hampshire's business climate was not as diverse. Now, politicians are trying to figure out how to deal with a workplace shortage and make New Hampshire an attractive place for businesses.
One way the Republican-controlled State House sees on getting their advantage back is through right-to-work laws, which would prohibit public and private sector unions from charging non-members fees for negotiating on their behalf. If passed, New Hampshire would become the only state in the Northeast to have a right-to-work law.
The cross-border economic relationship is not unique to Massachusetts and New Hampshire. Illinois and Indiana have a similar relationship, with my many people leaving Illinois due to its high taxes. The same is true for New Jersey and Delaware, where a high gas tax in the Garden State could benefit Delaware, yet both have high property taxes. What tax policy is passed in one state could spill over into its neighboring states.
Carl Davis, research director for the Institute on Taxation and Economic Policy, said it can be difficult to isolate the taxes and determine if economic growth or hinderance is a result of an increase or decrease in taxes.
"It's not cut and dry," he told NH Journal. "It's hard to look back and see if a state raised taxes because they have a poor economy or because of their taxes, their economy is doing well. There are always trade-offs."
But for New Hampshire and Massachusetts, the economies and tax policies of the two states seem to be fairly linked for its residents, businesses, and communities.
Sign up for NH Journal's must-read morning political newsletter.