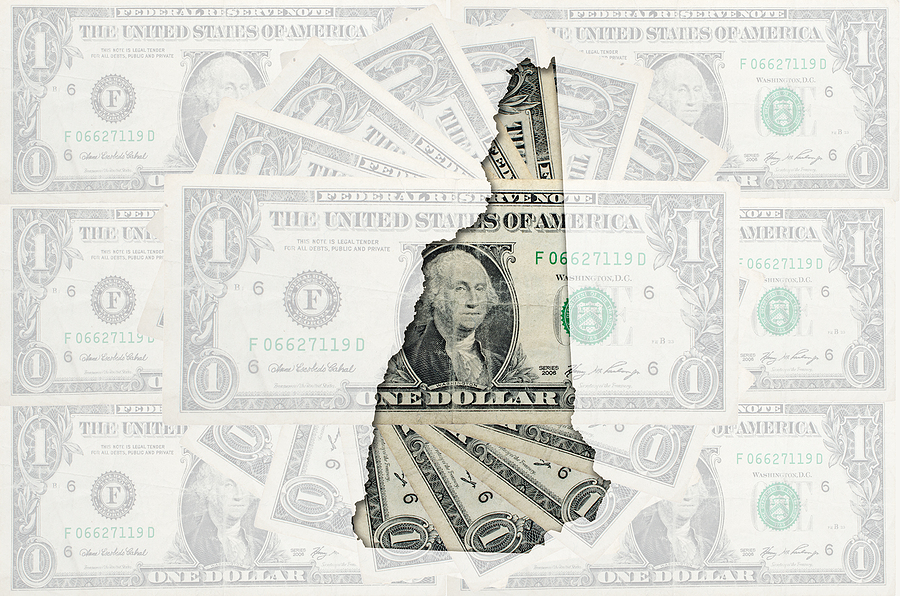 Two new reports show Granite Staters are on solid financial footing heading into the holidays compared to the rest of the U.S.
New Hampshire residents have the second highest credit scores on average in the nation according to a data analysis by Wallethub. At the same time, the labor market is improving, with New Hampshire experiencing one of the biggest week-to-week drops in new unemployment claims.
Frugal Yankees in New Hampshire hold an average 719 credit score, second only to Minnesota's 724, Wallethub reports. The national average is 695, which means most Americans are just below the 700-score considered good credit, according to WalletHub's findings.
Vermont, Massachusetts, and South Dakota round out the top five with average scores above 700. Alabama at 672, Louisiana at 668, and Mississippi at 662 are the three states with the worst average credit scores.
Patrick A. Cozza, who teaches business at Fairleigh Dickinson University, said the best way to build good credit is to pay your bills on time. Minimizing the use of credit cards is important as well.
"The simple answer again is to manage only the debt you can handle, do not overly subscribe to credit by securing additional credit cards," Cozza said. "People feel more is better than few, but it could lead to real credit problems down the road if you cannot effectively manage the debt."
The early days of the COVID-19 pandemic, with business closures and high unemployment rates, put a lot of people into debt. Those who used credit cards to get by during the pandemic can dig their way out of debt and toward a better credit score, Cozza said.
W.H. "Joe" Knight at Seattle University School of Law said it is important to pay down debt and build savings.
"More Americans are saving more these days because of the fewer opportunities to shop, eat out, etc. Accumulate savings and apply some of those extra 'saved dollars' to the largest interest-charging creditor bills," Knight said. "Slow but sure progress to improving a credit score, reducing the total amount of credit you have outstanding."
New Hampshire residents are keeping up with their bills, and they are working. The Granite State keeps seeing unemployment rates drop, behind only Kentucky for the most recent unemployment rate report.
The labor market is still experiencing the effects of the COVID-19 pandemic, and there are more opportunities being created, according to Thomas Kohler at Boston College Law School.
"A large number of Baby Boomers left the workforce during the pandemic while other workers changed jobs, a good example being the hospitality industry," Kohler said.
With more opportunities for willing workers, the pressure is on employers. Employers who want to find and keep workers have learned they need to increase pay and benefits, given the new realities of the labor market.
"I think it will take some time for the situation to become clearer, but it seems increasingly clear that people are unwilling to perform unpleasant work at poor rates of remuneration with no voice in their working conditions. Hardly surprising, I would say," Kohler said.
New Hampshire's 2.4 percent unemployment rate in October was well below the national average of 3.7 percent reported by the Bureau of Labor Statistics. But it was not the lowest in the nation. That honor went to Minnesota and Utah at 2.1 percent each. Vermont and North Dakota at 2.3 percent also edged out the Granite State. Those numbers reflect a tight labor market that some economists say could restrict growth.
According to the U.S. Chamber of Commerce, New Hampshire is suffering one of the most severe labor shortages in the nation, with just 44 unemployed workers for every 100 open jobs.
However, Jeffrey Arthur, a Professor of Management at Virginia Tech, said while employees have the upper hand now, the economic tide will turn to favor employers.
"Employees are more likely to feel empowered to form and join labor unions at places like Amazon, Starbucks, and other retailers where they have not been able to do this in the past. Employers are also motivated to provide employees with additional benefits such as tuition reimbursement and flexible work arrangements in order to attract and retain them," Arthur said. "These changes may be short-lived, however. If the economy slows and unemployment increases, I expect to see the balance of power tilting back to employers. These cycles have happened in the past."