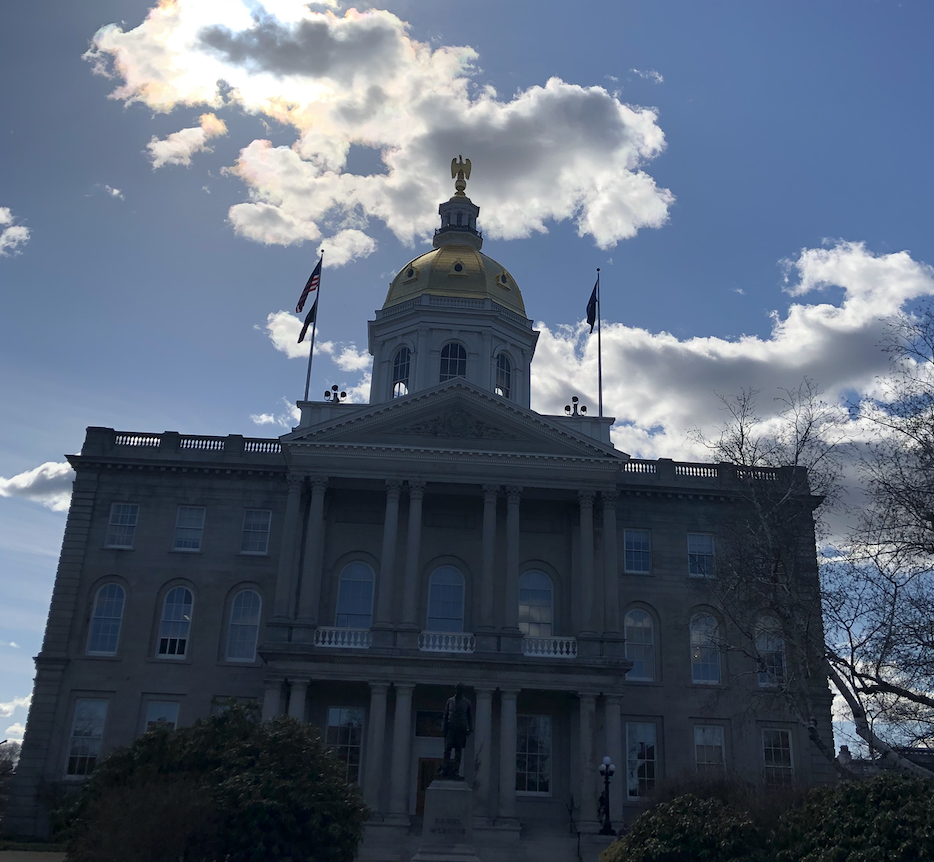 Legislation about behavior at school came down to a matter of attendance at the New Hampshire House on Thursday.
The Parents Bill of Rights (SB 272) was "indefinitely postponed" by a vote of 195-190, meaning that the topic is dead under House rules for the rest of the current two-year legislative session.
"They completely nuked the bill," said Rep. Erica Layon (R-Derry), a parental rights supporter. "It would take a two-thirds majority to bring it back, and that won't happen."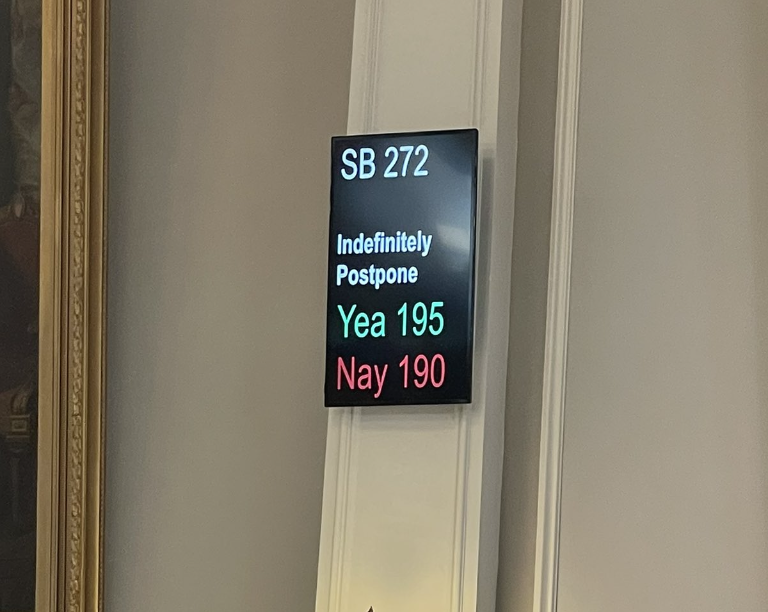 Polls show Granite State voters — and parents in particular — support the legislation, which would prevent school employees from keeping information about a student's on-campus behavior secret from parents who ask about their own children. Because that includes behavior regarding sex and gender, Democrats have attempted to label the bill anti-LGBT, arguing that parents are too dangerous to be allowed to have this information about their children.
A handful of absences among GOP members and near-perfect attendance by Democrats in the closely-divided House left Republicans without a functioning majority. When Republicans began defecting to add amendments to the Senate bill, the battle was lost.
Majority Leader Jason Osborne (R-Auburn) drew equal boos and cheers as he made an angry statement about the vote from the House well.
"For the next two years, parents will have to continue to accept that school is a mysterious and secretive black box where they deposit their children. Who knows what will happen inside that box, and who knows what will come out the other side?" Osborne said. "By indefinitely postponing this bill, parents will have no choice but to avail themselves of the wildly successful Education Freedom Accounts."
The writing was on the wall early in the day when Rep. Mike Bordes (R-Laconia) gave cover to Republican defectors with an amendment altering the bill so as to remove references to LGBTQ identities and remove the requirement that schools not lie to parents. Several other Democratic-sponsored amendments passed as well, with the net effect of essentially gutting the bill. 
Supporter Rep. Joe Sweeney (R-Salem) tried and failed to have the bill tabled, which would have meant it could be brought back in some form later in the current legislative session.
"We should not be cutting our legs off to continue to have this discussion," Sweeney said. 
But the die was cast and, with the help of Republican Reps. David Bickford (R-New Durham) and Joseph Guthrie (R-Hampstead), Democrats notched a major win.
House Speaker Sherman Packard (R-Londonderry) said the state GOP will continue pushing for parents' rights.
"I am disheartened House Democrats chose institutions over New Hampshire parents today," Packard said in a statement. "They chose secrets over parent-involved solutions. They chose to ignore the majority of New Hampshire parents who made it clear they were looking for legislative support to help protect their rights and their children."
Senate Republicans called on Gov. Chris Sununu to issue an executive order setting to affirm parental rights, saying Democrats have betrayed families.
"The decision by Democrats to block this important bill is a direct assault on parental rights and a clear indication of their misguided priorities. By denying parents the opportunity to exercise their inherent authority, Democrats have undermined the very fabric of our society, where the family unit and parental involvement play an essential role in the upbringing and development of our children," Senate Republicans said in a statement.
"We urge Gov. Sununu to take a stand for Granite State parents and issue an executive order to affirm the rights they rightly deserve."
Sununu did not respond to a request for comment.
Rep. Alissandra Rodrigues Murray (D-Manchester) spent time hugging and chatting with 603Equality founder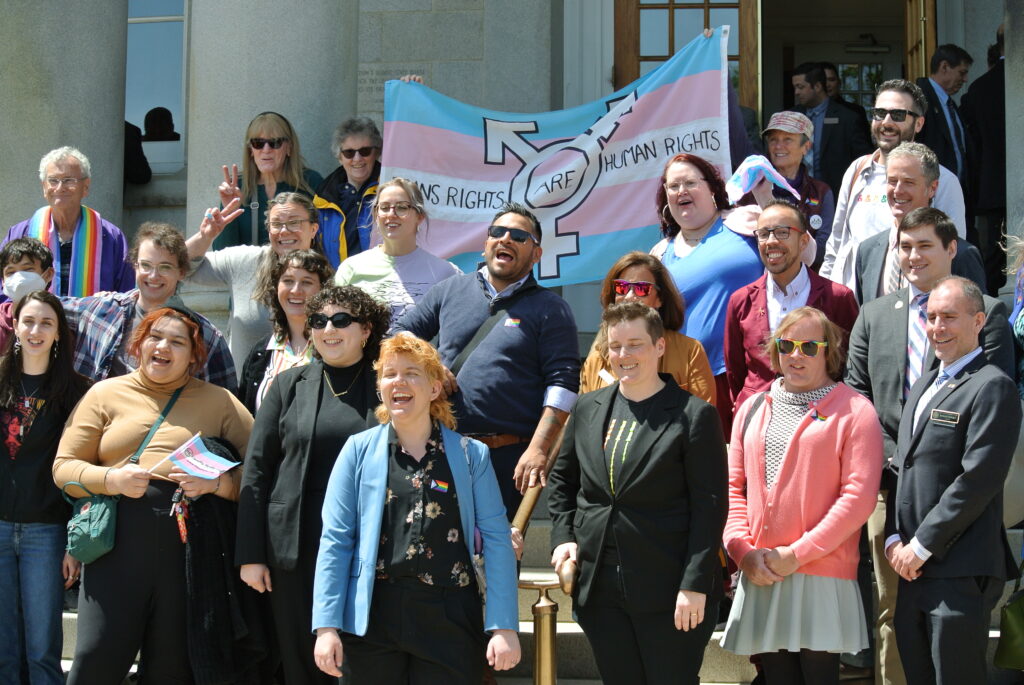 Linds Jakows, who lobbied hard against the legislation. Jakows even offered a plane ticket to fly a vacationing Democrat from Florida so he could vote against the bill.
Asked to comment on the victory, Murray replied, "I don't talk to New Hampshire Journal."  
Rep. Gerri Cannon (D-Somersworth), who identifies as a woman, understands parental concerns about kids' behavior at school. Cannon agreed parents should be able to know what's in the curriculum and is being taught in classrooms, but added concern for the safety of LGBTQ children is paramount.
"If they don't have the right to be themselves, it can put them at risk," Cannon said.
Cannon was echoing the message New Hampshire Democrats have made the center of their opposition to parental rights: Parents are potentially too dangerous to the lives and safety of their own children to be given the same information about their kids that school officials have.
Enough Republicans agreed with Cannon and the rest of the Democrats to kill the bill.
"I think there are some people on the Republican side who support the rights of children just like any person, and there are people who understand there is the potential for harm," Cannon said.
Even with the bill knocked out for the next two years, the parents' rights issue isn't going away. Shannon McGinley, executive director of the pro-family advocacy group Cornerstone Action, said parents let down by their lawmakers need to get active.
"As the House will not act, the next step is to fight this battle on the local level. All we need is for parents to be just as fearlessly, consistently engaged with their local school boards as progressive activists are," McGinley said. "If you are too afraid of controversy to speak up, then the cultural left will always win by default.
"But if one New Hampshire school board will stand up to the intimidation and cynical legalese of these groups, then other school boards could fall like dominoes."