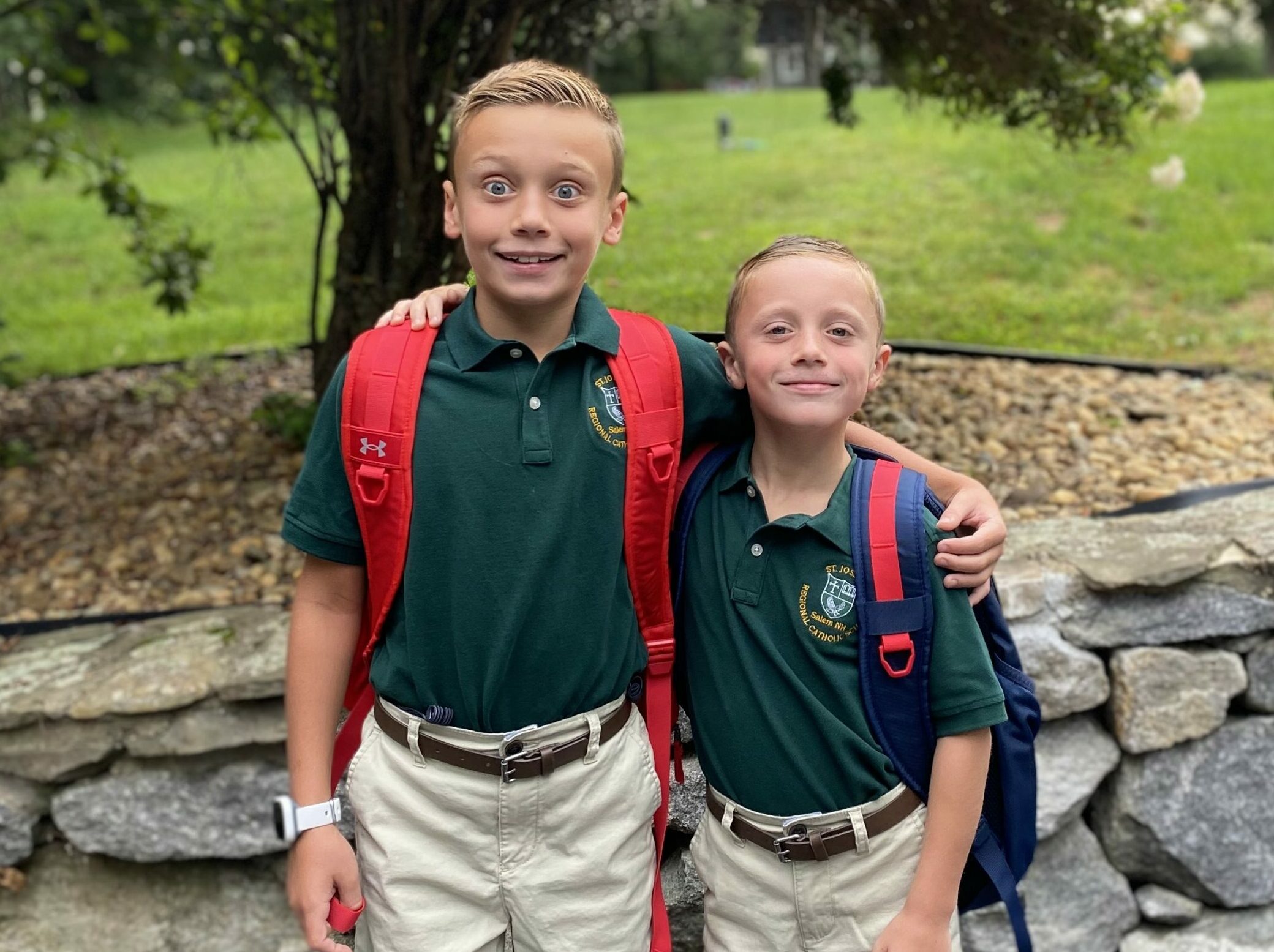 Enrollment in New Hampshire's Catholic schools continues to climb as parents seek alternatives to public education.
Dana Kelliher wanted more for her boys, Aiden, 10, and Connor, 8. After almost two years of dealing with her sons' educations being held back in public schools due to pandemic-related restrictions, Kelliher believed her sons could be doing more.
"We were really just looking for a more rigorous curriculum," she said. "We wanted them to do more old-fashioned learning. I didn't want them on a chrome book everyday."
The Kelliher's settled on Saint Joseph Regional Catholic School in Salem. There, her sons are in grounded programs that push them to excel, she said, especially in reading and working.
"I feel like they're coming home with actual grades, and there's a lot more communication with the teachers," she said.
The Kelliher's are far from alone in switching to parochial schools. According to the Diocese of Manchester, 214 new students enrolled in its 18 diocesan schools at the start of this current school year, for a total of 3,692 enrolled students statewide. That increase represents a 6.2 percent increase over the 3,427 students in parochial schools last year.
"This is a resurgence in an interest in Catholic education across the state," said Alison Mueller, director of marketing, enrollment, and development for Catholic schools. "We believe that parents are the primary educators of their children, and we serve to partner with them in that education and formation. This type of message resonates with parents."
Mueller said parents want better academics, and also better values in schools. In a recent survey distributed by the Catholic Schools Office, parents indicated they want God in the classroom, traditional academics, and family values.
"Parents want to know that when they send their child to school each day, they are in a safe and joyful place. The pandemic disrupted the educational system in 2020 and since then, I think parents have become more invested in ensuring the best outcomes and educational options for their children. More families are realizing they do, in fact, have options," said Superintendent of Catholic Schools David Thibault
The Catholic school enrollments started going up in the summer of 2020, with a first wave of about 500 new students. The diocese responded to the pandemic by launching a Transfer Incentive Program to help families afford the tuition. They also announced a commitment to in-person learning during the coming school year.  
After parents experienced months of pandemic-related shutdowns, the parochial alternative looked good to many. The parents who tried it apparently liked it. According to Mueller, 80 percent of those students who made the switch to Catholic schools are still enrolled.
Kelliher said the small community built around the school is providing a positive and safe social setting for her children. She also feels more connected to the staff and teachers in the school than she did before.
"I feel more in the loop, knowing what they're doing everyday," she said.
Parochial schools aren't the only alternate education being explored by New Hampshire parents. More than 4,100 students are homeschooling this year, according to the Department of Education. Prior to the COVID-19 pandemic, about 3,000 students homeschooled in New Hampshire, though that figure jumped in the 2020/2021 school year to more than 6,000.
Across the country, public school districts are openly discussing a return to remote learning, despite overwhelming data showing it is detrimental to educational outcomes. Prince Georges County, Md. has already announced it is ending classroom instruction until at least January 18, 2022. More schools are expected to follow.
New Hampshire offers Education Freedom Accounts for parents looking for assistance to pay for private school, or even homeschool materials and equipment. More than 1,600 students have taken advantage of the program so far. The state is also home to 30 public charter schools that provide uniquely tailored programs for students throughout the state.