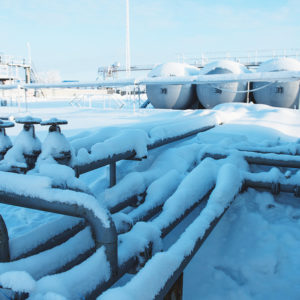 In the worst-case scenario, some Granite Staters could run out of heating oil or electricity this winter as the nation grapples with the current energy crisis, experts warn.
ISO New England, the region's power grid operator, warned last week the tight supply of natural gas could result in rolling blackouts this winter if the weather turns unusually cold.
"The most challenging aspect of this winter is what's happening around the world and the extreme volatility in the markets," said Vamsi Chadalavada, chief operating officer for ISO New England. "If you are in the commercial sector, at what point do you buy fuel?"
Then came a Bloomberg report that New England heating oil suppliers are already seeing supply rationing before the winter heating season starts as supply runs short free to high wholesale prices.
"The facts are this, supplies of heating oil are historically low," said Michael Ferrante with the Massachusetts Energy Marketers Association.
New England heating oil suppliers are trying to hedge their bets, Ferrante explained. The wholesale market is anticipating higher prices through the next few months at least with prices possibly dropping in early spring. The suppliers are responding by not buying extra oil at the current high prices.
"They're buying 'just in time' inventory, just enough to meet the needs right now," Ferrante said. But what happens if there is a surge in demand during another blast of brutal arctic cold like in 2018? 
"During the two weeks of Arctic cold, New England generators burned through about 2 million barrels of oil," noted ISO New England CEO Gordon van Welie in an after-action report. "That's about 84 million gallons, more than twice as much as all the oil used by New England power plants during the entire year of 2016."
If there is a surge in demand, larger oil distributors would have more access to the limited supply. But what about small heating oil suppliers around New Hampshire, the one-truck operators? Ferrante conceded they might get left out in the cold.
"The smaller companies might have a more difficult time finding supply," Ferrante said.
The current average cost of heating oil in New Hampshire is more than $5.60 per gallon. That is expected to climb higher as the weather turns colder in the coming months. With smaller suppliers frozen out of the market, Granite Staters will have a tougher time keeping their homes warm.
Spikes in the cost of natural gas, which provides the fuel for much of New England's electric grid, have already resulted in the doubling of electricity rates for New Hampshire ratepayers. Those same ratepayers face the prospect of shelling out double for electricity and not being able to buy oil for their furnaces.
Karoline Leavitt, the GOP congressional candidate running neck and neck with incumbent Democrat Rep. Chris Pappas, blames President Joe Biden's administration for sky-high energy costs.
"As if the $600 being stolen from families every month because of inflation wasn't bad enough, we are all living a nightmare as we watch our energy bills soar as the weather gets colder," Leavitt said. "We were informed that this would happen months ago. And rather than develop a solution to solve this crisis, Chris Pappas continued to vote with Nancy Pelosi and Joe Biden 100 percent of the time, exacerbating this problem to its breaking point. With families being forced to decide between heating and eating, we cannot afford another term of Chris Pappas' partisan leadership that leaves Granite Staters hanging out to dry."
GOP U.S. Senate candidate Don Bolduc sees a lack of leadership.
"Less than two years into the Biden presidency, we're having discussions about rationing here in the United States of America. New Hampshire is facing a major energy crisis all due to Sen. Maggie Hassan and President Biden's failed leadership. Not only are Granite Staters having to choose between heating and eating, but they also now must worry about energy shortages that could leave them out in the cold with no way to heat their homes. Sen. Hassan has failed New Hampshire," said campaign spokeswoman Kate Constantini.
Both Hassan and Pappas had been pushing Biden to release more oil from the nation's Strategic Petroleum Reserve. Though Biden announced last week he was putting more of the nation's stockpile on the market, it is unlikely to be enough to counter the high energy prices caused by Russia's war on Ukraine and the decision by Saudi Arabia to pump less oil to raise prices.
"It's a short-term Band-Aid, and it doesn't solve the long-term problem," said Phil Flynn, an energy market analyst with the PRICE Futures Group.
Ferrante said there is no relief coming in the short term, as the war in Ukraine continues driving the energy market in Europe and beyond.
"There are no guarantees it will get better. It's a global economy," Ferrante said. "Prices of crude oil are affected by what's happening around the world."