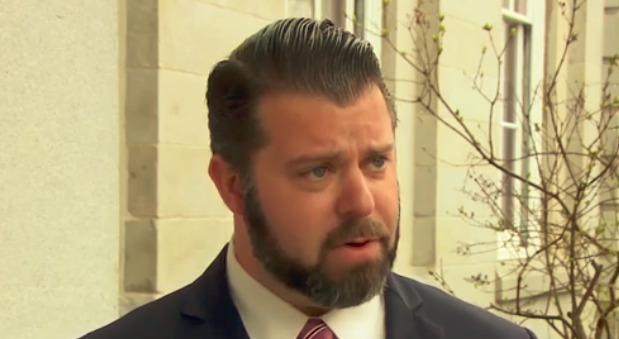 Deputy Insurance Commissioner D.J. Bettencourt is on leave from his state job after he was arrested Friday on a charge of domestic violence/simple assault. 
Bettencourt, 38, allegedly grabbed his wife during an incident in the early morning hours at the couple's Salem home, according to court documents. He was charged with a Class A misdemeanor in the case, which carries a maximum one-year jail sentence. However, jail time is unlikely given Bettencourt's lack of a prior criminal record.
Bettencourt is a former House majority leader and former policy director for Gov. Chris Sununu, serving Sununu from 2017 to 2021, when he landed the job at the state Insurance Department, which pays $108,000 per year.
Sununu said in a statement to NHJournal that people should respect the family's privacy at this time.
"It's my understanding D.J. has been placed on administrative leave while we await further details. Shannon (Bettencourt) has publicly asked for privacy for her family at this time and we should respect her wishes."
Democrats were quick to pounce on the story, linking Bettencourt to Sununu. Monica Venzke with the New Hampshire Democratic Party called the allegations troubling. 
"This despicable conduct by D.J. Bettencourt is appalling and disturbing, and Sununu has once again surrounded himself with allies who are violent against women," Venzke said. According to a press release from the New Hampshire Democratic Party, the "once again" comment is a reference to Eric Spofford, founder and former CEO of Granite Recovery Centers, who is facing multiple accusations of sexual misconduct.
Shannon Bettencourt told The Eagle-Tribune she still loves her husband:
"This is a deeply personal matter and especially for the benefit of our three young children, please respect our privacy at this time," Shannon Bettencourt wrote in an email to the paper. "We do hope it's clear when this process plays out, that it's not as it may seem, and I support and love my husband."
Bettencourt's attorney Tony Sculimbrene told NHJournal that his client maintains his innocence. 
"Mr. Bettencourt entered a plea of not guilty and maintains his innocence. He has been fully cooperative with the process and looks forward to resolving this matter in court. Out of respect for his family and to preserve the integrity of the justice system, Mr. Bettencourt will not be litigating this matter in the media or the court of public opinion."
According to Salem Police Officer Mark Conway's affidavit, police were called to the home at 1:45 a.m. Friday when Bettencourt became angry after reading a text on his wife's phone. He went to the room where she was sleeping yelling about the message. He then assaulted his wife, according to the affidavit.
"Bettencourt grabbed her by both forearms and pulled her out of the bed yelling 'what the (expletive) is this,'" Conway wrote.
Bettencourt kept yelling and told his wife he was going to break the phone, according to Conway. He then threw the phone into another room.
Shannon Bettencourt told police the couple is in counseling, and the message on the phone was a journal-entry she wrote to herself. DJ Bettencourt denied grabbing his wife and told police she was the one who threw the phone.
"She stated he absolutely grabbed her by both forearms and pulled her out of the bed while yelling at her about the message on the phone," Conway wrote. "She stated he never put his hands on her before and that is the reason she called police that night."
Just over a decade ago, Bettencourt was a rising GOP star and right-hand to conservative former New Hampshire House Speaker Bill O'Brien, both known for a no-holds-barred political style. His stint in politics began in 2004 when was first elected to the House at age 20 and became the youngest majority leader under O'Brien.
Bettencourt made headlines for tangling with Bishop John McCormack. McCormack had criticized the GOP budget plan that slashed social service spending. During a 2011 dust-up, Bettencourt responded by calling McCormack a "pedophile pimp." McCormack was a key figure in covering up the Boston sexual abuse scandal.
"Would the bishop like to discuss his history of protecting the 'vulnerable?'" Mr. Bettencourt, a practicing Roman Catholic, wrote. "This man is a pedophile pimp who should have been led away from the State House in handcuffs with a raincoat over his head in disgrace. He has absolutely no moral credibility to lecture anyone."
Bettencourt would later apologize to McCormack. His political career came crashing to a halt in 2012 when he was caught lying about his work in a UNH law school internship program.
According to a Union Leader report: "Bettencourt agreed to resign after he admitted fabricating reports for a law school internship, according to the House Republican who was mentoring him (state Rep Brandon Guida). Guida said Bettencourt only showed up at his office for one day, 'where he did approximately one hour of legal work.' He (Guida) later discovered that Bettencourt had submitted 'extremely detailed' reports about that internship, including court hearings he supposedly attended, cases he worked on, and interviews with clients."
Bettencourt had posted photos of himself graduating from the University of New Hampshire law school onto his Facebook page, despite not actually graduating. At the time, Bettencourt told the Union Leader that there was a dispute about the documents Guida said he had falsified, and he hoped to resolve the matter.
His second act as Sununu's policy director had Bettencourt taking a lead role in the administration. Sununu praised him when he was nominated to become the deputy Insurance Commissioner.
"DJ has been an integral part of my administration since day one, and I am excited for his next challenge," Sununu said in 2020. "From advocating for expanded school choice to promoting policies that have strengthened the New Hampshire Advantage all while overseeing the State's Economic Reopening Taskforce, DJ has helped my administration in countless ways. I cannot thank him enough for his years of service — and look forward to many more at the Department of Insurance."
NOTE: An earlier version of this story incorrectly reported Eric Spofford had been charged with sexual misconduct. NHJournal regrets the error.