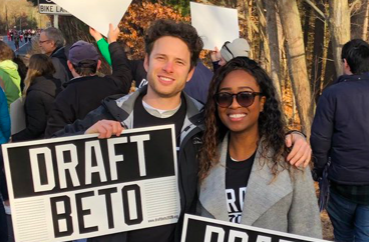 First Politico, then SRSS and now a new CNN/Des Moines Register poll of likely Iowa caucus-goers confirms that, in the early going, the top names in the Democratic field are Biden, Bernie and–surprise!–Beto.
In Iowa, Biden's at the top of the pack with 32 percent support, followed by Sen. Bernie Sanders at 19 percent and Rep. Beto O'Rourke at 11 percent. They were the only people in double-digits.
On the same day the poll was released, dozens of grassroots supporters gathered in Manchester, NH for a "Day of Action" organized by the Draft Beto 2020 movement.
The Iowa numbers are similar to a recent Politico poll of Democrats nationwide: Biden 26 percent, Sanders 19 percent and O'Rourke at 8 percent. The three Democrats shared the same ranking in another CNN poll, conducted by SRSS, of Democrats across the country: Biden 30 percent, Sanders 14 percent and O'Rourke 9 percent.
In all of the latest polling, Liz Warren lags behind the top tier of candidates.
While Beto's numbers, hovering around 10 percent, aren't particularly impressive, the fact that he consistently ranks ahead of more established candidates–Sen. Elizabeth Warren in particular–is a sign of how he's sparked interest among Democrats. A year ago, the Texas congressman was virtually unknown outside his district while Sen. Warren was viewed as a front-runner. Today, Warren's suffered high-profile setbacks while O'Rourke has inspired a movement to pull him into the primary.
A group of Beto O'Rourke supporters gathered in Manchester NH for a Day of Action
Other numbers that should concern Sen. Warren are the favorable/unfavorable ratings from Iowa caucus goers. While Joe Biden's favorables are extremely high at 82 percent and his unfavorables are a low 15 percent, Warren's numbers are a more modest 64 percent approval, 20 percent disapproval. That 20 percent is the highest negative numbers among Iowa Democrats (Though nowhere close to Hillary Clinton's gasp-inducing 47 approve/49 disapprove.)
For his part, O'Rourke acknowledged to the Dallas Morning News that the question of his preparedness for the job of president is a legitimate one.  "I ask it myself," he said.
"I just don't feel comfortable talking to anybody in Iowa or New Hampshire, because I don't want to stoke. I just truly have not made a decision or even really begun the serious work of making a decision, so I just don't want to lead anyone to think that we're doing something or not doing something."
But that's not stopping Democrats across the country from expressing true interest in his candidacy. So much so that, according to the AP, the Biden camp is considering an "If you can't beat 'em, join 'em" strategy, floating a Biden/Beto ticket for 202o.
The Associated Press reports that past and current advisers to Biden, 76, have expressed some "concerns about age" and have raised the possibility of O'Rourke, 47, as a possible running mate. If 76 sounds old, keep in mind that Biden's fellow front-runner, Bernie Sanders, is 77. He would be 79 if sworn in as president in January 2021.
This may be part of the reason why so many Democrats are taking a second look at a fresh new face like Beto's.