The first Republican to win the governor's office since 2002– and the only GOP governor in state history to serve eight years — says his fourth term will be his last.
"After discussions with Valerie and the kids and much consideration, I have decided not to run for another term as governor in 2024," Chris Sununu told supporters in an email Wednesday. "This was no easy decision as I truly love serving as governor."
"It is with great pride that New Hampshire is better off today than we were seven years ago," Sununu added.
The announcement concluded months of speculation over whether Sununu would seek a record fifth term or return to the private sector.
Speaking to reporters after Wednesday's Executive Council meeting (held in Dover in part to commemorate the 400th anniversary of the city's founding), Sununu didn't preview his upcoming plans. When asked what is next for him, Sununu said, "There is no 'next.' What I'm going to do next is go back to work. I'm still governor for 18 months."
Being governor "is not a public career; it's public service," Sununu said. With the economic success and government reforms over the past four terms, "it just seems like a perfect time to pass the reins off to someone else."
Sununu has consistently enjoyed high approval ratings throughout his time in the corner office. Last month, a Wall Street 24/7 analysis listed Sununu as the third most popular governor in the country.
He touted some of his accomplishments via Twitter: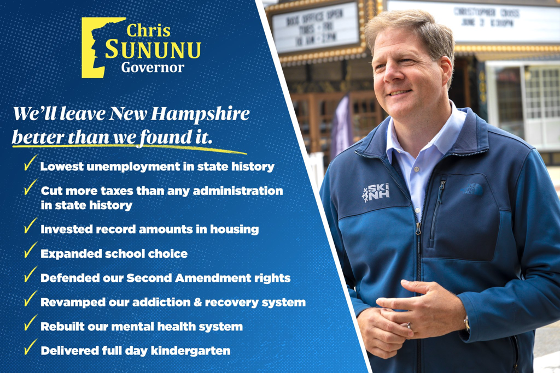 Other notable legislative actions include universal license recognition, record public education funding, voluntary paid family medical leave, and repealing the Interest and Dividends Tax.
Sununu's popularity soared during his handling of the COVID-19 pandemic. His approval numbers were never higher than during that time.
With Sununu bowing out, the Cook Political Report changed its rating of the 2024 gubernatorial election from "Solid Republican" to "Toss Up." In a podcast interview with NHJournal, Cook Political Report's Jessica Taylor said Sununu's departure makes New Hampshire the Democrats' best shot to pick up a governorship in 2024.
And two Granite State Democrats are already in the race. Manchester Mayor Joyce Craig and Executive Councilor Cinde Warmington are headed for a competitive primary. Each has raised more than $300,000.
On the GOP side, former state Senate President and 2022 U.S. Senate candidate Chuck Morse wasted no time jumping into the race, sending an "I'm in!" message within minutes of Sununu's announcement.
"Now that he's decided not to run for re-election, I'm announcing that I am running for governor to build on those successes," Morse tweeted.
"Year in and year out, New Hampshire ranks among the best states to live in. It's not an accident, and it's not luck either. It's because we elect conservative[s] who get results. It's what I did as Senate president, and it's what I'll do as governor. I want to put my experience and leadership to work for the people of New Hampshire to keep moving forward on a path of growth and prosperity for all," Morse said.
Two other likely GOP candidates, former U.S. Sen. Kelly Ayotte and Commissioner of Education Frank Edelblut, took different tacks.
"This is Gov. Sununu's day," Edelblut told NHJournal. "He's been a great governor for eight years. I will have an announcement in the near future, but this is his day."
Ayotte released a similar statement.
"I am grateful to Gov. Sununu for his hard work over the past seven years to improve our quality of life and for always fighting for all Granite Staters. The battle to ensure that New Hampshire keeps our 'Live Free or Die' spirit must continue. Like many Granite Staters, I fear that we are one election away from turning into Massachusetts," Ayotte said, adding that she, too, expected to make an announcement soon.
Ayotte's warning was particularly prescient, as not long after Sununu's announcement Massachusetts Gov. Maura Healey endorsed Joyce Craig for governor of New Hampshire. Ayotte quickly tweeted a response: "Take it from Maura Healey, Joyce Craig would turn New Hampshire into Massachusetts."
If all three enter the race, New Hampshire Republicans will have their first competitive gubernatorial primary since 2016. And whoever the nominee is can expect a general election more closely resembling Sununu's first – a narrow 2.2-point victory – as opposed to Sununu's last three contests – 7, 31.8, and 15.5-point victories.
Asked if he plans to endorse a candidate in the gubernatorial primary, Sununu responded, "Yeah, maybe. I guess we'll see who's running. As folks know, I'm never afraid to get behind candidates I believe strongly in, like any other citizen in the state. If there's a great candidate out there, I'm more than happy to get behind them."
Sununu wasn't worried that his decision puts the corner office in jeopardy for Republicans. "I'd like to think our administration has really put a stake in the ground of how to do it, how to get it done," Sununu said. "And I think it gives a huge opportunity for another Republican to win the seat."