"Forcing people to choose between their jobs and livelihood or the vaccine is not an appropriate way to increase vaccine uptake," New Hampshire Gov. Chris Sununu said Friday, announcing his opposition to President Joe Biden's new vaccine mandate.
On Thursday, an exasperated Biden told Americans who had yet to get vaccinated for COVID-19 that he was done waiting. "We've been patient. But our patience is wearing thin. And your refusal has cost all of us."
Biden then announced his sweeping COVID-19 vaccine mandates, including an order for all federal workers and contractors to get vaccinated or face losing their jobs. Biden also added a requirement that large private companies must mandate vaccines or regular testing for employees, though it's not clear he has the legal authority to do so.
By early Friday morning, several Republican governors had announced their intentions to fight Biden's mandate. The Republican National Committee said it was preparing lawsuits.
"Have at it," was Biden's response.
Sununu noted Biden's announcement Thursday was a reversal of his previous position opposing mandatory vaccines.
"Yesterday's actions by the Biden administration are another example of saying one thing, then doing another and creating instability and mistrust at a time when the American people need serious leadership," Sununu said. "New Hampshire's workforce, most especially in health care, is at a critical level and unilateral mandates by the federal government could lead to shortages in multiple areas that are already at grave risk."
New Hampshire's Democrats and union leaders have been largely silent on the issue. Sen. Maggie Hassan has no mention of Biden's "get the shot or get fired" federal employee mandate on her website or social media. She refused to respond to questions asking for her position. The same is true for Reps. Annie Kuster and Chris Pappas.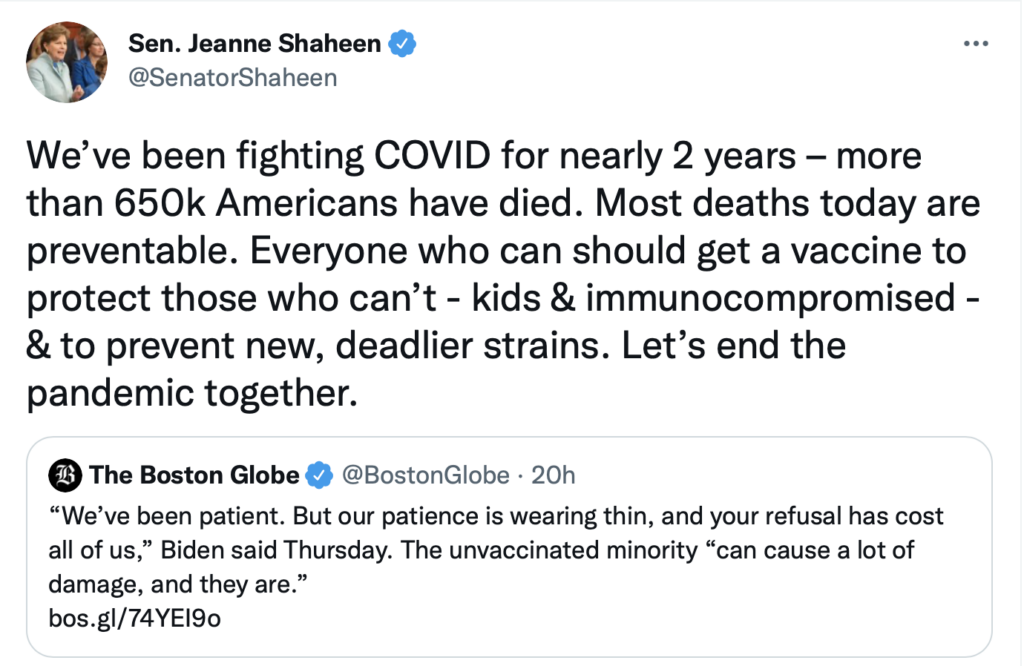 The one exception is Sen. Jeanne Shaheen, who tweeted Biden's "patience is wearing thin" quote along with her own call for "everyone who can" to get vaccinated.
Like their Democratic allies, New Hampshire's labor unions have refused to speak out on Biden's mandate, one that could literally cost their members jobs.
Dana Coletti, president of American Postal Workers Union Manchester Area Local 230, told NHJournal Friday morning he had just learned that Biden's mandate would apply to his members, "but I have nothing in writing confirming this."
"Local 230 has no position on it specifically as we would follow the National APWUs position on it. Currently, the national APWU is opposed to vaccine mandates."
So, what happens if a postal worker is told to get vaccinated or go home?
"Any time one of our members is threatened with possible termination for any reason, they should seek us out for assistance," Coletti said.
Meanwhile, more New Hampshire Republicans are pushing back on Biden's order.
"Rules for New Hampshire businesses should originate in New Hampshire," said Speaker of the House Sherm Packard (R-Londonderry). We believe in letting private businesses make their own decisions. This latest executive order coming out of Washington, D.C. is another example of federal overreach. The New Hampshire House will continue to work hard to protect our citizens and Main Street businesses from the insanity that has taken over the Biden administration."
Senate President Chuck Morse (R-Salem) also issued a statement: "This is a broad overreach of the President's authority, and he should not be dictating these decisions to New Hampshire businesses. I will continue to encourage Granite Staters to get vaccinated while opposing government mandates. The Washington way is not the New Hampshire way, and they should stay out of our way."
Morse is widely viewed as a likely candidate for governor next year should Sununu choose not to run again.
Dave Juvet, interim president of the New Hampshire Business and Industry Association, said the government should not force businesses to mandate the vaccine for employees. Any decision about how a business wants to proceed with vaccines ought to be left up to the individual business owners, he said.
"We have always believed employers of any size are best able to judge whether they should have a vaccine mandate in their business," Juvet said. "We support people getting vaccinated, but think it should be left up to the individual."
Mike Somers, president and CEO of the New Hampshire Restaurant and Lodging Association, is concerned about how the federal mandate will be implemented and how it will impact businesses.
Somers agrees with Juvet that individual employers should be free to decide on employee vaccine mandates and not be compelled by the government. He hopes more people get vaccinated on their own, especially now that the Pfizer vaccine is fully approved by the FDA. He's not sure what the government can do to encourage more people to get vaccinated.
"I'm not sure if there is one silver bullet that answers that question," Somers said.
Nancy Kyle, president and CEO of the New Hampshire Retail Association, said many employers have already taken the lead on vaccines, encouraging employees to get the shot. Some are giving out benefits like vaccine bonuses or extra vacation time for employees who get vaccinated.
"A lot of employers are being ingenious in what they're doing," Kyle said.
Kyle's group doesn't take a position on mandates but, like Juvet and Somers, she encourages everyone who can to get the shot.
Representatives for the New Hampshire's American Federation of State, County and Municipal Employees – Council 93 did not respond to a request for comment. Christine Turgeon, communications manager for the State Employees' Association of New Hampshire, SEIU Local 1984, said the union has yet to take a position on the issue.
"As of this time, we have not seen all of the language surrounding the mandate. Until we do, we cannot comment because we do not yet know how this will affect our members. We're happy to comment once we have a chance to review it," Turgeon said.
The political dynamics for Biden's order are complex. On the one hand, polls show Democrats generally support government COVID-19  mandates. And in New Hampshire, where about 70 percent of the population already has at least one shot, the real-life impact of Biden's order will get relatively limited.
At the same time, news stories of union workers and their families facing unemployment over refusing to obey Biden's vaccine order aren't likely to play well. And the order adds yet more confusion to his administration's messaging. Just a few weeks ago, Rochelle Walensky, director of the Centers for Disease Control and Prevention, said, "There will be no nationwide mandate."