A free-market group promoting the rapid reopening of America's economy gave New Hampshire's Gov. Chris Sununu a "C" for his handling of the COVID-19 crisis.
The report, "Grading Our Governors: A Report Card on Reopening States' Economies," was issued by the Committee to Unleash Prosperity, founded by economists Art Laffer and Stephen Moore, and publisher Steve Forbes.
"The premise of this report is that — with a few exceptions in some metropolitan areas — the time is long past for every state to reopen safely, smartly, and judiciously so as to end the economic destruction and despair from lockdown," according to the executive summary. "In this report, we assess how the governors have handled the shutdowns in terms of measuring how restrictive and damaging governors' edicts have been when it comes to their state's economy."
And how did they rank Gov. Sununu?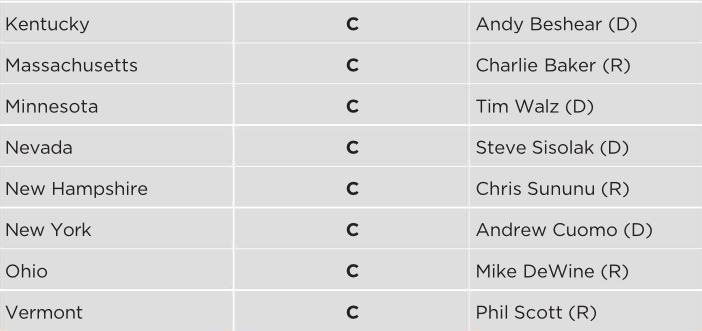 Sununu ranked a bit below Charlie Baker (R-Mass.) and barely ahead of Gov. Chris Cuomo (D-N.Y.) — whose state has been hammered by the virus.
The highest scores went to Jared Polis of Colorado, Ron DeSantis of Florida, Brian Kemp of Georgia, Kim Reynolds of Iowa, Pete Ricketts of Nebraska, Kevin Stitt of Oklahoma, Kristi Noem of South Dakota, Bill Lee of Tennessee and Mark Gordon of Wyoming.
The governors who got an F and "put their states in most economic peril" are Phil Murphy of New Jersey, Tom Wolf of Pennsylvania, Ralph Northam of Virginia, and Tony Evers of Wisconsin.
The report notes Sununu's "Stay-At-Home 2.0" plan and its combination of extending the shutdown order until May 31, while allowing "flex openings" over the next two weeks. The report also notes that New Hampshire ranks #30 in COVID-19 deaths per capita and assesses the coronavirus risk for the Granite State as "medium."
Polls show that Granite Staters overwhelmingly support Sununu's middle-of-the-road approach, with 89 percent approval and just 7 percent disapproval.
Sununu supporters tell NHJournal that the governor's announcement of limited openings over the next two weeks has unplugged what little momentum the #ReOpenNH movement had. With some stores and businesses opening between now and Memorial Day, what difference will a few more weeks of a shutdown make? The report pushes back on that notion:
"A recent study by Laffer Associates finds that states that open up earlier will have substantially better economic recoveries than states that stay closed for another month or so. That study finds that early opening states could be in recovery by the end of the Summer of 2020, while the laggard states could be in recession for six months or more.
"This is because businesses, stores, shopping centers, restaurants, and office parks are much more likely to fail if their doors aren't opened sooner rather than later. Every day counts."

"The indirect health consequences come from economic devastation. Skyrocketing unemployment will lead to rampant substance abuse, domestic violence, suicide, drug overdoses, and other severe public health harms," according to the report.
"This report assesses how well each governor is responding to this increasingly undeniable reality that America faces an urgent imperative of limiting the health and economic catastrophe caused by lockdowns. Those who don't agree with that assessment are free to discard these grades. Those who do should pay careful attention to how their governors are performing."
Moore told NHJournal we're going to look back years from now and realize how we handled the coronavirus was "stupid."
"I think we just weren't smart about this and now let's get smart about it," he said. "One thing we do know about viruses and pandemics is that they are urban, because diseases are passed through areas with high-population density, so New Hampshire doesn't need the same rules as Boston does."