At Wednesday's COVID-19 news conference, Gov. Chris Sununu explained away criticism of his support for protesters who violate the lockdown by saying his coronavirus policies aren't "made solely on healthcare" — a novel approach to a pandemic he once claimed risked the life of every Granite Stater.
Just days after threatening private businesses with legal action if they reopened in defiance of his stay-at-home order, the Republican governor repeated his support Wednesday for local protests over the killing of George Floyd at the hands of Minneapolis police officers.
A series of rallies with hundreds of people in attendance — some from out of state — received the endorsement of Sununu, 10 weeks into a coronavirus clampdown he once insisted was vital to protecting Granite Staters from the deadly virus.
Now, Sununu says, the concerns about COVID-19 are secondary to political support for the Black Lives Matter movement.
"If you think events should be judged based solely on the risk of spreading COVID, then you're missing the picture," Sununu said. "You're missing the importance of this message.
"If you're gonna try to connect what's happening with the murder of an individual by a police officer and the racial injustices that surround that — the social message that has to be discussed and elevated — to what's happening over here with COVID. These are the two tragic issues, but they are separate," Sununu added.
Focusing on coronavirus isn't sufficient, Sununu said.
"We've never said that [we're making decisions solely on healthcare]. If we were going to make decisions based solely on healthcare, then yes," Sununu said, allowing the crowds to gather in Manchester and Keene wouldn't make sense.
"We'd probably tell everyone to shelter in place, put the National Guard on the street, and we wouldn't let you come out. But that's not practical, nor should it be done," Sununu said.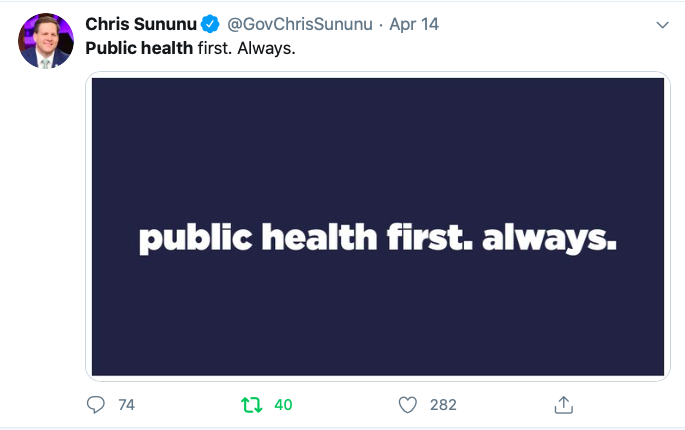 Asked whether his administration would grant a similar exemption to a rally planned by the ReOpenNH group on the sands of Hampton Beach this Saturday, Sununu said yes.
"It's the same group that was at the statehouse a month ago. We let them protest then. They came a couple of different times. Now they're going to go and protest at the beach? That's fine. It's a one-time event," Sununu said. "I'm not here to be judge and jury over one message or another but I can tell you the George Floyd issue in particular hits home with me, I think it hits home with a lot of people. But if people want to protest this or that, by all means."
And it's not just the ReOpenNH or Black Lives Matter, either. Sununu gave the green light to all "one-off" events, insisting this has been his policy since the lockdown began on March 16.
"We've had protests right along," Sununu told NHJournal. "I've always said, we're not going to stop them. There were 300 people protesting at the statehouse last month. Most of them were without mass and doing whatever they were doing. We let that go. That was OK. We understood it was a one-time event."
This embrace of "one-time events" is particularly surprising from  Sununu, who has publicly expressed concerns about a potential "super-spreader" event at which one person could infect a large number of people. That concern is shared by many public health professionals who have warned that mass protests could lead to a spike in coronavirus infections.
When asked if he should be held responsible if the protests led to a spike of COVID-19 cases in New Hampshire, Sununu declined to respond. But he did pledge to announce publicly if such an infection occurred.
Meanwhile, Sununu insists, "the stay-at-home order remains in place and we expect people to take it seriously."
Given the lack of enforcement and shifting priorities, Sununu's critics say he's the one who needs to get serious about the state's COVID-19 policy.
"He's the one who told us we had to shut down because it was a matter of life and death. He's the one who put everyone out of work, who's putting people out of business for good," one frustrated Sununu supporter told NHJournal.
"Now he says it's OK for you to break [the stay-at-home order] if it's really important? Feeding my family is important — what about that?"