Gov. Chris Sununu wants the Biden administration to help reverse the increase in illegal crossings at New Hampshire's northern border, and he has written the state's all-Democrat federal delegation asking them to step up.
"I write to urge you to address the surge of activity occurring at New Hampshire's border with Canada and in the rest of Swanton Sector. Illegal border crossings, drug trafficking and other crimes are increasing in frequency, and a stronger response from the federal government is necessary to keep Granite Staters from becoming victims to these bad actors," Sununu wrote.
Sununu's letter came just days after an illegal immigrant who fled Brazil and was later convicted of mass murder was apprehended in the seacoast city of Rye, N.H. "Antonio Jose De Abreu Vidal Filho, 29 … was convicted of 11 murders and sentenced to 275 years and eleven months in prison in June 2023," Immigration and Customs Enforcement Officials (ICE) said, in a crime that came to be known as the "Curio Massacre."
Sununu said it was a stunning reminder of the importance of giving border states the resources they need to help enforce immigration law.
"I think we can all understand that not every illegal immigrant is a mass murderer, of course," Sununu told NHJournal. "But there was a mass murderer illegal immigrant right here in our own state. Thank goodness ICE apprehended him. And that's a great win. But think of all the countless numbers that are out there that they don't.
"What we're trying to do is provide more resources to help ICE and Border Patrol who are short-staffed. So imagine how many other really violent criminals are here illegally, and these guys just don't have the staff and resources to get them all.
"This is exactly the point [of my letter]. We're trying to help them do their job to the fullest."
Granite State Democrats have dismissed concerns about illegal immigration and the porous border as a "fake issue" invented by New Hampshire Republicans. New Hampshire Democratic Party chairman Ray Buckley called GOP concerns about immigration enforcement "thinly-veiled racism."
None of the state's all-Democrat federal delegation members would answer questions about the funding Sununu is requesting or the Biden administration's policy.
However, Sen. Maggie Hassan praised local border enforcement efforts funded by Operation Stone Garden during the Trump administration. "Our brave and dedicated law enforcement officers in the North Country face unique challenges to keep the North Country and our entire state safe," Hassan said during a 2017 visit to the state's northern border.
Operation Stone Garden is a federal grant program providing funding to state and law enforcement agencies to enhance their capabilities to support joint efforts to secure the border. In 2018, New Hampshire received nearly $4 million from the Trump administration through Operation Stone Garden, but those funds were slashed to $180,000 by the Biden administration in 2022 and $200,000 in 2023.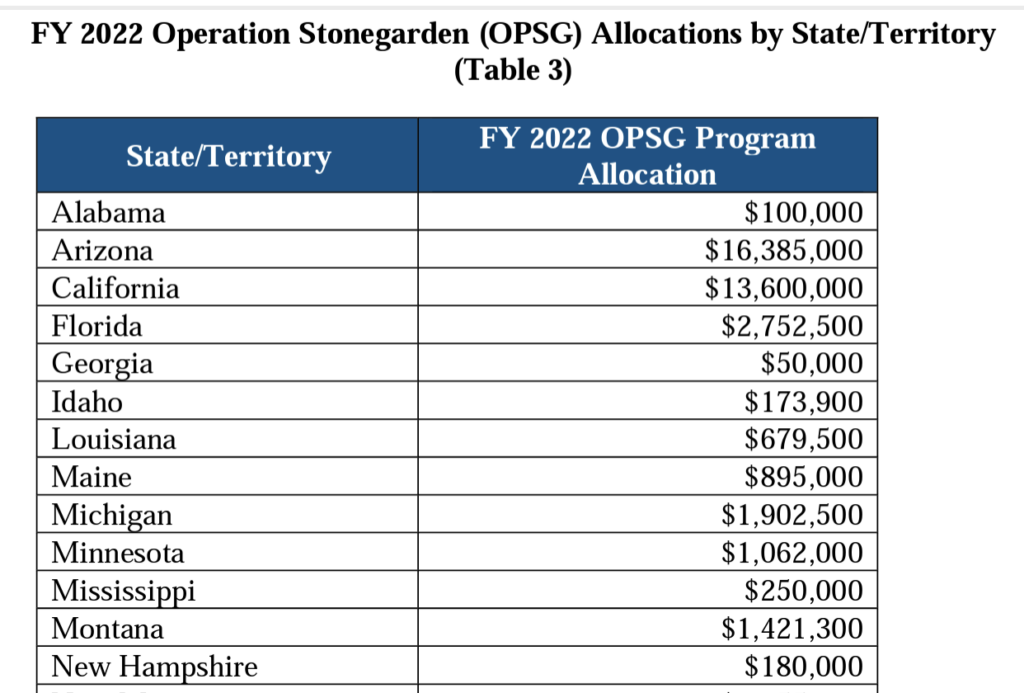 Meanwhile, Sununu said, illegal crossings at the state's 58-mile border with Canada have exploded.
"Border activity has been increasing exponentially in both the entire Swanton Sector and locally in New Hampshire. In February, the Swanton Sector saw an 846 percent increase in encounters and apprehensions compared to the same period in FY22," Sununu wrote to the delegation.
"Just this month, there have been reports that the 5,400 apprehensions in the Swanton Sector have eclipsed the last nine years combined. Law enforcement has consistently encountered large groups of people when individuals and pairs were previously the norm. Hundreds of thousands of dollars in contraband has been discovered and seized."
Sununu wrote Homeland Security Secretary Alejandro Mayorkas this March, noting, "The State of New Hampshire has attempted to assist the federal government in securing our northern border. These offers of assistance have been repeatedly rejected.
"The Biden Administration has cut funding and hindered the state's ability to assist in patrolling the northern border," Sununu wrote Mayorkas. "If the Biden Administration truly believes that securing the border is a priority, I hope you will partner with the State of New Hampshire to make this a reality."
The Biden administration has declined to restore the Operation Stone Garden funding. Hassan sits on the U.S. Senate Homeland Security Committee that oversees Mayorkas' department.
Sununu put $1.4 million of state funding into increased support for border enforcement in the most recent budget and said more needs to be done. He asked the delegation to "identify funding to increase resources in the Swanton Sector and specifically New Hampshire." He also wants them to help New Hampshire "secure an adequate ICE Delegation Agreement," something he says Secretary Mayorkas agreed to do earlier this year.
"He verbally said he was willing to help us, and then he wrote a letter saying, 'I'm not going to help you," Sununu told NHJournal.
"All that [the Delegation Agreement] would've done is allow our state and local police to do more of the job that currently only Border Patrol can do in terms of apprehensions."
While Sununu acknowledged most of the illegal crossings in the Swanton Sector occur at the New York and Vermont border, the problem is definitely growing along the Granite State's border as well.
"We're trying to provide more flexibility for the private landowners to protect their lands because that's primarily how folks are coming over. They're coming over on private lands when there are only a couple of border patrol agents up there.
"The local police can monitor someone, but… we can't apprehend somebody for a violation of a federal law. So we're just saying, 'Hey, give us that power so you guys don't have to be the only ones that we lean on every single time this happens.
"And it's happening at such an increased frequency," Sununu said.
EDITOR'S NOTE: An earlier version of this article incorrectly reported Vidal Filho escaped from jail in Brazil. He in fact fled his position in the Military Police and came to the U.S., evading arrest. We regret the error.