With a third New Hampshire utility company announcing rate hikes this week, voter frustration with inflation and energy prices is almost certain to increase between now and Election Day. During a Wednesday appearance on the Jack Heath radio show, Democratic gubernatorial candidate Sen. Tom Sherman once again blamed Gov. Chris Sununu for the high cost of electricity, claiming rates have risen higher in the Granite State than in Massachusetts or Maine.
However, data from the EIA show that, like his previous claims about Sununu's energy policy, Sherman's statement is false.
With Republicans the party of "Drill, Baby, Drill" and Democrats embracing embargoes on new petroleum production and blocking "fracked gas" from New England, energy prices are a problematic issue for Democrats. That's particularly true for green-energy progressives like Sherman.
On Tuesday, the New Hampshire Electric Cooperative (NHEC) announced an increase in its Co-op Power Charge from 9.62 cents per kilowatt-hour (kWh) to 16.98 cents per kWh, effective August 1, 2022. The net impact on ratepayers will be an increase in their monthly bills of about 35 percent.
Customers of the state's two other major electric utilities, Eversource and Liberty Utilities, will see even bigger bumps in their bills.
"Altogether, a typical residential bill will go up by something like 50 or 60 percent," writes New Hampshire Consumer Advocate Donald Kreis, "the most staggering one-time rate increase in the history of staggering one-time rate increases."
The reason for higher rates is the rising price of natural gas to generate electricity, particularly for the New England grid.
"Electricity prices jumped 51 percent in the first quarter of 2022 in the PJM Interconnection wholesale market, partly driven by an increase in natural gas prices," according to industry reports. PJM serves the Mid-Atlantic and Midwest regions.
"In New England, wholesale power costs soared 83 percent in the first three months this year compared with the same period last year."
After years of advocating legislation that would raise utility bills as part of a push to renewable energy sources, Sherman is now trying to turn the tables and blame Sununu for the coming rate hikes.
Until recently, Sherman claimed "Sununu's PUC" was allowing rate hikes that could be prevented — a claim shot down by Kreis, among others. He also claimed the governor vetoed green energy proposals that would have resulted in lower utility bills today. That claim, too, has been debunked.
Now Sherman says Sununu's policies have increased energy rates faster in New Hampshire than in neighboring states.
"You don't see Maine and Massachusetts having the same level of rate increases that we're seeing in New Hampshire. And why is that? Because they actually have embraced moving forward with alternative sources of energy," Sherman said Wednesday.
In fact, between 2016 and 2021, the average cost of a kilowatt of electricity rose in Massachusetts by nearly 21 percent, according to the EIA. Over that same period, costs in New Hampshire rose just 8 percent.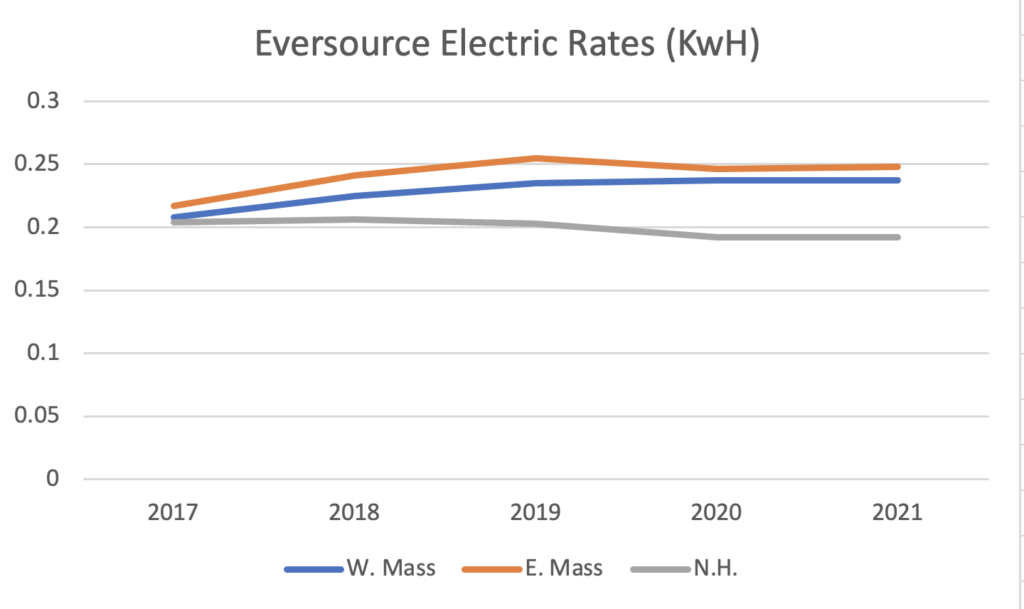 Numbers from Eversource are even more telling. In 2017, they charged customers in eastern Massachusetts 21.7 cents per kilowatt. New Hampshire customers paid Eversource an average of 20.4 cents. In 2019, New Hampshire was paying just 20.3 cents, while in the Boston area, the rates were 25.5 cents. The COVID lockdown caused prices to drop in both states, but New Hampshire's rates were consistently lower (See chart).
It is true that, because utility companies in New Hampshire are buying now and Massachusetts and Maine are on a different contract schedule, rates will rise in the Granite State before they do in the Bay State. But that's a timing issue unrelated to energy policy.
As Kreis writes regarding rate differences between the NH Co-op and the other two utilities:
"Active portfolio management – chiefly, 'laddering' wholesale contracts so they don't expire all at once – explains the difference. To their credit, both the PUC and Governor Sununu have publicly called for a reexamination of energy service procurement practices for all electric utilities."
Democrats like Sherman have been promoting green energy policies in the name of fighting climate change, and from that standpoint, they may be advancing the best public policy. That's a matter of debate. But nobody disputes — or didn't until now — that raising the Renewable Portfolio Standards or requiring ratepayers to subsidize costly investments in expanding solar would increase utility rates. It was an issue of tradeoffs: pay more today to protect the environment tomorrow.
But with "staggering rate increases" scheduled to hit just weeks before Election Day, Democrats are trying pull their policies off the table.
"The cause of rising energy costs in New England comes from both inside and outside the Granite State," says Rep. Michael Vose (R-Epping), chairman of the House Science, Technology, & Energy Committee. "Here at home, efforts over the years to block hydroelectric transmission corridors and natural gas pipelines put us on a path to fuel and power shortages. Much blame also rests with the current federal administration's policies that either prohibit pipelines, like Keystone XL, or make gas pipelines harder and more expensive to build."
NHJournal has repeatedly requested a comment from the Sherman campaign on this issue. They have declined to respond.