Florida Gov. Ron DeSantis defended former White House spokeswoman Kayleigh McEnany from attacks by her old boss, calling her one of Donald Trump's "greatest selections" as president.
"Donald Trump, even his greatest supporters have acknowledged, had a tough time picking good people," DeSantis said on the NHJournal podcast. "He had a lot of terrible personnel decisions. People like Jerome Adams, his Surgeon General. And, 0bviously, he elevated [Anthony] Fauci to lead the task force.
"But Kayleigh was one of his greatest selections. She did a fantastic job," DeSantis said.
The governor noted McEnany's family is from Florida, "so we were very proud of her." And, he added, because she was young, attractive, and blonde, she was often underestimated by the White House press corps that came after her every day.
"She's a Harvard-trained lawyer, she's an absolute killer, and she ate the press alive," DeSantis said. "And so for [Trump] to be attacking her, I thought that was really, really bad."
After Fox News host McEnany reported on polling data in the GOP presidential primary in a way Trump found insufficiently favorable to his campaign, he lashed out.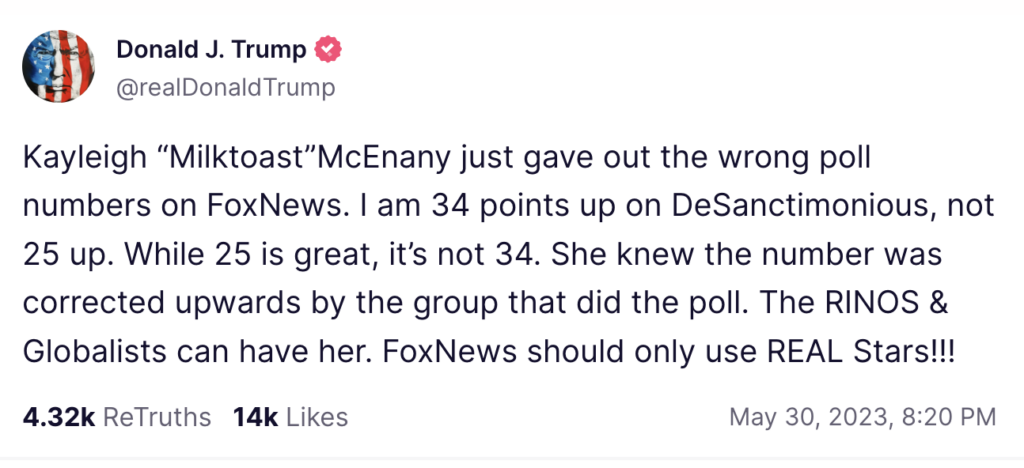 "Kayleigh' Milktoast' McEnany just gave out the wrong poll numbers on FoxNews," Trump posted. "I am 34 points up on DeSanctimonious, not 25 up. While 25 is great, it's not 34. She knew the number was corrected upwards by the group that did the poll. The RINOS & Globalists can have her. FoxNews should only use REAL Stars!!!"
Trump's trashing of his former spokeswoman — and one of his most loyal supporters — has angered part of his MAGA GOP base. Solidly conservative pro-Trump state Rep. James Spillane (R-Deerfield) pulled his endorsement on Thursday.
"I can no longer continue endorsing former President Trump," Spillane said. "I am officially withdrawing my endorsement, as his most recent attack on Kayleigh McEnany is beyond comprehension and explanation. Against my deepest hopes that Trump had learned some measure of control, he has attacked those who have been his staunchest supporters with no regard for their loyalty."
The reaction from MAGA quarters of the Granite State has been surprisingly strong. One Trump supporter who now describes herself as "on the fence" told NHJournal she's "confused" by Trump's actions.
"Who's more loyal than Kayleigh?" she asked.
Meanwhile, some Trump defenders are on social media insisting the Trump Truth Social post is a fake, a sign the story is having an impact on voters in his base.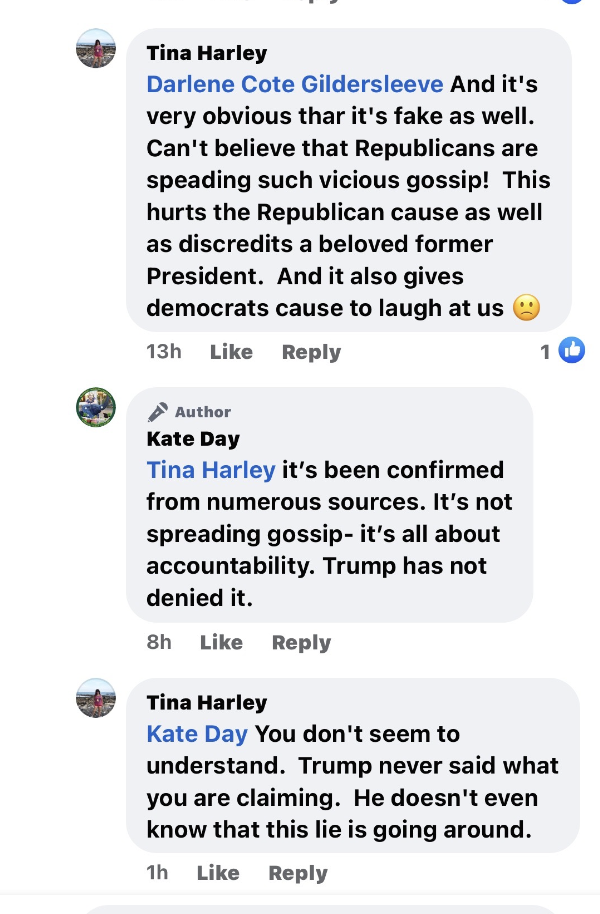 "It's very obvious that it's fake. Can't believe that Republicans are spreading such vicious gossip! This hurts the Republican cause and discredited a beloved former President," Rep. Tina Harley (R-Seabrook) posted on Facebook. Harley is one of the state representatives who, like Spillane, stood with Trump at the Manchester Doubletree in April and endorsed him.
"Trump never said what you are claiming. He doesn't even know this lie is going around," she told a DeSantis supporter who re-posted Trump's comment.
DeSantis called Trump's treatment of McEnany another sign of the former president's "pettiness," he says it's not wearing well with the voters.
"I think the voters in New Hampshire, just from the ones I talked to, and in Iowa, they don't like this pettiness. They don't like the name-calling," DeSantis said. "We've got big issues to deal with, and we should be focusing on Joe Biden and his failures. I'm not out there shooting at other Republicans unprovoked. I think that's what we need to do."
Asked to comment, the Trump campaign shared a list of another group of Granite Staters stepping up to endorse Trump on Thursday, including six more state reps.
Spillane said he is hearing from other Republicans across the country who agree with him. "I've gotten emails from Republicans saying, 'You're right. Enough is enough.'"