It's no secret that U. S. Senator Jeanne Shaheen (D-NH) isn't a fan of Education Secretary Betsy DeVos. She opposed DeVos's nomination and has repeatedly criticized her since.
But this week the criticism veered into a new area: Guns.
During Secretary DeVos's appearance before an Appropriations Subcommittee, Sen. Shaheen asked her about school safety and guns.  After reading a letter from a high school student in Dover, Shaheen went on to claim that "since 2009, the US has had 57 times more school shootings than the rest of the G7 countries combined. That's 288 school shootings in the U.S."
"The question I have for you, Secretary DeVos, is–what are these countries doing that we're not doing? Do they have fewer mentally ill people? Do they arm their teachers? Or do they have more sensible gun laws?
Secretary DeVos suggested to the committee that the new Federal Commission of School Safety established at the behest of President Trump will not look at the issue of guns and gun violence–which, if true, would appear to be a glaring omission. However, Sen. Shaheen's claim of 288 school shootings in the U. S. since 2009 also bears scrutiny.
According to researchers at Northeastern University, schools are actually safer than they were in the 90s, and school shootings are not more common.
"Since 1996, there have been 16 multiple victim shootings in schools, or incidents involving 4 or more victims and at least 2 deaths by firearms, excluding the assailant," the report shows.  Now, Sen. Shaheen did not use the phrase "mass shootings," which is what most people think of when they hear "school shootings," so perhaps she simply meant all shootings at K-12 schools.
Ooops. Here's their data on all school shootings where there was even a single fatality: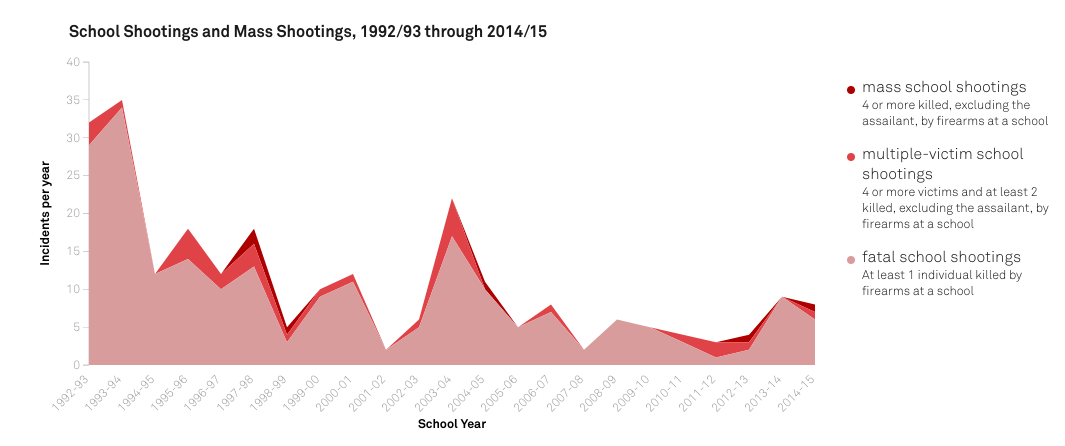 Notice that, since 2009, the number of fatal shootings rarely exceeds single digits. That would put the number since 2009 closer to 80, not 288.
Sen. Shaheen appears to be relying on a report from CNN which the network admits is based on their own count of media reports of shootings and not on actual police data. CNN also acknowledges their numbers  include, not just K-12 schools, but  colleges and vocational schools. Many of the incidents are  gang violence, domestic violence, robberies in school parking lots and accidents.
CNN didn't reveal their raw data, but a previous CNN analysis of school shootings in 2018 included a student shot with a BB gun. Of the 23 school shootings on CNN's list for 2018, only two meet the criteria of a mass shooting.
Every school shooting is an outrage, of course, and Sen. Shaheen's questions about how the Department of Education intends to address the issue are certainly legitimate. But including bogus, poorly-sourced and debunked data in the conversation doesn't advance legitimate debate.
Watch the exchange between Sen. Shaheen and Secretary DeVos here: