"I'm not running against anyone, I'm running for. For the job of committeeman."
So says Chris Ager, Hillsborough County GOP chairman and candidate for Republican National Committeeman from New Hampshire.
The problem, of course, is that Ager has to beat someone to get that job — four-term incumbent Steve Duprey. Ager has nothing by praise for "my friend Steve," and Duprey speaks highly of him as well. "Chris is a good guy," he told NHJournal.
But whether they like it or not, they're at the frontlines of a brewing battle inside the NHGOP, one that's certain to break into open warfare eventually. Call it "Bushies vs. The Believers." Call it "McCain Moderates vs. Trump Loyalists." It's the ongoing battle between the grassroots activist talk-radio Right (aka "The Crazies") and the business-moderate-corporate traditionalists (the "Squishes").
In the past, these fights were much more open and bloody. Ironically, the person binding them together is the 'Divider-in-Chief' (as Democrats call him), Donald Trump. His popularity among Republicans is so high –approaching 90 percent in some polls — that it's forced a Pax Donaldo on the state's GOP factions for the moment.
Still, you can see the contours of the would-be battle lines between the Establishment and the Insurgents. Lined up behind Duprey are Gov. Chris Sununu, Senate GOP Leader Chuck Morse, former NHGOP chairman Wayne MacDonald — even Steve Scheffler, the National Committeeman for Iowa, "has an important message for New Hampshire Republicans," according to a press release from Duprey's campaign consultants.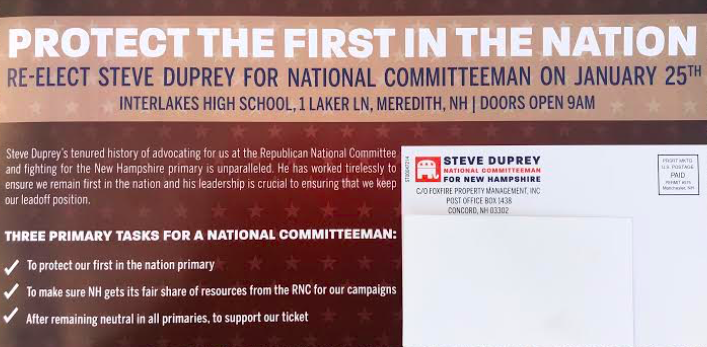 Yes, you read that right: the incumbent committeeman looking for the votes of 505 state delegates, has hired professional consultants — RightVoter LLC — to run his campaign. On Friday, delegates were greeted with a glossy campaign flyer in their mailbox: "Protect the First In The Nation. Re-Elect Steve Duprey."
To grassroots activists, this screams 'Establishment Insider.'
"A consultant? Who's ever heard of that?" one New Hampshire conservative asked NHJournal. "It's like running against Thurston Howell III."
Duprey is very aware that his race could become a test of conservative bona fides or depth of loyalty to Donald Trump. In a conversation with NHJournal, he was quick to point out that he hosted Donald Trump in New Hampshire during the 2016 primary. And his campaign has highlighted Trump ally Corey Lewandowski's endorsement.
"Steve has my full support, and I am confident that he is the best individual to support President Trump's Keep America Great Agenda and the New Hampshire Republican Primary," Lewandowski says in a campaign statement.
What Duprey wants Saturday's vote to be about is New Hampshire's First in the Nation primary and how effective he's been over the years defending it.
"Bill Gardner has been absolutely masterful over the years in fending off challenges from other states," Duprey said. "But the fact is the national parties could kill our First in the Nation primary with a single rule change. That's why I'm on the RNC's Presidential Nominating Process Committee. New Hampshire and Iowa have made it a priority to have people on that committee. It's a huge value having someone there with seniority and with the respect of the RNC members."
Given the importance of the #FITN primary and the latest round of identity-politics attacks on New Hampshire from liberal Democrats, some conservative Republicans acknowledged that, while they're unhappy with Duprey's politics, the primary issue alone may be enough to carry the day.
Then again, it may not. As veteran political reporter John DiStaso wrote this week: "Duprey or Ager? It's Anyone's Guess."
A GOP consultant told NHJournal "I've talked to two Republican activists today. One says 'Duprey by a whisker.' The other says 'Ager wins in a romp.' Who knows?"
Why is Dupey in danger of losing? One reason is because the GOP grassroots is grumpy. In years past, they may have shrugged and accepted a McCain Republican like Duprey as 'the best we can do.' But Trump's victory has convinced them otherwise. Grassroots activists want one of their own, and that's how Ager is running.
"There's been a lot of talk about 'listening to the voices of the grassroots,'" Ager told NHJournal. "I don't have to just 'listen.' I am part of the grassroots. I'm one of them. They know me and I know them. I'm a regular grassroots guy."
These movement conservatives also know Duprey's record: Attending a Planned Parenthood fundraiser, his membership on the Reaching Higher NH board, and (they believe) his unwillingness to support the state party's pro-life platform.  Ager, on the other hand, is adamant: "I stand for supporting the entire platform of our party, including pro-life, pro-gun rights and pro-education choice."
Another reason Saturday's vote is uncertain is a perception that the #FITN card is being overplayed. Ager supporters reject talk of  Texas taking the #FITN away from New Hampshire. They see it as propaganda fed to the press by Duprey's campaign. Besides, says one conservative activist involved with the grassroots said, "most of the people voting Saturday believe the primary is protected by state law."
Ager says he isn't bothered by the long list of big-time GOP endorsements for Duprey. 'They're just making my point for me. We always knew the Establishment was going to endorse him. Every endorsement is a reminder to the grassroots that I'm their candidate in this race."
And Ager has some endorsements of his own, including Trump NH campaign co-chair Rep. Fred Doucette who has broken with his longtime ally Lewandowski to back Ager. He's also got some old-school GOP support from Augusta Petrone.
What Ager really has, however, is a conservative base that's ready to flex its muscles. And Ager has an opponent who, for good or ill, is completely identified with establishment politics. None of this has anything to do with the actual duties of a Republican National Committeeman.
Saturday's vote will be a glimpse into just how determined the grassroots of the state GOP are to assert their power.
"If it's 'insurgents' vs. the 'Establishment,' you have to bet on the insurgents," one politically-active conservative told NHJournal. "Then again, the state party has gone full Trump and the GOP base seems pretty happy. Do they really want to rock the boat?"
In the end, a vote that only includes 505 delegates really is "all about turnout," as the cliche goes. How many are going to drive to Interlakes High School in Meredith on a Saturday morning?
"It's going to be close," Ager said. "But I wouldn't be running if I didn't think I was going to win."