The "No B.S. BBQ" hosted by former GOP U.S. Sen. Scott Brown and his wife Gail Huff Brown — a Republican candidate for Congress in 2022– has emerged as a must-stop for GOP presidential candidates in New Hampshire. Nearly every Republican in the race has appeared this cycle, and former President Donald Trump is rumored to be planning a stop as well.
But according to Brown, the biggest crowd he has had this year came to see a Democrat: Robert F. Kennedy Jr.
More than 500 people came to see Vivek Ramaswamy at the Rye, N.H. event last month, the largest crowd to date, Brown told NHJournal. But the RFK Jr. crowd was more than twice that size.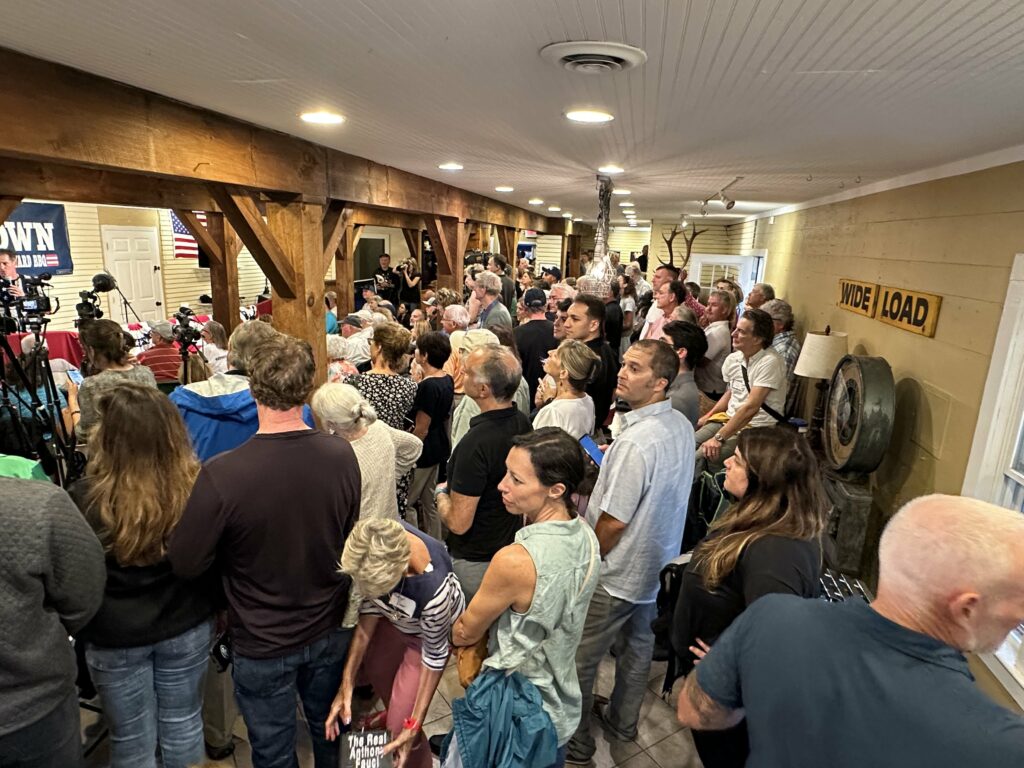 "This is an amazing crowd. I've never had a crowd like this ever, so congratulations," Brown told Kennedy as the crowd cheered.
Brown put the attendance at around 1,200 or so, but he said local police estimated it was closer to 2,000.
Kennedy delivered his remarks and answered questions for just over an hour, then he took selfies with everyone who wanted one. Many attendees were from Massachusetts and Maine, and most who spoke to NHJournal said they were traditionally Republican primary voters.
Kennedy told the crowd the Democratic National Committee and his party's establishment were working to block his candidacy. "You saw what they did to [U.S. Sen.] Bernie Sanders because they saw him as a threat? Well, I'm 10 times the threat he was."
But it won't work, he insisted, because he has the intensity among voters needed to win. "I've got more than 200,000 volunteers, far more than any other campaign."
Politico reported Wednesday that the DNC is planning to vote Thursday to vote yet again to give New
Hampshire Democrats have more time to comply with the new calendar the Biden White House pushed on the party. New Hampshire Democrats have made it clear they have no plans to move their primary after South Carolina and out of the First in the Nation slot.
That means it's likely President Joe Biden's name won't appear on the ballot, allowing Kennedy to hand the incumbent Democrat an embarrassing defeat. Granite State Democrats are discussing organizing a write-in effort on Biden's behalf.
"I can't think of anybody who least represents a New Hampshire Democrat than Robert Kennedy," Democratic strategist James Demers told Politico. "I think a lot of activists here feel extremely uncomfortable that he could be the winner of the New Hampshire primary, binding or not binding."
When asked by Brown if he would consider running as an independent if the DNC "jammed him" by using the rules against him, Kennedy replied, "I would look at every option."
Kennedy's remarks centered on the theme of his campaign, his opposition to "the corrupt merger of state and corporate power." Again and again, he told the crowd that America's political power was being used to enrich a handful of big businesses, turning the phrase "BlackRock, State Street, and Vanguard" into a call-and-response mantra for his message.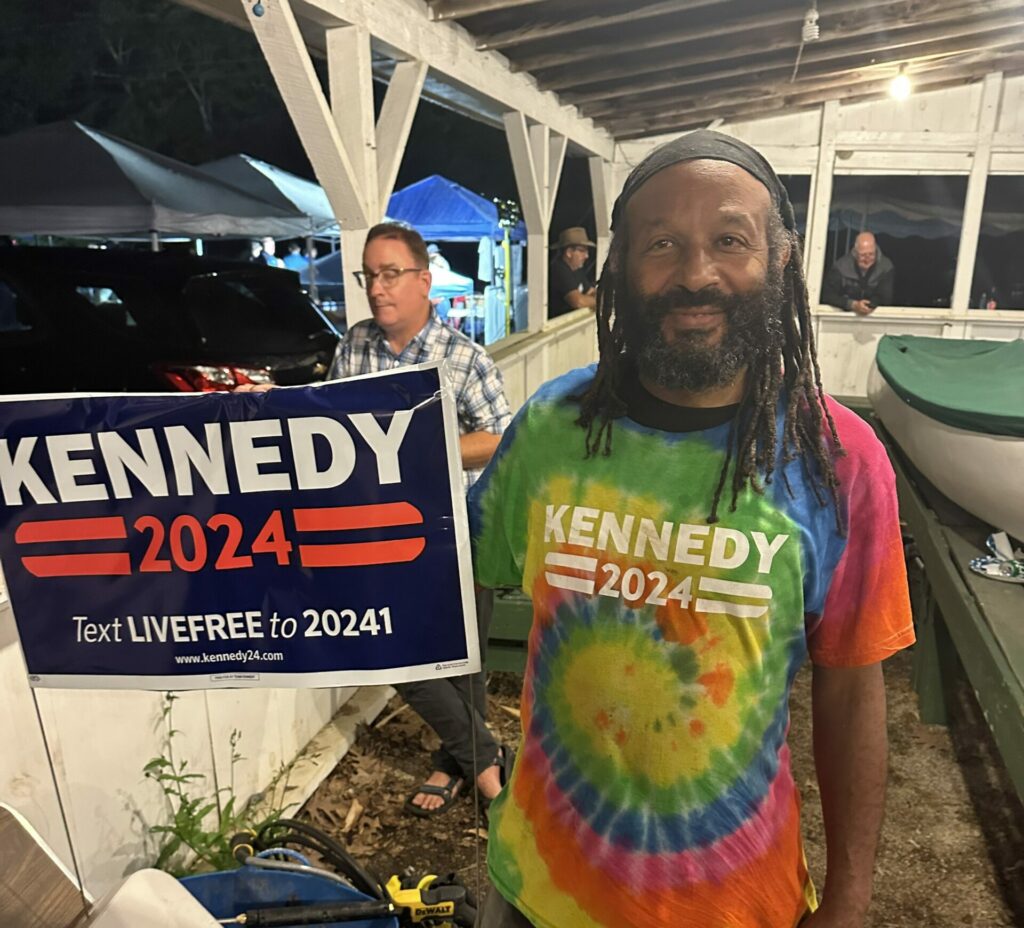 Recently, Kennedy has added a new emphasis on the high cost of housing and the need to promote home ownership.
"When you own your own home, you care about the community, you care about the schools, about the police. You put flowers outside. More importantly, you have an entre into the capitalist system," Kennedy said. He credited home ownership with playing a key part in America's prosperity during the post-World War II era.
Today, he said, inflation and a lack of available housing are making home ownership all but impossible for young Americans. His solution? Guaranteed three percent mortgages for Americans buying a home.
"When your rich uncle cosigns a loan, you get a great rate because it's based, not on your lousy credit rating, but on your rich uncle's great credit rating," Kennedy said. "So, I'm going to give everybody a rich uncle: Uncle Sam."
The populist Democrat rejected claims from the Biden administration that "Bidenomics" has created a prosperous economy, noting America's poverty rate recently spiked. It was a reference to a new report from the U.S. Census Bureau that the percentage of Americans living in poverty jumped from 7.8 percent in 2021 to 12.4 percent last year.
"I'm running against two presidents who both are claiming they brought prosperity to America. But when I say to people, 'Are you experiencing prosperity?' they feel like they're being gaslighted."
Kennedy also bemoaned the money America is sending to Ukraine to help it fight back against Russia's invasion, saying that money should be spent here at home. "We have a crisis in this country. Do we really have $140 billion to spend on a war that never should have happened?" Kennedy asked as the crowd cheered.
The 69-year-old environmental activist also hit on some hot-button political issues like the border and sex-change medical treatment for minors.
Calling the southern border a "human tragedy," Kennedy argued on behalf of the traditional progressive policy position that America needs a secure border to protect the wages of the working class. He also mocked New York City Mayor, and fellow Democrat, Eric Adams over his complaints about the impacts of the current wave of undocumented migration on the Big Apple.
Asked about the "social contagion" of the rising transgender movement in public schools and if he would stand with parents, Kennedy said his position is "that parents ought to control curriculum in schools." He also said children should not be able to get so-called "gender-affirming care" — chemical or surgical procedures designed to permanently change a child's gender — without parental permission, either.
And he went a step further, suggesting he might support a ban on sex-change procedures for minors entirely.
"Maybe it should be illegal altogether; I haven't really studied it," Kennedy said. "But it's outrageous if it happens without parents' permission."
The crowd seemed to like what it heard.
"Oh, I like him," said Susanne Sirois of Portsmouth after the event. Sirois said she has attended many events at the Rye venue, always for Republican candidates, but she is very interested in Kennedy. Her one concern: His stance on gun control. She supports the Second Amendment. "I've heard he's not anti-gun like some Democrats."
Asked why the Democratic Party was working so hard to prevent Kennedy from breaking through, Diana Dehm of the Seacoast area said party bosses were afraid of him.
"They're so afraid of him because he's telling the truth. And a lot of people want the truth right now," said Dehm, who worked with Kennedy on environmental issues in California but recently moved back to New Hampshire.
"He stands for what he believes in; he's a brave guy. And he can bring people together."