National Democrats stripped New Hampshire of its first-in-the-nation primary in order to benefit Joe Biden's re-election and protect the president from embarrassment, Robert F. Kennedy Jr. said during a visit to New Hampshire Thursday. And, he said, it's a move he believes hurts both the party and confidence in the electoral process itself.
A scion of one of the country's most famous political families, Kennedy is seeking the Democratic nomination for president, and he's made it clear his campaign will focus on New Hampshire. He was in Concord to address the state Senate, which has invited all the announced major-party candidates to speak. It's part of the state's strategy to show unified, bipartisan support for New Hampshire's place in the primary line.
"I'm here because I am going to participate in this primary, in this state," Kennedy told the Senate, a pointed reference to Biden's pledge not to campaign in the Granite State unless it adopts the DNC's calendar.
"I'm going to be in this state fighting to win every vote I can in New Hampshire — Republican, Democratic, and independent. And when I'm elected president, and I'm head of the Democratic Party, I'm going to pour concrete around the notion that New Hampshire is first in the nation," Kennedy said.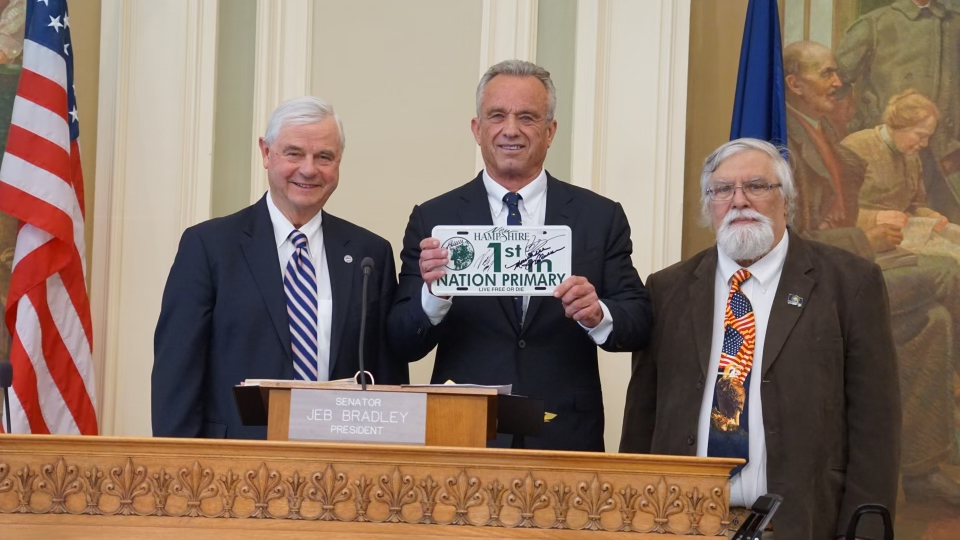 Kennedy argued that New Hampshire's more intimate, retail-politics primary "plays a critical role in vetting candidates for the rest of the country.
"In other parts of the United States, they are content with having politicians come in with money they've gotten from billionaires and carpet bombing the state from 30,000 feet with advertising or staging occasional rallies that are heavily orchestrated," Kennedy said. "They have a kind of kabuki theater of democracy."
"But here, politicians get real democracy. They have to go to the hair salons, the barbershops, the diners, the gas stations. They have to talk to the 80-year-old lady who reads the Financial Times and the Economist every week and asks them a question and a follow-up question. And another follow-up question that they will never get from CNN or the New York Times."
Asked by NHJournal why he thought the DNC dumped the Granite State from its primary spot, Kennedy said it was a political move to protect Joe Biden.
"President Biden has never done well in New Hampshire, and they wanted to make sure they had a sequence that would benefit him. And I understand that," Kennedy said. But he added that "having the parties pick the candidates" undermines confidence in the democratic process.
"The optics that it's really a fixed game, I don't think are good for this country. It's like the Soviet system," Kennedy added.
Asked if he agreed with Rep. Jim Clyburn (D-S.C.) that the DNC's motive was to help Biden "avoid embarrassment," Kennedy replied, "Yeah. He said it."
The Biden campaign declined to respond to requests for comment.
Kennedy's political message was rooted in his progressive populism, telling the senators that American freedoms were under assault from a coalition of big government and big business.
"The people of New Hampshire have a fierce pride in liberty," Kennedy said. "Today, those rights are under attack like never before in our history. In the last three years, there's been an all-out assault on the Bill of Rights.
"We now have for the first time the government participating in censorship of political dissent of people who are criticizing federal policies. We saw churches close," Kennedy said. "They went after freedom of assembly, they said we have to social distance, we have to lock ourselves in our house. And they went after the Fifth Amendment, our property rights. They closed down 3.3 million businesses in this country with no due process, no just compensation.
"It's so important that we counter that threat by strengthening and fortifying our democratic institutions, not weakening them. And that begins with the Bill of Rights, and it includes the New Hampshire primary," Kennedy said.
The 69-year-old Democrat, best known for his liberal environmentalism and anti-vaccine activism, acknowledged that he shared some policy positions with the GOP presidential front-runner Donald Trump. And he said he understands the former president's political success.
"There are a lot of discontented people in this country who like Donald Trump because they're angry. And they should be angry because nobody's listening to them. He's a guy who likes to break things. And a lot of those people feel like, 'We want somebody who's gonna break things.'
"But I think we can also appeal to the better angels of these same people by saying we're going to create something rather than just breaking things."