On August 15, University of New Hampshire political science professor Dante Scala told NHJournal said "This has been the worst week of the worst month of the Biden presidency."
It's been downhill ever since.
Biden's polls have tanked over the past week. A new PBS/NPR poll found Biden's numbers hit a new low of 43 percent approve/51 percent disapprove. He's lost 11 points in a single month in New Hampshire, where the GOP is winning the "generic ballot" question for the first time in years. Americans hate Biden's handling of Afghanistan, with polls showing even a majority of Democrats are having doubts.
But Democrats have been given a gift from the Lone Star state, an opportunity to turn the page and move the fight to more favorable territory. Texas' new fetal heartbeat law says people who aid in carrying out an abortion after the child in the womb has a heartbeat can be held civilly liable — though the law explicitly excludes any punishment for the mother.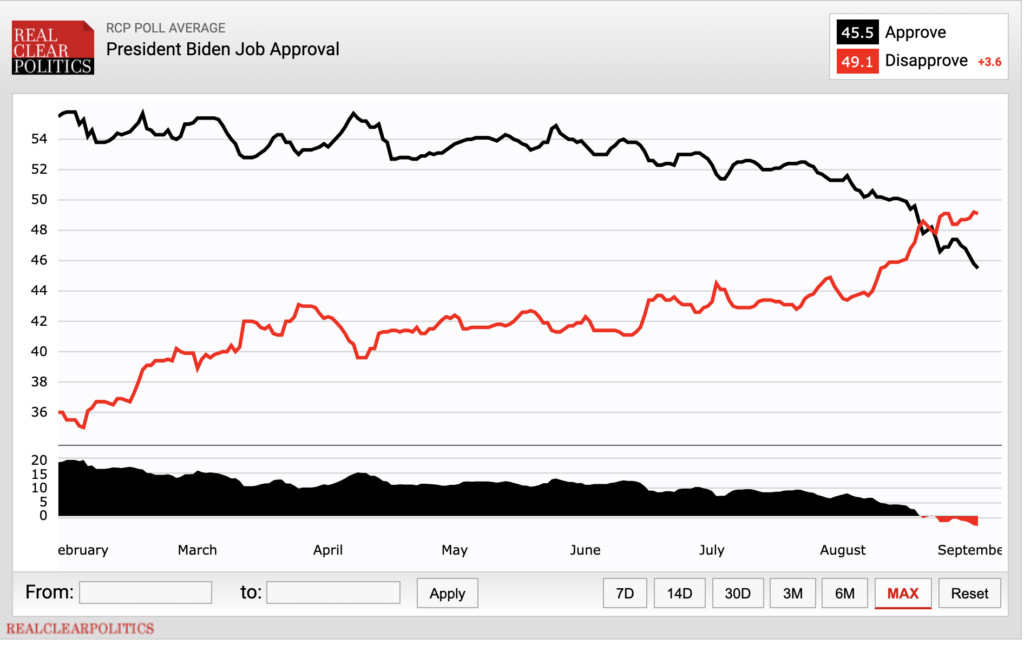 Rather than pre-emptively declaring the law unconstitutional, the U.S. Supreme Court refused to step in, in part because of the law's novel construction and in part because there are other cases related to abortion already coming before the court.
But these legal niceties are irrelevant in a political fight, and Democrats are happy to have one. Especially one that doesn't involve Afghanistan.
And so on Thursday, the hashtag #GOPTaliban flooded onto Facebook and Twitter, along with the local version #NHGOPTaliban.
"The Texas abortion ban is dangerous," tweeted Sen. Maggie Hassan. "This is an attack on reproductive rights and an attack on women's health and economic freedom." She later added, "This will not only have devastating consequences for women in Texas, but across the country — we must defend #RoevWade." 
Rep. Annie Kuster said, "The U.S. Supreme Court's refusal to block the dangerous Texas abortion ban is an egregious attack on reproductive rights and women's health."
The leftwing ACLU of New Hampshire declared, "The U.S. Supreme Court allowed Texas' abortion ban to go into effect, cutting off abortion access for millions of Texans. It is an attack to reproductive healthcare everywhere, including New Hampshire."
Neither Hassan nor the ACLU explained how a state law in Texas would have any impact on New Hampshire, but no matter. Democrats see abortion as a political winner, one they desperately need after two weeks of horrific headlines from Afghanistan.
The question now is, how does the abortion issue play for Gov. Chris Sununu and his possible Senate bid next year? According to Sununu, it doesn't.
"The governor would not sign a bill further restricting abortions or overturning Roe. v. Wade," his spokesman Ben Vihstadt told NHJournal. "He is a pro-choice governor who, like many Granite Staters, opposes late-term abortions in months 7, 8, and 9 of a pregnancy."
And that's that. The Sununu strategy on the abortion issue has always been "answer and move on." Even when he has the advantage — Hassan's support for abortion on demand with no restrictions up to the day of birth is far outside the mainstream — he doesn't take it.
Democrats sense his discomfort and so they stay on offense.
In a statement Thursday that calls New Hampshire's law — unlimited abortions for the first six months of pregnancy — "cruel and extreme," the New Hampshire Democrat Party said, "We must hold every single Republican politician who has tried to rip away health care coverage for New Hampshire women and families accountable.
"2022 will be the most consequential election for the future of reproductive health care."
They may be right. But will that be enough to help a weak candidate like Hassan hold her seat?
"The Texas decision ensures that progressives and abortion activists will spend in 2022 like never before," says veteran GOP strategist Jim Merrill. "In a race that promises to be the most expensive in New Hampshire history, that additional money could help Senator Hassan."
The good news for Democrats is the Texas abortion law is extreme. This lets them link Sununu to the national GOP's anti-abortion platform. And if reports that Florida is considering its own version of the Texas law, that's even better.
The good news for Sununu is that, as Shannon McGinley of Cornerstone Action notes, "New Hampshire is not Texas, and this is not a heartbeat law. Our new law would have been perfectly normal in a state like Massachusetts or New York only a few years ago, before pro-abortion extremism became the sole acceptable position in the Democratic Party."
Democrats will try to turn Sununu into Ted Cruz, much as they tried to turn him into Donald Trump in 2018 and 2020. Sununu won re-election over the Senate Majority Leader by more than 30 points last year — with Trump losing by 8 points at the top of the ticket.
Unfortunately for them, voters have already seen for themselves where Sununu is on abortion. He's not a closet pro-life zealot secretly longing to overturn Roe. He's a Republican moderate who, like most people, doesn't think first-term abortions should be banned or late-term abortions should be allowed.
Smart New Hampshire Democrats are saying the abortion issue is huge for Hassan, and they're right. It's huge because it gives her an issue. One. A week ago, she didn't have that.
But once the campaign is underway and the abortion issue has been asked and answered, what will Hassan and the Democrats talk about then?
Sen. Jeanne Shaheen told The New York Times, "Outlawing Roe would create a backlash that would have critical unintended consequences for those who would like to repeal it. … The women of the country would be very upset, particularly young women, that there would be such a deliberate effort to limit women's access to reproductive choices."
She may be right. But most of those young, women voters are already Democrats. As longtime political analyst Jeff Greenfield wrote Thursday, a "principal reason for skepticism about the power of the abortion issue to move votes" is the current level of political polarization. In the past, more voters were willing to consider the candidate across the partisan aisle. Not anymore.
"Unlike past decades, party identification is now the most powerful indicator of how a voter will choose…If the behavior of Trump in the White House over four years was not enough to drive significant numbers of Republicans from the party's ranks, it's hard to imagine that an issue like abortion rights will."
"I"m not one of those Republicans" is a tried and true message for Republicans like Gov. Charlie Baker in Massachusetts and Sen. Susan Collins in Maine.
Neither state, it should be noted, borders Texas.