The rising red tide seen by Republican and Democratic election analysts alike has reached New Hampshire's First Congressional District. That is the opinion of Real Clear Politics, one of the nation's most respected political news sites. It has moved the NH-01 race between Rep. Chris Pappas (D) and Karoline Leavitt into the "leans GOP" column.
New Hampshire politicos say they aren't surprised.
"All indications point to an election outcome consistent with past midterms – the party out of power will gain seats," said New England College political science professor Wayne Lesperance. "The First Congressional District is shaping up to follow that pattern. Inflation and broader concerns about the economy continue to fill GOP sails."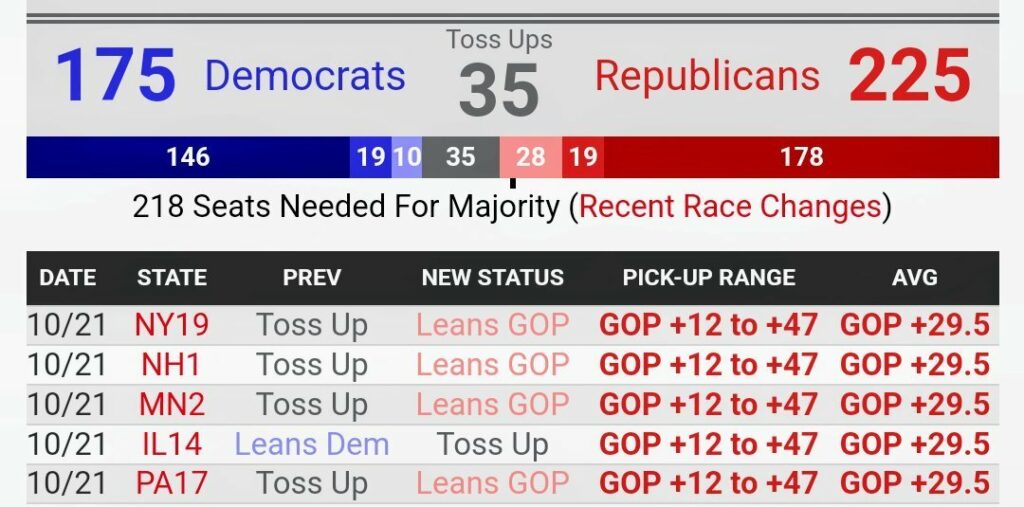 For most of the past 20 years, the district mirrored national political trends, flipping to the Democrats in 2006 and 2018 while Republicans grabbed it in 2010 and 2014. Since the emergence of President Donald Trump, Democrats have held it three cycles in a row.
But the Republican wave — some say a "tsunami" — may be so big it overcomes the Trump factor. After slipping behind Democrats in the wake of the U.S. Supreme Court's Dobbs decision overturning Roe v. Wade, Republicans once again have the advantage in the "generic ballot" average at FiveThirtyEight.com. In the new Monmouth poll, the GOP has a massive six-point lead, and more Republicans say they are "extremely motivated" to vote (64 percent) than Democrats (59 percent).
"Every day it becomes more clear that voters aren't buying what Chris Pappas is selling," said Leavitt spokesman Chris D'Anna. "He is desperately trying to avoid talking about his record. 8.2 percent inflation, doubling energy costs, and the record amount of fentanyl coming into New Hampshire are direct results of his decision to vote with Nancy Pelosi 100 percent of the time instead of Granite Staters."
The Pappas campaign did not respond to requests for comment.
Nobody is saying Leavitt is anything close to a shoo-in. The nonpartisan Cook Political Report and Politico still list NH-01 as a "toss-up," while InsideElections and the Sabato' Crystal Ball' at UVA give Pappas the edge with a "leans Democrat" rating.
However, Republican sources tell NHJournal they remain puzzled by the Pappas strategy of running like he is ahead: Declining debates, doing limited public appearances, and avoiding the press. For example, Pappas still won't release his "public" schedule.
"The Leavitt campaign is a fascinating study of an underdog in a blue-leaning swing district, executing one of the most disciplined, well-run campaigns in recent New Hampshire political history," said GOP strategist Patrick Griffin. "Karoline has run a strong campaign and she has hammered a tired, vulnerable incumbent."
Leavitt and Pappas faced off in their first debate last week, hosted by the Mount Washington Valley Economic Council, in which the 25-year-old Republican more than held her own against the two-term congressman.
"Nobody expected her to run this race — especially not Chris Pappas."