Outspoken Democrat state Rep. Rosemarie Rung (D-Merrimack) is under fire from her fellow liberals — and could face progressive challengers this fall's election — over her comments regarding the 'N-word' scandal currently roiling the House Democratic caucus.
Rep. Nicole Klein Knight has been removed from the House Criminal Justice and Public Safety Committee in response to allegations she repeatedly used the "N-word" in a confrontation with an 18-year-old Black activist in the State House on January 20. A group of Black, Indigenous, and People of Color (BIPOC) activists released a statement condemning Klein Knight, and an ethics complaint has been filed. In response, Klein Knight has also been kicked out of the House Progressive Caucus.
The incident has inspired conflict inside the House Democratic Caucus, where some members have asked their fellow Democrats to withhold judgment until more facts come out. That sparked accusations of racial insensitivity from progressives.
On Friday, Rung weighed in.
"The n-word is never acceptable, but having context helps understand the motivation," Rung posted on social media. "Some [sic] may stab someone – always wrong – but was it used in the course of self-defense. Why did she [Klein Knight] say it?"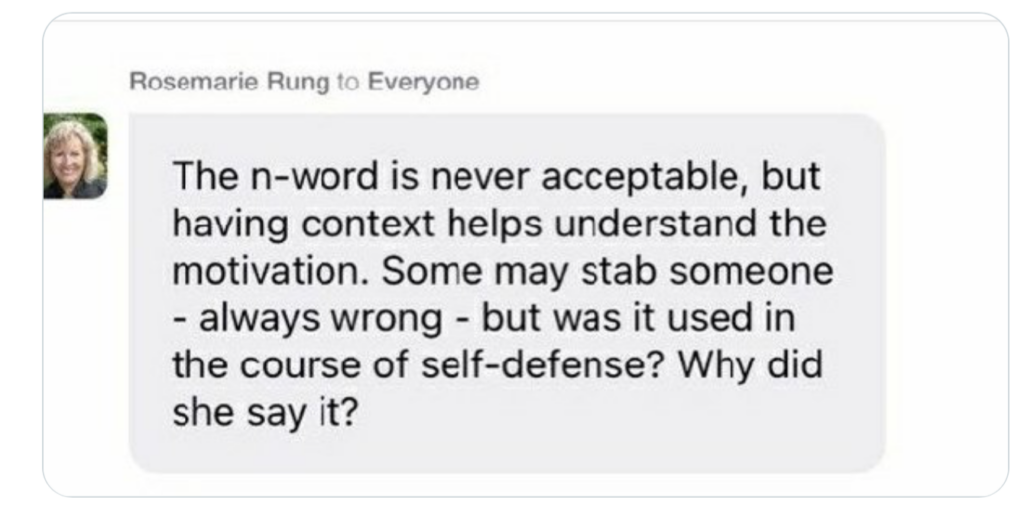 The response was immediate — and overwhelmingly negative.
"I have no words to describe how it feels to watch White politicians completely ignore Black organizers and sit around justifying the use of the N-word based on 'context.'" tweeted Ronelle Tshiela, a leader in the state's Black Lives Matter movement who served on Gov. Chris Sununu's state-level Commission on Law Enforcement, Accountability, Community, and Transparency.
"There is absolutely no 'context' that makes it okay. Period," added former Democratic state party chair Kathy Sullivan.
And Brandon Lemay, a statewide organizer for Rights and Democracy NH (RAD) said, "Posts like this show me that some Dems are most worried about winning elections. They love BIPOC voters to show up for them, but won't listen to them in a time of need."
Rung spent much of the weekend defending her comment on social media, insulting critics as irrational, "sad" and racist.
It didn't work.
Samantha Searles, an organizer with Black Lives Matter Nashua, announced Sunday afternoon she is organizing an effort to defeat Rung at the ballot box.
"Announcement: Over the past week, it's become very clear that #MerrimackNH desperately needs something new," Searles tweeted. "Launched this morning, this group will work together to find and support truly progressive candidates. Join us!"
Rung declined to comment about Searles' effort for this report. However, she did respond with what some interpreted as a flippant remark on Twitter: "Good luck, Sam! I wish you all the best."
Flippant or not, for some progressives it is already time for Rung to go. "Oh Lord… when you lose your seat, it won't be because of party affiliation, it will be because of your support of racist behavior," tweeted Asma Elhuni, Movement Politics Director for RAD. "Republicans and Dems already condemned her [Klein Knight's] behavior while your defending context of word matters smh."
Rung isn't the only House Democrat under fire for her reaction to the Klein Knight incident. Dover Democrat Rep. Casey Conley was condemned by progressives for suggesting there was a political element in the reaction to Klein Knight's comments.
"The 'activists' who publicized this situation involving Nicole were doing some score-settling. There is absolutely no reason this couldn't have been handled quietly and internally. That is what adults do. That is what professionals do," Conley said in a social media post.
Jordan Thompson of BLM Nashua responded: "To my BIPOC friends and community members: This is what NH Democrats think of us when we stand up against bigotry within our own party. Not only are Rep. Conley's comments disparaging and disrespectful, they are also false. We tried to address this issue privately to no avail."
On Sunday, his hometown Dover Democratic Committee released a statement Sunday urging "leaders in our party…to live those values."
House Democrats were already looking at a difficult political environment in the fall, with few insiders suggesting they have much hope of taking control of the state House amid a likely red wave election. However, for some members of New Hampshire's progressive community, electoral outcomes don't appear to be the priority.
"I have lost respect for so many people who I thought supported myself and my fellow organizers over the past 2 years," wrote Tshiela. "To see you all prioritize public perception over being decent human beings is disgusting. Many of you will forget and move on, but we will not."