Retail campaigning was alive and well across New Hampshire this Labor Day weekend as Republican presidential primary candidates pressed the flesh from the North Country to the Massachusetts line.
Businessman Vivek Ramasway's campaign was already creating buzz before his latest swing through New Hampshire, including stops in Conway, Hampton, and Laconia before hitting the Milford Labor Day parade and Salem GOP Labor Day picnic.
Asked by a Milford parade attendee if he would be willing to serve as Donald Trump's vice president, Ramaswamy fired back, "He going to be my advisor."
Former Vice President Mike Pence also picked up the pace for Labor Day, handing out awards at the barbecue "Smokeoff" hosted by Granite State Baptist Church of Concord around lunchtime and hitting the Scott and Gail Huff Brown "No B.S. BBQ" in Rye in the evening. In between, he also worked for the crowd at the Salem GOP event.
"I'm running because I truly believe I am the most qualified. If there ever was a time that we needed the people in the First-in-the-Nation state to step up and shape leadership in this party, it's now," Pence told the Republicans in Salem. He also repeated his message of Constitution over party, continuing to argue that "anyone who puts himself over the Constitution should never be president of the United States" — a clear reference to Trump.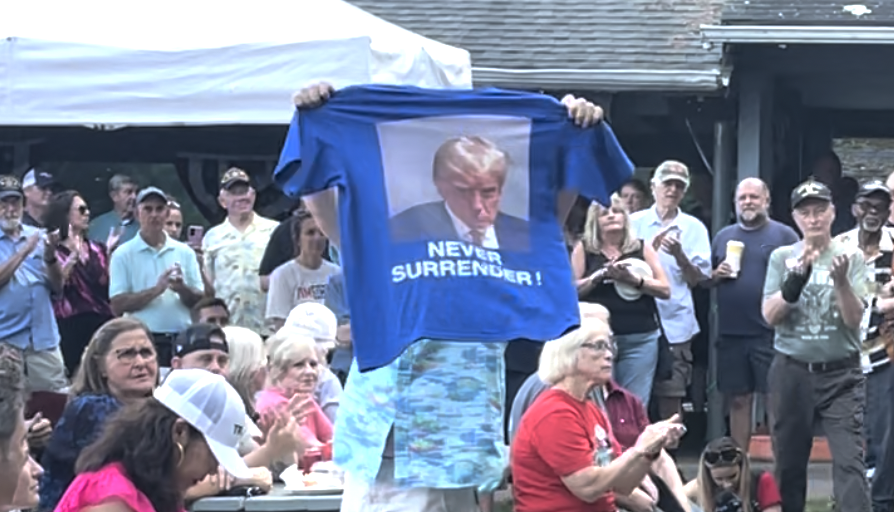 Not everyone appreciated Pence's stance. One member of the crowd at the Salem picnic sat in the front row and brandished a t-shirt with Trump's mugshot and the message "Never Surrender" as Pence made his remarks. When Pence finished, the man stood and held up the shirt for all to see.
State Sen. Tim Lang (R-Sanbornton) said he liked what he heard from Pence at the Rye event.
"We had a good turnout at Scott Brown's BBQ, more than 100 in attendance. Questions from voters ranged from abortion, housing, debt, foreign policy, and January 6. He answered all the questions straightforwardly.
"I appreciate the fact that Vice President Pence sticks around to answer everyone's questions, signs copies of his books, and just does what New Hampshire voters expect: Retail, vote-by-vote politics."
Former Arkansas Gov. Asa Hutchinson also spoke at the Salem picnic, as did former Texas Rep. Will Hurd. Both are longshot candidates with less than one percent support in the RealClearPolitics polling average. And both have vocally warned nominating Trump would be a major political mistake for the GOP.
In an interview with WMUR Monday, however, Hurd emphasized his economic message.
"One of the reasons that you're concerned about your future is that for the last 23 years, the cost of goods and services has increased three times that of average salaries," Hurd said. "That's the problem. That is why people are feeling it in their pocketbook."
For more information about upcoming First-in-the-Nation campaign events, subscribe to NHJournal or follow our FITN 2024 calendar.