Democrats who dismiss Joe Biden's current front-runner status as mere name ID do so at their own peril, multiple pollsters and pundits told InsideSources as the former Vice President made his first visit to New Hampshire since announcing his candidacy.
"The name ID certainly helps, but I think it's more than that," said public opinion expert Karlyn Bowman of the American Enterprise Institute. "It's a contrast to Trump that Democrats like, in addition to seeing him [Biden] as someone they think can win."
Bowman's view is it's almost impossible to overestimate how much Democratic primary voters are focused on a candidate who can beat Trump. It's a constant in the polling data she's been reviewing. "It's reasonable to say that the trajectory of this race is going to largely be determined by whether or not one of the other candidates can make the case that they are at least as strong taking on Trump as Biden. That's where the race is at this point," Bowman said.
As a result, Biden is leading in the new Emerson University poll with 33 percent and Sanders with 25 percent. Senators Kamala Harris and Elizabeth Warren are tied for third with each getting 10 percent of the vote, and Mayor Pete Buttigieg rounds out the top 5 with 8 percent. No other candidate is above 3 percent.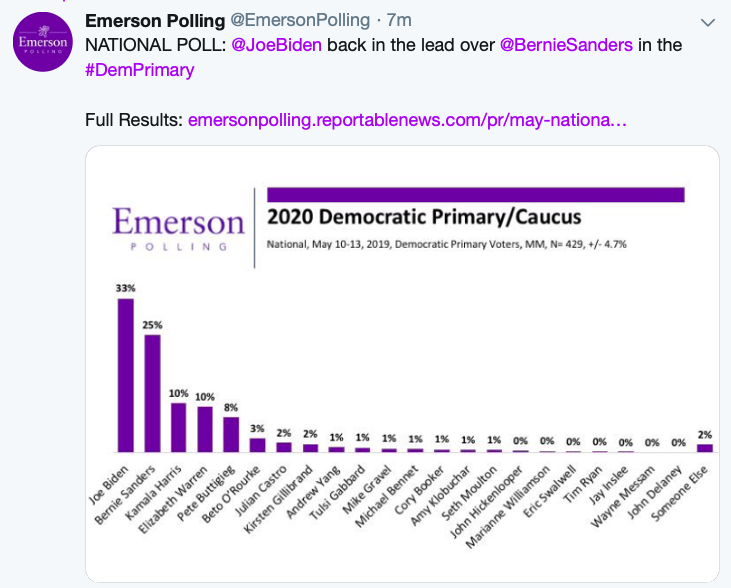 And even in the Vermont Senator's backyard of New Hampshire–where Sanders won 60 percent of the vote in the 2016 POTUS primary– Biden's up by more than 13 points in the latest RealClearPolitics poll average.
Veteran Democratic operative Bob Shrum tells InsideSources "I've long thought the definitive question for Democratic primary voters was going to be who has the best chance to beat Trump. And a substantial plurality of Democrats clearly believe it's Biden."
Across the aisle, pollster Scott Rasmussen agrees that Biden owns the "can beat Trump" label and he will remain the frontrunner until someone at least matches Biden on the electability issue. "The other candidates will need to use the debates to dent that image," Rasmussen said.
Shrum says Biden has benefitted from media coverage that underestimated his political skills and lowered expectations, in part by misrepresenting Biden's previous presidential races. "People talk about how badly he did when he ran before. The fact is, when the plagiarism story broke, Biden was soaring. I know, because I was there."  (Shrum worked for both Rep. Dick Gephart and Gov. Mike Dukakis in the 1988 cycle.)
"And in 2008, there just wasn't room for him in the field," Shrum said.
Biden's 2020 supporters are loyal, too. And so are Bernie's. As Emerson University Director of Polling Spencer Kimball says: "Biden and Sanders have more loyal supporters, as 52 percent and 54 percent of their voters say they will definitely vote for the top two candidates, while only 33 percent of Harris voters, 27 percent of Buttigieg and 20 percent of Warren voters plan to definitely stick with their preferred candidate."
One potential Achilles heel for Biden could be the age question.  On the one hand, AEI's Bowman says that polling data show "it doesn't appear to make much of a difference, going back to 1940 when Thomas Dewey was 37-years-old and pollsters first asked the question. People weren't too worried about it then, or for any other president since–young or old."
However, Bowman also believes that Biden's more vulnerable on age than his fellow septuagenarian Bernie Sanders. "Bernie seems so vigorous for a man his age, whereas it's not so certain about Biden."
Shrum sees a similar double standard. "Bernie's always looked like Bernie," Shrum said. "For Biden, a lot will depend on how he comes across in the debate.  Can he show, as Robert F. Kennedy said, that age is not a time of life but a state of mind?"