It was "no more Mister Nice Guy" for notoriously nice Mike Pence, who issued his harshest critique yet of his old boss Donald Trump during a campaign swing through New Hampshire. The former vice president's comments elicited a rare, direct rebuke from Trump, which campaign sources say is a sign Pence's criticisms are hitting the target.
But Granite State Republicans insiders and activists see little evidence this new, tougher tack is making a measurable difference for Mike Pence's political fortunes in the First in the Nation primary.
In recent days, Pence has been hammering away at the message that he was doing his constitutional duty as vice president when he received the Electoral College votes on January 6, 2021, that formally made Joe Biden president.
"I had no right to overturn the election. I had no right to reject or return votes, and the president was wrong to ask me to do it," Pence said during an interview with New Hampshire radio host Jack Heath. "Anyone who puts himself over the Constitution should never be president of the United States. And anyone who asks someone else to put them over their oath to the Constitution should never be president again."
Pence reiterated that message at a town hall in Londonderry on Friday and during a foreign-policy event hosted by Polaris National Security on Saturday morning.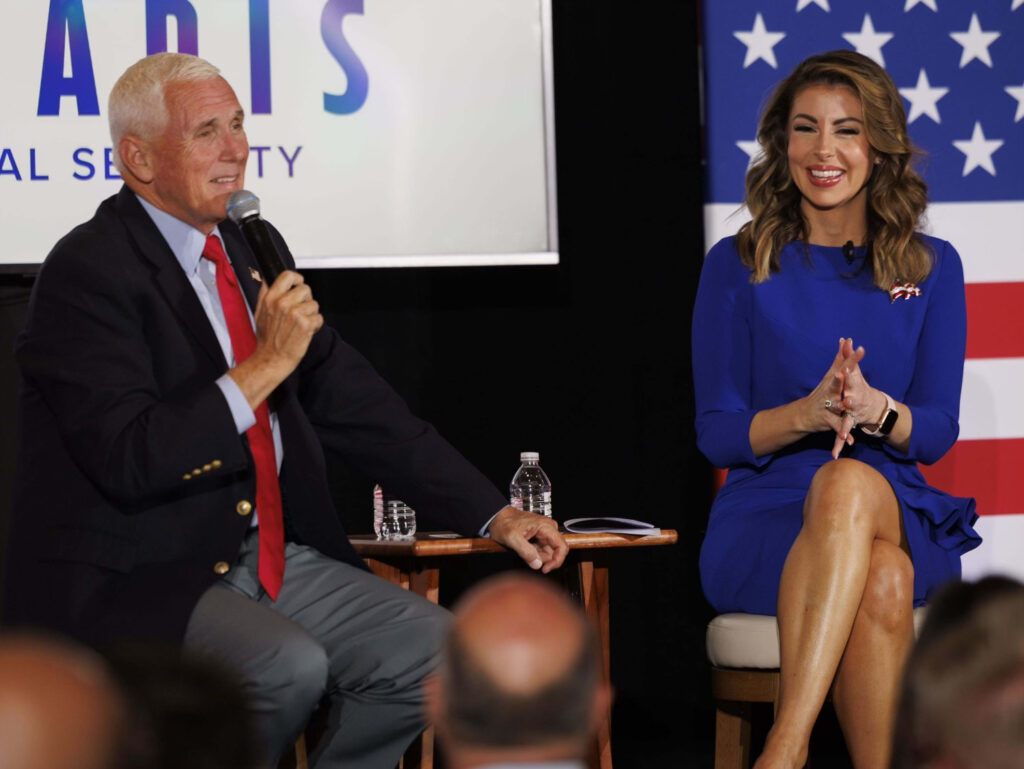 Mike Pence speaks with Morgan Ortagus of Polaris National Security
"I've always believed in my heart and my days that I kept my oath to support and defend the Constitution — by God's grace, I did my duty that day," he told the Londonderry audience.
On Saturday, he said he remained loyal to Trump until the end. "I never ever waivered," Pence said. "I never changed my commitment to him until the day came that my oath to the Constitution required me do otherwise."
Former state Sen. Bob Clegg told NHJournal he believes Pence's message is getting through. "Many voters finally understand Pence couldn't overturn the states' electoral vote counts."
Some Granite State Republicans don't agree. Pence was greeted at both events by a handful of protesters calling him a "traitor" and "sellout." When one protester at the Londonderry event shouted at Pence that he should "uphold the Constitution," Pence shot back: "I upheld the Constitution. Read it."
By Saturday afternoon, Trump had had enough.
"WOW, it's finally happened! 'Liddle' Mike Pence, a man who was about to be ousted as Governor Indiana until I came along and made him V.P., has gone to the Dark Side," Trump posted on Truth Social. "I never told a newly emboldened (not based on his 2% poll numbers!) Pence to put me above the Constitution, or that Mike was 'too honest.' He's delusional, and now he wants to show he's a tough guy. I once read a major magazine article on Mike. It said he was not a very good person. I was surprised, but the article was right. Sad!"
With national and New Hampshire polls showing Trump with a massive lead among GOP primary voters and Pence stuck in single digits, this could be viewed as an "any press is good press" campaign moment. But GOP insiders and activists who spoke to NHJournal Sunday said they are not seeing any movement toward Pence among Granite State Republicans.
In the latestRealClearPolitics poll average, Pence is in fourth place with 5.1 percent support, trailing Trump (53.7), Florida Gov. Ron DeSantis (15.7) and entrepreneur Vivek Ramaswamy (6.0). In the most recent New Hampshire polls, including the University of New Hampshire, Pence has been averaging between one and two percent support.
"Not only am I not hearing anyone supporting him, I'm not hearing anything about him at all," one grassroots activist told NHJournal.
"Pence has no constituency," another Republican activist added, arguing that anti-Trump Republicans see him as someone who "for four years enabled Trump. Pence sold his soul to become vice president, and the Devil has come to get his due."
But several Granite State GOP operatives said it wasn't fair to criticize Pence for not having an effective message against Trump, noting that the former president is lapping the entire field.
"Sure, Pence is getting crushed by Donald Trump," one GOP strategist said. "Who isn't?"