If you were expecting Democrats to mount a civil debate about the judicial qualifications of President Trump's Supreme Court pick…you haven't been paying attention.
Less than 24 hours after the nomination of DC Appeals Court Judge Brett Kavanaugh, Democrats considering a White House run in 2020 were already cranking the rhetoric up to eleven.
According to New York Senator Kirsten Gillibrand, "What is at stake is women's freedom, our freedom to make our own decisions." She spoke at a protest organized in advance of Trump's pick, even before the name of the nominee was known. Gillibrand is consistently named as a potential POTUS candidate in 2020.
California Senator Kamala Harris, also widely believed to be a potential 2020 candidate, calls Kavanaugh "a direct and fundamental threat to the promise of equality and so I will oppose his nomination to the Supreme Court."
"This is a nominee who wants to pave the path to tyranny," said Oregon Senator Jeff Merkley, who visited New Hampshire earlier this year and is "keeping his options open" regarding a POTUS run.
Compared to cries of 'Tyranny!," front-runners Sen. Bernie Sanders and Sen. Elizabeth Warren sound almost moderate:
 "Brett Kavanaugh's record as a judge and lawyer is clear: hostile to health care for millions, opposed to the CFPB & corporate accountability, thinks Presidents like Trump are above the law – and conservatives are confident that he would overturn Roe v. Wade. I'll be voting no," Senator Warren tweeted.
Sen. Bernie Sanders agreed: "President Trump's Supreme Court nominee Brett Kavanaugh will be a rubber-stamp for an extreme, right-wing agenda pushed by corporations and billionaires. We must mobilize the American people to defeat Trump's right-wing, reactionary nominee."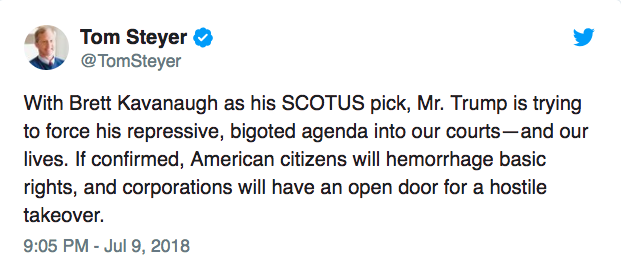 And while rumored 2020 candidate Hillary Clinton has yet to issue a specific comment regarding Judge Kavanaugh, she did re-tweet this:
BREAKING: Trump just announced his nomination of Brett Kavanaugh to the Supreme Court. Anti-abortion. Anti-healthcare. Thinks Trump is above the law. Here's what you need to know to take action now: https://t.co/RnmOSTwHiW #StopKavanaugh pic.twitter.com/P2mtAtQFSW

— #StopKavanaugh (@WeDemandJustice) July 10, 2018